Zhang Yang's well-observed documentary captures a traditional way of life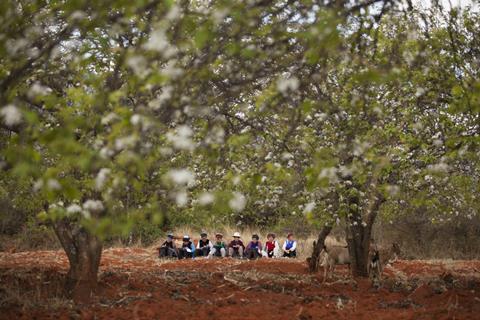 Dir/scr: Zhang Yang. China. 2018. 126mins
This lyrical documentary from Zhang Yang is a meditation on beauty. But like the film's enigmatic central character, artist and teacher Shen Jianhua, Zhang's lens finds beauty in simplicity. The focus here is on the easy rhythms of life in the remote mountain settlement where Shen relocated from Shanghai years before; on the shared meals, the ancient traditions and rituals, the kinship which is found in the act of creation. It's about fish stews and dumplings cooked on an open flame. But Zhang also explores the pull of modernity and the collision in China between a tradition of contemplation and a culture of consumption. The result is a balm of a film, which channels the quiet wisdom of the central character and of the gang of granny folk artists who learned from him a new means of expression.
Zhang uses a fly on the wall approach which complements the watchful, unhurried way of living which Shen has adopted
Framed with an aspect ratio which mirrors the boxy canvasses on which the students of Shen Jianhua create their work, the film is similarly crafted with love and an eye for playful composition. It is gorgeous to look at but, more than that, it taps into a way of life which is enviably unfussy and admirably egalitarian. Not a whole lot happens, but Zhang captures a spiritual quality to a social fabric which perhaps only still exists because the village is geographically removed from the rest of country. Further film festival exposure seems likely. And arthouse distributors, particularly specialist documentary outfits, could also achieve some success with this picture.
Shot over an extended period in the village of Shuanglang in Yunnan, Zhang Yang's documentary shares themes with those of some of his previous dramatic features. Shower (1999) dealt with the appeal of a simpler life for a Beijing businessman who returns to help at his father's bathhouse. And Sunflower (2005) told of a father who passed on his knowledge to his son through painting lessons. Shen Jianhua, a somewhat unknowable figure in the film, is first and foremost an art teacher, But he is also a spiritual leader, giving guidance on everything from marriage to interior decorating (he's not a fan of bathroom tiles).
Zhang uses a fly on the wall approach which complements the watchful, unhurried way of living which Shen has adopted, along with his pregnant wife and his teenage daughter. Their home, high on a mountain, is a perfect blend of unfussy form and function. Windows frame the view, like constantly changing paintings; resident artists, largely women in their sixties to eighties, potter around the corridors pulling together the communal meals. Zhang eavesdrops on their conversations, and loiters on the edges of their songs – robust choruses about fish, food and family.
The rituals – New Year celebrations, dragon dances, seasonal ceremonies – are captured, first by the camera, and then in the paintings of the women who study with the master. There's little mention of money; when asked about his prospects, one of Shen's disciples says he makes one painting a year, and has no guarantee of selling it. This really is about creating for the joy of creation. But there is also a sense of validation which comes from the eminent painter's decision to settle on the mountain. Having been blessed with the charismatic Shen's seal of approval, a way of life which some might dismiss as backward might now have a better chance of survival in the future.
Production company: Lantern Film, Hehe Pictures
International sales: Fortissimo info@fortissimofilms.com
Producer: Zhang Yang
Editing: Wei Le, Zhang Yang
Cinematography: Guo Daming
Cast: Shen Jianhua, the residents of Shuanglang