Jordan Peele follows up Oscar-winner Get Out with an effective chiller about an all-American family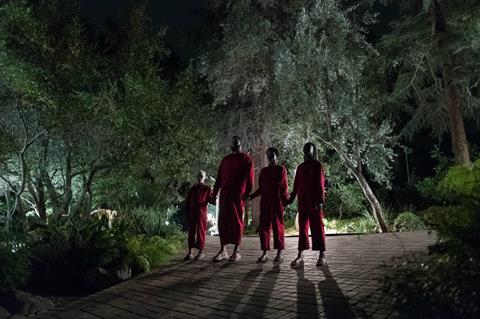 Dir/scr: Jordan Peele. US. 2019. 116mins.
Lupita Nyong'o is superb, twice over, in Us, the follow-up film from Get Out writer-director Jordan Peele, who argues here that nothing is quite as frightening as ourselves. Where his Oscar-winning feature debut balanced social commentary, comedy and horror, his new film focuses primarily on taut, sustained suspense; wonderfully so. Perhaps Us stumbles near the end while straining for an operatic, shattering finale that explains everything that preceded it but, after capturing the zeitgeist his first time out, Peele avoids the sophomore slump by methodically laying out his riveting tale.
Not knowing precisely what's behind the horror in Us makes it even more chilling than its predecessor
Universal will unveil Us in the UK and US on March 22, hoping to duplicate the commercial and critical success of Get Out ($255 million worldwide against a budget reportedly around $5 million). Featuring rising stars Nyong'o and Winston Duke (Black Panther), the film will cater largely to Peele's fans, with good reviews and positive buzz helping to drive viewers to the multiplex.
Nyong'o plays Adelaide Wilson, who is heading to Santa Cruz with her husband Gabe (Duke) and their kids Zora (Shahadi Wright Joseph) and Jason (Evan Alex) to spend some time at a summer beach house. Adelaide has reservations about this trip because of a traumatic incident that happened to her in the area when she was a girl, but she reluctantly acquiesces. Unfortunately, the Wilsons' fun getaway quickly turns ominous after they are visited one night by four menacing figures dressed all in red — even worse, they look just like them.
Peele's Get Out cleverly created a potent horror premise out of a recognisable cultural landmine: a black man trapped with his white girlfriend's privileged family in the middle of nowhere. Us doesn't have that film's bull's-eye observations about race and class in post-Obama America, but in their place is a plot that's far more concerned with leaving audiences terrified at every turn. If anything, not knowing precisely what's behind the horror in Us makes it even more chilling than its predecessor.
It wouldn't be fair to reveal Peele's objectives, but suffice it to say that these four beings, who are unsmiling doppelgangers of our main characters, have murderous designs on the Wilsons. Working with cinematographer Michael Gioulakis and editor Nicholas Monsour, Peele drapes the proceedings in unease, skilfully and judiciously deploying jump-scares but also leaving us off-balance with a script that continually surprises. Just when we think we have a handle on what's transpiring, something new comes along, leaving us uncertain again.
Because of those alarming doppelgangers, with their inhuman expressions and long, sharp scissors, the four lead actors get to do double-duty, and it's often a kick to observe how their two performances differ. (Wright Joseph's evil dupe might be the most unsettling.) But it's Nyong'o who must carry both families. Her Adelaide is a somewhat reserved woman who will discover she can evolve into a ferocious warrior in order to protect her brood. And as Red, the matriarch of the doppelganger family, the Oscar-winning actress drips with steely, vengeful fury, wanting something from Adelaide that holds the key to the movie's mysteries. If Red allows Nyong'o to be deeply, unnervingly monstrous, Adelaide's arc is the more startling, hinting at the lengths a mother will go to keep her children safe.
Duke overplays Gabe's goofball demeanour — the character seems to be Peele's attempt to inject a little comic relief, not always successfully — but the fine supporting cast includes Elisabeth Moss and Tim Heidecker as a spoiled rich couple, their entitled, slightly condescending attitude toward the Wilsons another form of horror.
As twisty and gripping as Us is for most of its runtime — its elegant, brutally efficient scares underscored by Get Out composer Michael Abels' nerve-jangling instrumentals — Peele lets his ambitions get the best of him as he reaches the final stretch. The elaborate reveal regarding what's going on feels both convoluted and unconvincing, and there's probably one twist too many as well. Better, instead, to shudder while recalling some of the indelible images Us fashions over two hours. Adelaide and her family seem relatively happy and well-adjusted. This film's horror comes from the notion that Red and her brood are some sort of dark unconscious, rising out of the ether to show the Wilsons the ugliness within themselves they don't want to acknowledge.
Production company: Monkeypaw
Worldwide distribution: Universal Pictures
Producers: Jordan Peele, Sean McKittrick, Jason Blum, Ian Cooper
Production design: Ruth De Jong
Editing: Nicholas Monsour
Cinematography: Michael Gioulakis
Music: Michael Abels
Main cast: Lupita Nyong'o, Winston Duke, Elisabeth Moss, Tim Heidecker, Shahadi Wright Joseph, Evan Alex, Madison Curry