Personal, bittersweet documentary about the life and career of actor Val Kilmer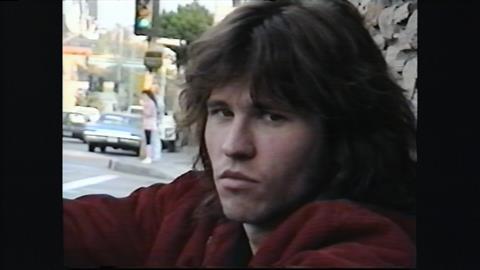 Dirs: Leo Scott, Ting Poo. US. 2020. 109 mins.
Val Kilmer lays bare his bittersweet life in Val, a documentary portrait that relies heavily on personal footage shot by the actor over his long career. Now 61 and recovering from throat cancer, he's in a reflective mood, and directors Leo Scott and Ting Poo let their subject tell his own story, resulting in a film that's partly illuminating, sometimes self-indulgent and often quite touching.
Doesn't shy away from Kilmer's recent career stumbles and diminished fame
Val screens in Cannes' Premiere section, with Amazon set to release the picture on its streaming service in the US on July 23. Kilmer's fans will be intrigued to hear him discuss his work in hits such as Top Gun and Batman Forever, while those simply interested in the acting process may also tune in. Narrated by Kilmer's mid-20s son Jack, who reads his father's words, Val looks back at the actor's childhood and early passion for performing, which led him to Juilliard and Hollywood. His voice severely weakened from chemotherapy and surgery — he now speaks through a tracheostomy tube in his neck — Kilmer ponders his career and personal life, trying to come to terms with his regrets and uncertain future.
At its best, the documentary is an exceedingly tender undertaking, juxtaposing Kilmer's home movies with modern-day moments as the faded star attends fan events and signs myriad autographs in order to pay off debts. Val teeters on tragedy throughout: Kilmer's brother Wesley drowned as a boy; his marriage to actress Joanne Whalley collapsed, leaving him in financial ruin; and cancer has greatly impacted his career. Even the presence of Jack's voice on the soundtrack, speaking for his ailing dad, lends an air of poignancy.
Val features commentary by Kilmer about his most popular films, including footage he shot on set of several of those pictures, and his analysis is breezy if insubstantial. (One wishes he would talk about his transformation into Jim Morrison in The Doors in more detail.) But these brief tidbits cumulatively suggest an intense actor always seeking to achieve greatness. That feeling comes across most palpably in audition videos he made for Full Metal Jacket and Goodfellas — he was so committed to being in those films that he threw himself into inhabiting roles that would ultimately go to other actors.
Scott and Poo don't shy away from Kilmer's recent career stumbles and diminished fame. (In a candid moment, he admits that it can feel humiliating to cash in on former glories at conventions like Comic-Con.) But the filmmakers sometimes gloss over aspects of Kilmer's legacy that would have been fascinating to interrogate, such as his reputation for being difficult with his directors. And while his on-set footage from the 1996 debacle The Island Of Dr. Moreau is especially juicy, Val fast-forwards through his later work, save for his one-man Mark Twain theatre piece, in such a way that it unconsciously reinforces Kilmer's own concerns about living off past highlights.
But if Val occasionally feels unfocused, that's perhaps apt for Kilmer's mindset as he grapples with fatherhood, his bygone years as a Hollywood leading man and mortality. (He swears he feels better than he sounds, but watching him take a break at Comic-Con to throw up suggests otherwise.) There's a fragility to Val — and not just in Kilmer's physical presence — that's unexpectedly moving. Much like Scott and Poo, he's trying to make sense of this enigma known as Val Kilmer, and that journey of discovery is far from a straight line.
Production companies: Boardwalk Pictures, Val Art Ltd, Cartel Films
International sales: A24
Producers: Val Kilmer, Leo Scott, Ting Poo, Andrew Fried, Dane Lillegard, Jordan Wynn, Brad Koepenick, Ali Alborzi
Editing: Ting Poo, Leo Scott
Cinematography: Val Kilmer
Music: Garth Stevenson