Dir. Garry Marshall. US, 2009. 117 mins.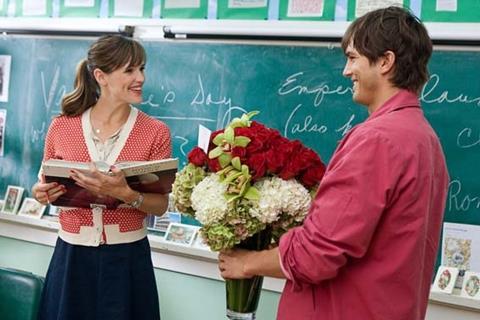 A couple of touching moments aside, Valentine's Day is as blatantly engineered and resolutely frothy as mid-February date movies get. But that could be just what the target audience is looking for when this New Line romcom with a starry, multi-generational ensemble cast arrives in cinemas – in the US as well as many international markets – on the eve of Valentine's Day itself.
Worldwide distributor Warner Bros, which this time last year did well with New Line's ensemble romance He's Just Not That Into You (its worldwide gross of $178m was split $94 domestic to $84 international), should clean up over the film's opening holiday weekend in the US. Elsewhere, the cast and Warner's muscle (He's Just Not… went through independents internationally) will probably outweigh most audience resistance to the fluffy tone.
Unfolding over the course of one particular Valentine's Day in Los Angeles, the film, directed by Garry Marshall and with a story by He's Just Not… writers Abby Kohn and Marc Silverstein, follows more than a dozen characters, some already in love, some falling into or out of it.
Boyishly cute florist Reed (Ashton Kutcher) and his would-be fiancee Morley (Jessica Alba) are the film's central couple. Reed's sweet natured best friend Julia (Jennifer Garner) is newly in love with a dishy doctor (Patrick Dempsey). And separated from Reed and Julia by varying degrees are two teens contemplating sex (Emma Roberts and Carter Jenkins), two Hollywood wannabes (Topher Grace and Anne Hathaway) and a pair of romantic grandparents (Hector Elizondo and Shirley MacLaine). Other characters are played by Jamie Foxx, George Lopez, Queen Latifah, New Moon heartthrob Taylor Lautner and, in her film debut, country music superstar Taylor Swift.
Comic overacting is rampant, but there are a couple of quieter performances - most notably from Julia Roberts and The Hangover's Bradley Cooper – and a few more serious scenes.
Mostly, though, Marshall keeps the tone feather light and the pace brisk, delivering a film that feels like a handful of inter-cut TV sitcoms.
To sign up for Screen's weekly Reviews Newsletter with all the week's new releases, international openings and full festival reviews delivered free to your mailbox every Friday, please click HERE
Production company
New Line Cinema
Worldwide distribution
Warner Bros Pictures
Producers
Mike Karz
Wayne Rice
Screenplay
Katherine Fugate
Cinematography
Charles Minsky
Production design
Albert Brenner
Editor
Bruce Green
Music
John Debney
Main cast
Jessica Alba
Kathy Bates
Jessica Biel
Bradley Cooper
Eric Dane
Patrick Dempsey
Hector Elizondo
Jamie Foxx
Jennifer Garner
Topher Grace
Anne Hathaway
Ashton Kutcher
Queen Latifah
Taylor Lautner
George Lopez
Shirley MacLaine
Emma Roberts
Julia Roberts
Taylor Swift