Two farming brothers go up against the local mobsters who want their land in this Italian crime drama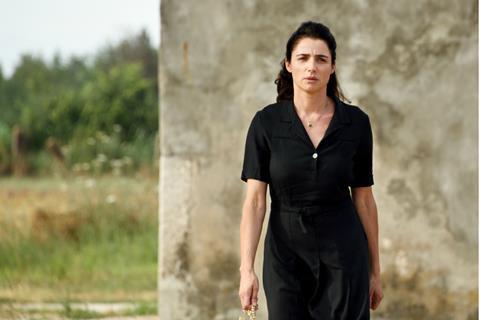 Dir. Diego Olivares. Italy. 2017. 103mins.
Toxicity can be an obvious theme for stories about corruption. But in Veleno, which means poison, mobsters are literally turning a farm on land that they covet into a toxic swamp. While Veleno draws from a familiar organised crime template, it offers moments of brutality that are all its own.
Solid acting follows shrewd casting and Veleno has both
This saga of mobsters strong-arming farmers probably won't get beyond a small theatrical release in Europe and North America, if that. The fact that it's in the dialect of Campania, where it's set, won't be an asset outside the circles of purists, critics and locals. But director/writer Diego Olivares does hold you close to the land in this southern Italian region, and that can be uncomfortable.
Two brothers, Cosimo (Massimiliano Gallo) and Ezio (Gennaro Di Colandrea), raise buffaloes on fields that their family has worked for generations. When local gangsters set a fire that incinerates 100 of those large beasts, the brothers begin to understand what's at stake.
Cosimo vows to fight, but Ezio wants to sell the farm, and moonlights driving a truck filled with toxic waste that gangsters pay him to dump nearby at night. The land where Roman ruins once protruded now oozes with green slime. Cosimo, living atop the toxins, already has cancer.
The Italian mob defined by illegal waste dumping is an image that was at the core of the masterpiece of recent Italian mob movies, Matteo Garrone's Gomorra (2008), and Gallo and Luisa Ranieri play to type, albeit handily, as the valiant farmer and his pregnant wife.
On the villainous side, Veleno and Olivares break some new ground with Rino (Salvatore Esposito), a burly loutish rubbish contractor who marries into the local mob family. He has political ambitions, and his wife aspires to style in kitschy expensive clothes that look borrowed from Curb Your Enthusiasm's Susie Essman – nothing if not a betrayal of taste. When Rino shows the faintest hint of a conscience – and it's faint – Olivares reminds us that toxicity can erode criminal alliances just as it can ravage good citizens.
Solid acting follows shrewd casting and Veleno has both. In the supporting role as the local godfather, Nando Paone is not to be missed, with a face that blends that of a commedia dell'arte performer with features that you might imagine on an ageing Adrian Brody.
As the avuncular don, Paone stirs the poison cocktail with designs on his own pre-teen niece, Rino's daughter. For once, the romantic notion of honor among thieves seems to be enforced, although Olivares makes sure that no one will call his dark film a romance.
Production companies: Bronx Film, Minerva Pictures, Tunnel Production, Rai Cinema, Sky Cinema, Film Commission Regione Campania, Gesco
International sales: Minerva Pictures info@minervapictures.com
Producers: Gaetano Di Vaio, Gianluca Curti, Nando Mormone
Screenwriter: Diego Olivares, in collaboration with Marcello Olivieri
Cinematographer: Andrea Locatelli
Editor: Davide Franco
Sound: Daniele Maraniello
Music: Enzo Gragnaniello, Marco Messina, Sasha Ricci (99 Posse)
Production Design: Antonio Farina
Main cast: Luisa Ranieri, Massimiliano Gallo, Salvatore Esposito, Nando Paone, Gennaro Di Colandrea, Miriam Candurro, Marianna Robustelli