Kaltrina Krasniqi's assured debut depicts a widow's confrontation with Kosovo's patriarchal structures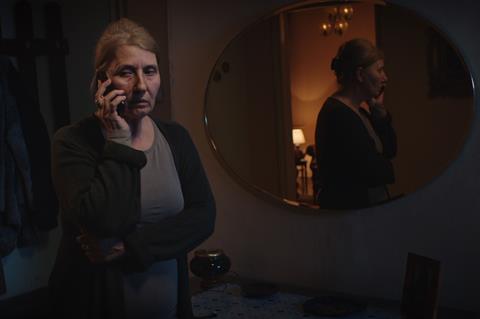 Dir: Kaltrina Krasniqi. Kosovo/Albania/North Macedonia. 2021. 87 mins.
There's a calm precision in Vera (Teuta Ajdini Jegeni, impressive) which extends from her job, as a sign language translator for television news broadcasts, to her comfortable, companionable relationship with her husband, retired judge Fatmiri (Xhevat Qorraj), to her impeccably scraped-back hair. But Fatmiri's sudden death forces Vera to confront the messiness of his life, and to navigate the patriarchal structures which still govern society in her native Kosovo. An assured debut from Kaltrina Krasniqi, Vera Dreams Of The Sea works both as a probing character study and as a commentary on the power imbalances in a culture in which patrilineal inheritance is the norm.
The filmmaking has some of the same restraint and control as Vera's central character
It's a personal work for Krasniqi, who dedicates the film to her own mother, also named Vera, inspired by her struggle for economic freedom following a divorce. It's a distinctive work in that it foregrounds a woman of a generation which is rarely the focus of cinema – Vera is, we assume, in her late fifties or early sixties — a generation which, in Kosovo, was shaped and subsumed by some fairly reductive societal attitudes. While the film lacks the upbeat sense of rebirth of something like Bohdan Slama's Ice Mother, it does find an eventual sense of resolution in the newly strengthened relationship between mother and daughter. Further festival exposure — the film screens in Thessaloniki following its world premiere in Venice Orizzonti — should consolidate Krasniqi's status as a name to watch.
The filmmaking has some of the same restraint and control as Vera's central character. Vera is exacting and organised; firm but polite when it comes to a batch of slightly substandard baklava ordered for her husband's birthday party. But the news that there is a potential buyer for their family house in a village out in the sticks brings a smile to the normally severe and buttoned-up Vera. She toys with the idea of buying a flat for her daughter Sara (Alketa Sylaj), of sharing cocktails on the beach with Fatmiri. But her husband doesn't share her excitement. And when she pops out to the shop to collect some final supplies for his birthday meal, he kills himself. Like everything in the film, the death is handled discretely — it's one of the few story elements that we don't see through Vera's eyes. Instead, the discovery of the body happens behind closed doors. And Vera, usually so proud and put-together, seems momentarily dishevelled.
It takes very little time for Vera to become aware of the fact that, in the eyes of the men she knows, her status has shifted. Her husband's cousin, Ahmeti (Astrit Kabashi), a cravenly obsequious presence, uses the funeral to stress how close he was to Fatmiri. Then he informs Vera that her husband had promised the house to him. Village elders, brought in to bolster his claim, refer to her with a disdainful "Madame" and refuse to look her in the eye. But the more firmly Vera digs in her heels, the more overt the threats to herself and her daughter.
Not everything in the film works: a recurring image of a woman in water, a reference to the title's dream, adds little more than opaque symbolism to the picture. But a confrontation in a cafe for the deaf is a powerful scene. And the film's final message — that an inheritance consisting of ideas and values is at least as worthy as that of bricks and mortar — is a potent one.
Production companies: Isstra Creative Factory, Dream Factory, Papadhimitri Production
International sales: Heretic, ioanna@heretic.gr
Producer: Shkumbin Istrefi, Ognen Antov, Dionis Papadhimitri
Screenplay: Doruntina Basha
Cinematography: Sevdije Kastrati
Editing: Vladimir Pavlovski, Kaltrina Krasniqi
Production design: Burim Arifi, Blendina Xhema
Music: Petrit Ceku, Genc Salihu
Main cast: Teuta Ajdini Jegeni, Alketa Sylaj, Astrit Kabashi, Refet Abazi, Arona Zyberi, Xhevat Qorraj