First-time director Layla Zhuqing Ji shoots her impressive tale of Chinese high-school bullying in Malaysia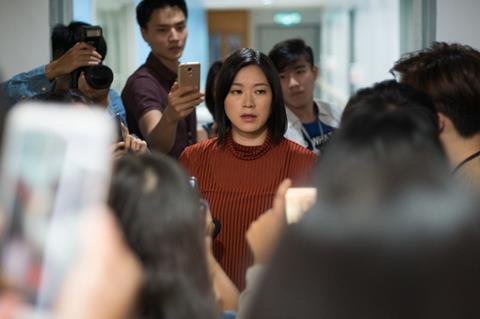 Dir: Layla Zhuqing Ji. Malaysia. 2020. 107 mins
School bullying rears its ugly head again in Layla Zhuqing Ji's impressive debut feature Victim(s), a hard-hitting examination of the subject which is sufficiently nuanced to largely sidestep sensationalism. Inspired by a true story, it takes the case of a teenager on trial for the apparently cold blooded murder of a classmate as a means of determining the wider culpability for such headline-grabbing incidents. Comparisons with Derek Tsang's controversy-baiting high school drama Better Days are inevitable, but Victim(s) firmly sets itself apart with the scope of its social inquiry and a whydunit mystery angle which often upends expectations.
Ji crafts a scathing social critique without tipping the film into irreversibly grave polemic.
Although it lacks the totemic romantic hook that made Better Days a box office smash, Victim(s) has strong theatrical prospects in Asian markets since it addresses a distressingly pertinent topic with depth and urgency. Internationally, its world premiere at the 2020 online Udine Far East Film Festival should lead to further engagements at Asian-themed events with respectable streaming revenues to follow.
The perpetrator of the crime is Chen (Fu Jianxun) who has stabbed fellow student Gangzi (Kahoe Hon) to death at an ATM on a stormy night. In their efforts to apprehend the killer, police interview shocked classmates who suggest that the murder is the result of a romantic rivalry over new girl Qianmo (Wilson Hsu), who had transferred from an art school. However, the manhunt ends abruptly when Chen turns himself in and confesses to the crime. Public scorn is poured on Chen's mother, Mei (Huang Lu), the CEO of a video game company that is synonymous with violent content. Yet something is amiss as the soft-spoken Chen doesn't seem like the kind of youth who would commit such a vicious act without a desperate reason.
The film starts with the intense media fixation on the case as journalists waste no time in stoking the class conflict between the dead boy's impoverished mother Gu (Remon Lim), who ekes out a humble living at a massage parlour, and the wealthy Mei who saunters into Gangzi's funeral in a designer outfit. However, Ji then goes behind the tabloid headlines with extended flashbacks which focus on what actually transpired between Chen, Gangzi and Qianmo. Their complex, ultimately tragic dynamic was anything but a conventional teenage love triangle and occurred in a school absolutely rife with peer abuse.
School bullying is depicted in an unflinching manner with the education system portrayed as an enabler. Teachers turn a blind eye to hazings since they are primarily concerned about maintaining the institution's spotless public image so chastise students for smoking on campus while accepting vague explanations for glaring bruises. This gives various cliques leeway to remorselessly humiliate vulnerable classmates, thereby reinforcing hierarchy or mitigating the perceived stigma of poor academic performance in a school where students sit according to class ranking.
There is a disturbing emphasis on how bullies will gleefully shoot dehumanising cellphone videos despite potential for self-incrimination, but Ji posits that such abhorrent behaviour is as a symptom of other issues. By weaving such topics as domestic violence, homophobia, sexual repression and peer pressure into a specific case study, Ji crafts a scathing social critique without tipping the film into irreversibly grave polemic.
The performances are uniformly convincing. Lim contributes a palpable portrayal of grief while indie regular Huang, usually cast as characters on the lower rungs of society, is typically excellent as a successful entrepreneur whose necessary steeliness causes her to be readily stereotyped by baying journalists. The younger actors are credibly anguished in challenging roles which require them to convey the moral ambiguities suggested by the film's title. Hsu is the standout, effectively projecting a premature dejectedness even when delivering lines that are too on-the-nose about the realities of coming of age in the digital era ("They don't teach us any of this in school, but you'd be surprised how easy it is to find answers online.")
Anticipating a list of compromising script revisions from the local censorship board if she made the film in her home country of mainland China, Ji elected to shoot Victim(s) in Malaysia. It's a choice that pays off as much aesthetically as it does in terms of content since cinematographer Eunsoo Cho is able to add shades of pervading darkness to an otherwise bright, impeccably clean setting. Other elements are similarly polished with Hsiao Yun Ku's editing smoothly navigating multiple perspectives and timelines while Alexander Arntzen's restrained piano-based score captures the solemn mood yet crucially is not without a sense of hope.
Production companies: Lomo Pictures, MM2
International sales: Coastline Pictures, filmmakerlayla@163.com
Producers: Aron Koh, Layla Ji, Nikki Suhying Tok, Ying Yang
Screenplay: Layla Zhuqing Ji
Editing: Hsiao Yun Ku
Cinematography: Eunsoo Cho
Music: Alexander Arntzen
Main cast: Huang Lu, Remon Lim, Fu Xianjun, Wilson Hsu, Kahoe Hon