David Harbour's disillusioned Santa takes on a criminal gang in Tommy Wirkola's alternative Christmas story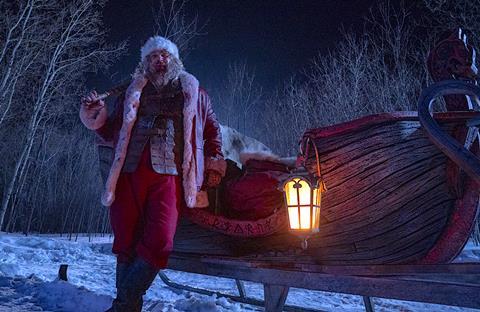 Dir: Tommy Wirkola. US. 2022. 112mins.
Making room for both madcap gore and holiday-season sentiment, Violent Night stuffs plenty of Die Hard and Home Alone into its bag of goodies, delivering a cheeky, derivative action-comedy in which Santa Claus is a John Wick-like badass who must face off with a house full of crooks. It's a clever idea guided by David Harbour's appealing, tonally tricky performance as the real Kris Kringle, whose growing pessimism about the amount of good he's doing in the world will be challenged during a harrowing Christmas Eve that would make even John McClane tremble. The picture is irreverent yet oddly touching, never especially great but often disreputable fun.
Violent Night's graphic violence is punctuated with laughs, and audience members are invited to grimace and giggle as Wirkola piles on the absurdity in his over-the-top, physically punishing sequences.
Universal releases Violent Night in the UK and US on December 2, offering yuletide counter-programming for adults craving bloody violence and profanity-laden jokes. Featuring John Leguizamo as the leader of a group of dangerous mercenaries who take a rich family hostage inside their swanky compound, the film should especially cater to fans of 87North Productions' previous high-octane pictures such as John Wick and Nobody.
Harbour plays Santa Claus, who is making his rounds on Christmas Eve – and pondering whether to hang up his hat, as fewer people believe in him and society's increasing greediness keeps children from fully appreciating his presents. When he enters the house of the wealthy, corrupt Lightstone family, he realises that it's being invaded by criminals who want to steal $300 million hidden in their vault; after his reindeers take off without him, Santa has no choice but to stop these very naughty crooks.
Recalling the cheerful B-movie nastiness of his 2009 breakout zombie film Dead Snow, director Tommy Wirkola doesn't hide his cinematic reference points, ripping off the premise of Die Hard — which, in recent years, has itself been rebranded as a Christmas movie — to pit Santa against heavily armed thugs led by a preening megalomaniac. At first, Jolly Old Saint Nicholas hardly seems capable of taking on these elite soldiers, but a crucial bit of backstory will explain why he's actually quite a capable fighter. That plot twist gives Wirkola the excuse to unleash the sort of bone-crushing, blood-spurting hand-to-hand combat scenes we've come to expect from producer David Leitch, who was uncredited as co-director of John Wick and later helmed Atomic Blonde and this year's Bullet Train.
Violent Night's graphic violence is punctuated with laughs, and audience members are invited to grimace and giggle as Wirkola piles on the absurdity in his over-the-top, physically punishing sequences. But, at the same time, he's also trying to establish an emotional undercurrent involving the Lightstone family's scared but resourceful granddaughter Trudy (Leah Brady) communicating with Santa via walkie-talkie while she hides in the attic, providing moral support to the man she still believes in. Their scenes have a sweetness amidst the rising body count, allowing the viewer to have a rooting interest in what is otherwise an amusing, albeit disposable Christmas riff on familiar action tropes.
Harbour plays this disillusioned, drunken Santa just right, elevating the cliched treatment of the character into something a little more poignant and noble. Violent Night is hardly the first picture to portray Kris Kringle as decidedly un-jolly, but the Stranger Things star doesn't settle for a smirking performance. Instead, his foul-mouthed Santa is someone who reconnects with his sense of decency, wanting to rescue Trudy despite the fact that many in her family are spoiled rotten.
Unfortunately, the attempts to satirise the poisonously self-absorbed Lightstones mostly fall flat, although Cam Gigandet has his moments as the truly moronic son-in-law who fancies himself an actor of great depth. Likewise, Leguizamo can't break free of screenwriters Pat Casey and Josh Miller's unimaginative envisioning of the villainous Ben. In truth, Leguizamo is most effective and funniest while slowly losing his temper with his gang, who start insisting that the solitary avenger picking them off might actually be the real Santa Claus.
As the film hurtles toward its finale, Wirkola ups the gruesome carnage. (Soon, Trudy is getting into the act, following in the footsteps of Macaulay Culkin's sadistic Kevin from her favourite picture, Home Alone.) But despite the overkill, Violent Night manages to keep us off-guard by maintaining its sense of humour and its endearingly sappy outlook on the true meaning of Christmas. This Santa packs a punch in more ways than one.
Production company: 87North Productions
Worldwide distribution: Universal Pictures
Producers: Kelly McCormick, David Leitch, Guy Danella
Screenplay: Pat Casey & Josh Miller
Cinematography: Matthew Weston
Production design: Roger Fires
Editing: Jim Page
Music: Dominic Lewis
Main cast: David Harbour, John Leguizamo, Alex Hassell, Alexis Louder, Edi Patterson, Cam Gigandet, Leah Brady, Beverly D'Angelo