A middle-aged film director attempts to find a place to truly belong in the latest work from Hong Sang-soo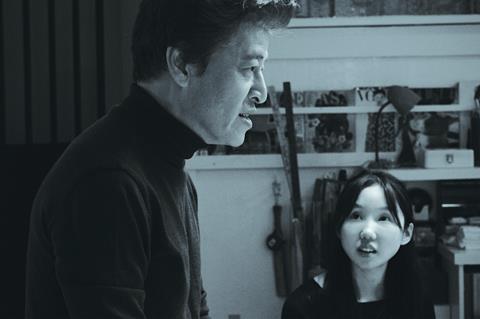 Dir: Hong Sang-soo. South Korea. 2022. 97mins.
A character in Hong Sang-soo's latest film Walk Up tells her favourite director that his work is ideal home entertainment – it invariably gets her rolling around the floor with laughter, and is best viewed while drinking glass after glass of wine. It's a typically self-reflexive touch from Korea's legendarily prolific filmmaker, whose own work is very much associated with bibulous characters – and in Walk Up, the wine barely stops flowing. But while Hong's films are often highly comic, albeit in a subtly dry fashion, they can also be intensely melancholy; and few are sadder, or indeed more elaborately perplexing, than this. With its layered four-act drama, informational gaps and abrupt narrative jumps, Walk Up sees Hong laying on a few more challenges than usual and, while it's not likely to reel in new viewers from outside Hong's devoted following, fests and discerning platforms will happily raise a glass to one of his richest fables to date.
As so often with Hong, this is a story about the rewards and pitfalls of love and creativity
As so often with Hong, this is a story about the rewards and pitfalls of love and creativity, and once again the central character – at least, the figure whose arrival sparks the drama – is a film director. Here it's a middle-aged man named Byungsoo (Kwon Haehyo), who drops in on old female friend Ms Kim (Lee Hyeyoung). An interior designer, she owns a house in which she lives, works and rents space on several floors; notably to a woman named Sunhee (Song Seonmi), who runs a restaurant there. Byungsoo has brought his daughter Jeonsu (Mi-so Park), who has given up her art studies and now hopes to become an interior designer, with perhaps some friendly advice from Ms Kim.
At one point, Jeonsu chats with the in-house waiter (Shin Seok-ho), a young man who likes to be known as 'Jules' after his favourite writer (Verne? Renard? Pfeiffer?). He spills the beans on Ms Kim, telling Jeonsu that she's a tough cookie – as we later find out, when it's revealed that Kim is not the easiest landlady. At one point, Kim takes Byungsoo upstairs to meet Sunhee, who says that she's a massive fan of his films. Over one of those long-take sessions of table talk that are a Hong speciality, we see Byungsoo and Sunhee visibly warming to each other.
After an abrupt narrative jump – covering an undetermined period of time – we realise that Byungsoo has now moved in with Sunhee, his own career in a quandary after his latest film project has fallen through. Jungsoo has also disappeared, ditching her career plans for other prospects. But just when we're getting used to Byungsoo's new life, he's next seen spending time with another woman, estate agent Jiyoung (Cho Yunhee), who may or may not be his ex, mother of the errant Jungsoo.
As these disorienting shifts in time and domestic arrangements keep placing the narrative elements into dramatic realignment, Hong's own camerawork explores the vertical architecture of the Kim house, lingering in extended still shots on the staircase, a bed, a kitchen pot. These are slices of empty space that, inserting brief contemplative gaps into the action, make Walk Up the Hong film that's closest to Ozu or to the spatial reveries of slow cinema practitioners like Tsai Ming-Liang or Hou Hsiao-Hsien.
Another striking trick comes in a sequence in which Byungsoo lies down and hugs a desolate pillow, his relationship with Songhee apparently at an impasse. We hear what seems to be a voice-off preview of a conversation that they're yet to have – or perhaps never will. A coda shows the Kim house and its surroundings ominously windblown, making us wonder how much of what we've been watching we can take at face value.
This is a film about the home and all that it promises – with Kim's house opening up a new space of artistic and domestic possibility for its tenants and visitors, until their dreams start withering, and the place becomes the site of everyday tensions and negotiations. Hong's own crisply luminous black and white photography is as meticulous as usual: the images at once utterly matter-of-fact and mysteriously resonant in their details.
The film's spaces also provide a frame that allows us to catch the smallest nuances of performance by a cast of Hong regulars; a hesitation here, an awkward smile there, all speaking volumes but in super-sotto mode. The laconic soundtrack punctuating the episodes is a jangly guitar motif associated with Byungsee's musical dabbling. A remarkably tender film, Walk Up certainly won't have you rolling on the floor, but it may have you – like its characters – pouring yourself glass after glass as you process its delicious complexities.
Production company: Jeonwonsa Film Co
International sales: Finecut cineinfo@finecut.co.kr
Producer: Hong Sang-soo
Screenplay: Hong Sang-soo
Cinematography: Hong Sang-soo
Editing: Hong Sang-soo
Music: Hong Sang-soo
Main cast: Kwon Haehyo, Lee Hyeyoung, Song Seonmi, Cho Yunhee