Benedict Cumberbatch narrates this unusual documentary about a spiritual retreat in France under the guidance of renowned Zen master Thich Nhat Hanh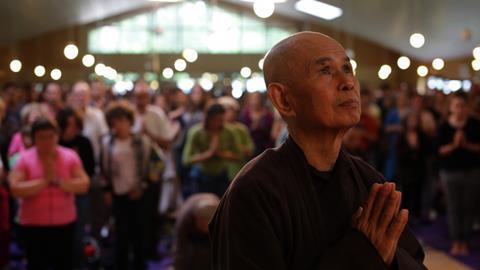 Dirs: Max Pugh, Marc J. Francis. UK, 2017, 94 mins.
Setting their feature most firmly in the here-and-now with the mindful monks of Plum Village in Southwest France, Max Pugh and Marc J. Francis make a sincere effort to, in essence, break the spiritual fourth wall with this documentary about Zen Buddhist master Thich Nhat Hanh and his followers. And although many cosmic questions are posed in Walk With Me, the one which most concerns the fate of their film is whether mindfulness can be translated into a viewing experience.
No matter where these Buddhists are, a bell chimes every fifteen minutes to return their focus to the moment they're living in.
While the British-made Walk With Me should enjoy a strong following simply for the popularity of Vietnam's Nhat Hanh, it seems unlikely to make many new converts to the cause. Associate produced by Benedict Cumberbatch's SunnyMarch – he provides the occasional narration of Hanh's wispy diaries – Walk With Me is a slip of a film, at turns worthy and profound, yet also soporific and uneventful, an occupational hazard of spending three years embedded in a Zen community, no doubt.
A documentary about the inner workings - and potential - of the mind has, by definition, limited visual avenues to explore. Shots of nature, from the sun's rays glimpsed between tree branches to a ladybird slowly crawling across the screen: this is Terrence Malick territory, complete with birdsong and bell chimes and long walks contemplating nature. Watching a monk slowly consume a rice cake is not a challenge everyone will want to set their own mind to, however.
Walk With Me is set mostly in Plum Village, near Bordeaux, where Vietnam's Thich Nhat Hanh was exiled in the early 1980s. It's the base from which he has introduced the concept of mindfulness to the West. Now aged 90, and once nominated for a Nobel Peace Prize by Martin Luther King, he is a serene and mostly silent presence in the film (he has recently suffered from a stroke) who only once speaks at length, to counsel a young girl whose dog has died.
As Cumberbatch intones "what else is there? How can I touch it?", the film proceeds on two levels. The first, which tracks the monks about their day-to-day business is, by nature, more interesting to watch. Heads are shaved, tofu is fried, and a young monk fidgets as time stretches out into infinity. Pilgrims come and they are charged and their children roam the buildings; later, there's a US speaking tour where Nhat Hanh is billed below Jackson Browne (sadly, there is no footage from these shows).
Here, in the United States, some of the film's most connective sequences take place. A nun encounters her elderly father in a retirement home, for example, and a young monk visits his family for a trip down memory lane. There's no sense of how they ended up in Plum Village, however, or how their loved ones might feel about the path they've taken in life. They will never have sex, for example, and, intriguingly, one states, "I don't know if I feel happy, but I'm definitely satisfied." The viewer might want to understand more, but this documentary is not on a mission to give any answers - its main urge is to remind the viewer of the importance of the here and now, of the thunderous nature of silence.
No matter where these Buddhists are, a bell chimes every fifteen minutes to return their focus to the moment they're living in. "Life and all the wonders of life are only available in the present moment," we are told. Following this reasoning, it's possible that the 94 minutes spent watching Walk With Me may be a suspension of life and its wonders, but Pugh and Frances have made a documentary which is fascinating enough to seem worth the risk.
Production company: Speakit Films
International sales: WestEnd Films
Producers/Cinematography/Editing: Max Pugh, Mark J. Francis
Additional editing: Nicholas Chaudeurge, Alan Mackay
Sound: Anna Bertmark
Music: Germaine Franco
Narration: Benedict Cumberbatch