A wife discovers her husband is gay in this exploration of queer Nigeria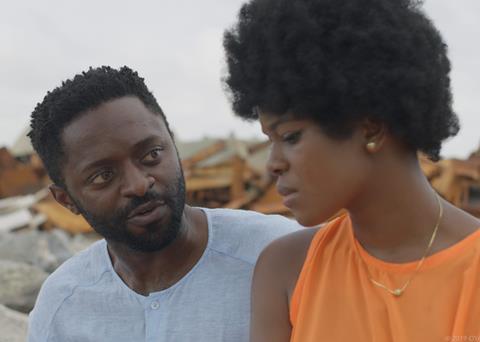 Dir/scr: Aoife O'Kelly. UK/Nigeria. 2019. 93mins
Revelations of a married man's homosexuality provoke great consternation among his nearest and dearest in Walking With Shadows. Writer/director Aoife O'Kelly's adaptation of Jude Dibia's groundbreaking 2005 novel feels like a throwback to sincere, social issue dramas of the 1960s. This is territory familiar from Victim (1961) onwards but the setting of Lagos and the exploration of queer Nigeria lend a fresh relevance to material that might otherwise feel old hat.
O'Kelly's very polished production successfully works against the notion that this may seem dated to some audiences
Ebele Njoko (Ozzy Agu) is known to his friends and family as Adrian. Married to interior designer Ada (Zainab Balogun), he is a devoted husband and father. Their romance seems enviable to any outsider. They are first seen together on a sandy beach revisiting a rock where they once carved their initials. O'Kelly returns to the beach setting at the end of the film with a clearer appreciation of their relationship.
Ada receives a phonecall claiming that her husband is gay. He does not deny the accusations and seems relieved that he is finally able to admit his attraction to men. Ada calls into question everything she has taken for granted and demands that he leave the family home.
Walking With Shadows charts the rippling consequences for Adrian as the gossip about him becomes public knowledge. Family members turn against him, his continued employment is thrown into doubt, the church vows to cast out the devil in him and Ada is tormented by questions of whether their entire marriage has been a sham.
O'Kelly's very polished production successfully works against the notion that this may seem dated to some audiences. Revealing flashbacks punctuate the main narrative although the fractured storytelling sometimes creates a slightly confusing time frame. Adrian's family and religious background is established. He is always slightly seen as an outsider. There is a constant questioning of masculinity. In that context, the struggle to be true to his desires nudges the film towards becoming a Nigerian Moonlight.
Flashbacks also reinforce a genuine love between Adrian and Ada. There is never any doubt that they are soulmates, a notion sealed at their first meeting when he quotes Mark Twain and she responds with a few lines from Shakespeare's 'Macbeth'.
The unexpected elements of Walking With Shadows lend it more interest. Ada is introduced to a group of well-heeled wives who are all accepting of their husbands' homosexuality and happy to profit from marriages of convenience. Adrian finds sanctuary with a gay friend and his partner and also enjoys a taste of romance with visiting Frenchman Antoine.
Every reaction to Adrian's homosexuality seems to reflect the dangers of being openly gay in Nigeria. He becomes a heroic figure as he quietly resists all the pressure to head back into the closet.
There are times when Walking With Shadows can seem gauche and too on the nose. A cousin of Ada's worries that her young son might be gay. "Boys don't play with dolls!" she declares. The sensitive underplaying of both Ozzy Agu and Zainab Balogun lends conviction to the characters, ably transcending any reservations about some of the dialogue or structuring.
Production company: OYA Media
International sales: Rushlake Media Gmbh info@rushlake-media.com
Producers: Funmi Iyanda, Olumide F. Makanjuola, Xeenash Mohammed, Victoria Thomas
Editing: Matthew Maria
Cinematography: Gerard Puigmal
Music: Sami El-Enany
Main cast: Ozzy Agu, Funiola Aofiyebi, Zainab Bologan