Winner of the NEXT prize at Sundance, Jeremiah Zagar's dreamy coming-of-age drama is captivating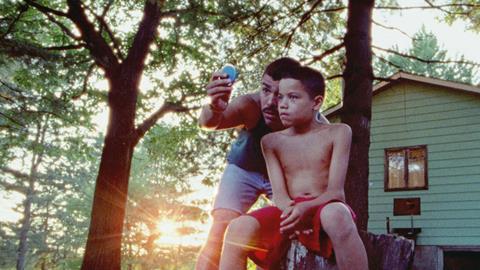 Dir: Jeremiah Zagar. US. 2018. 94mins
A beautifully photographed, captivating portrait of youth, We The Animals focuses its dreamy lens on a family of five in rural upstate New York: brothers Manny, Joel, and the youngest Jonah (Evan Rosado), their combustible Puerto Rican father (Raúl Castillo) and volatile white mother (Sheila Vand). Like the acclaimed debut novel on which its based, We, The Animals is immersive, impressionistic and told through a series of loosely-connected vignettes, mostly revolving around Jonah's coming of age within his dysfunctional household.
A visually pleasing and surprising film
Picked up for US release by The Orchard shortly after Sundance concluded (where it won the NEXT innovator award) Zagar's film has been likened by some critics to Moonlight. A more appropriate A24-released comparison is The Florida Project, however, as it observes the experiences of the three young children running wild, uninhibited, and unchaperoned through their unkempt house and woodsy environs.
But We The Animals never quite reaches the power of those two films; despite superb filmmaking and a finely etched sense of place, it seems to hover around the edges of its characters, looking from a poetic distance rather than going deep inside. Still, the result is an impressive first narrative feature from director Jeremiah Zagar (whose previous credit is the sharp Sundance documentary Captivated: The Trials of Pamela Smart). We, The Animals should be welcomed by film festivals, broadcasters and niche distributors looking for brave new talent, but it's a smaller and slighter film than those to which it is being associated.
The film opens with a dynamic montage of the boys' rambunctious lower-middle-class rural life and Jonah's voiceover narration. "We wanted more," the boy repeats, as the three little troublemakers run around together without shirts. Jumping, wrestling, playing, and raiding the cupboards for food, they are like a pack of voracious lion cubs.
Their father "Paps" is a suave Puerto Rican hunk, lively and impulsive. On a weekend family outing to a nearby lake, his way of teaching Jonah how to swim is dragging him into the middle of the water and leaving him to drown. While Paps is passionately in love with "Ma," their hot-blooded relationship leads to conflict as much as romance. When Paps strikes his wife, he is forced out of the house, much to Jonah's naïve confusion, and the three boys must fend for themselves with their mother nursing her wounds, unable to get out of bed, and their father, for the moment, absent—except for continuous calls on the telephone, pleading to return. (Ma hangs up.)
On one of the boys' adventures, stealing food from a neighbour's farm, they meet the old farmer's blonde feathery-haired grandson, who invites them to the basement to watch VHS tapes of late-night-TV porn clips. It's there that we learn that Jonah may be different from his brothers. He has always been considered the most delicate of the three siblings, but when he looks wide-eyed at footage of two men having sex, the film subtly suggests that Jonah may have more to him than just a gentle side.
Increasingly, the film assumes Jonah's point-of-view and subjectivity, taking on magic-realistic detours that reveal his fragile and conflicted state of mind. When he hides under his bed, scrawling pencil drawings on a lined pad of paper that depict his feelings of isolation or victimisation by his brothers, the pictures evocatively come to animated life; in his return to the farmer boy's basement, he fantasises a brief kiss with the teenager, all imagined underwater; and in a recurring visual trope, Jonah is shown soaring over his house or even higher up into the sky, with his shadowy figure reflecting down on the earth below. Jonah never fully flies away from his domestic turmoil, but after a climatic confrontation in which his secrets are unexpectedly revealed, he begins to come to terms with himself and his family.
We, The Animals is an ambitious mix of styles: with its beautifully composed 16mm cinematography, soaked in warm-hued nostalgia, and surrealist flights of fancy and animation, it makes for a visually pleasing and surprising film.
There's also a lot to recommend in the performances: handsome television actor Raúl Castillo is charismatic, his scenes with the boys are genuine, and it's a remarkable achievement that he can portray an abusive man who is also vulnerable and anguished. Sheila Vand (A Girl Walks Home Alone at Night) is also profoundly watchable as a bruised and downtrodden working-class mother who lashes out at her children as much as she coddles them. When she takes the boys on the road, attempting an escape to who-knows-where with no viable plan, she offers an affectingly candid confession to her children that she doesn't know what she's doing. Young actor Evan Rosado and his fellow child thespians (Isaiah Kristian, Josiah Gabriel) all bring further authenticity to the proceedings. There's nary a disingenuous moment.
But for all its deft style and sympathetic characters, there's still something missing in We,The Animals. In its efforts to evoke a young boy's inner-world, it falls short of fully capturing his emotional reality. Jonah's story should be heartbreaking, but when we see images of him flying over the forest, it's just picturesque and lyrical. Rather, the film is best when it's grounded. And yet, in a flurry of coming-of-age films at Sundance, Zagar's sensitive and creative vision stood out as one of the most distinctive and promising
Production Companies: Cinereach, Public Record
International Sales: Cinetic Media, office@cineticmedia.com
Producers: Jeremy Yaches, Christina D. King, Andrew Goldman, Paul Mezey
Executive Producers: Philipp Engelhorn, Michael Raisler
Screenplay: Dan Kitrosser, Jeremiah Zagar
Editors: Keiko Deguchi, Brian A. Kates
Cinematography: Zak Mulligan
Production design: Katie Hickman
Main cast: Raul Castillo, Sheila Vand, Evan Rosado, Isaiah Kristian, Josiah Gabriel