Makata Shinkai follows up the global anime sensation 'Your Name'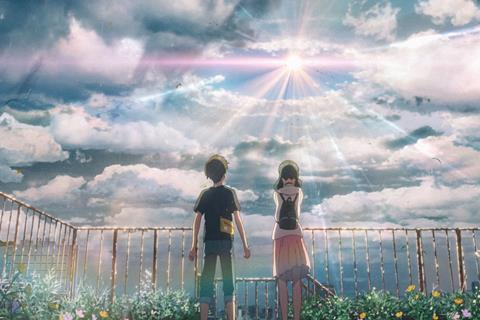 Dir/scr: Makoto Shinkai. Japan. 2019. 111mins
A 16-year-old runaway schoolboy meets a girl with an unusual gift in this visually stunning anime from Makoto Shinkai (Your Name). Hodaka is struggling to survive on the perpetually sodden streets of Tokyo; Hina shows him the city in sunlight – she has the ability to change the weather through prayer. But it's a gift that comes at a cost. This is a charming teen romance, but one which uses climate change as a plot device while studiously ignoring the actual science of the climate crisis. Instead, the film weaves a combination of folklore, fantasy and Shinto philosophy which claims that the weather is controlled by gifted teenagers, human sacrifices and cloud fishes. Which is all very well, but does seem a little out of kilter with current environmental concerns – something which the teen target audience age group for the film is taking pretty seriously right now.
Fails to weave quite the same sense of enchantment
Weathering With You is Shinkai's follow up to the phenomenally successful Your Name, which, to date, is the fourth highest-earning film of all time in Japan. And while the story of the film lacks some of the sinuous inventiveness of its predecessor, it shares the striking animation style, romantic sensibility and a similar poppy score by Radwimps. Already released in Japan, the film currently stands at the ninth most successful release of all time. Ultimately, its association with Your Name will be the picture's biggest marketing asset overseas. And it will also be the main stumbling block: Weathering With You employs a similar formula but fails to weave quite the same sense of enchantment.
We meet Hodaka just as one of the rain deluges which regularly hit Japan is about to wipe him out from the deck of a ferry. He is saved by a slightly disreputable man, Mr Suga, who gives him a business card, should he need any help in Tokyo. Hodaka resolves not to use it, but soon finds that life in the city is tough for an under-aged kid with no permit to work. He takes a job with Mr Suga, who runs a kind of cottage industry news agency, hawking tall tales to supermarket magazines. Meanwhile, Hokada strikes up a friendship with Hina, who lives alone with her younger brother following the death of their mother a year before. The onset of Hina's gift, the ability to bring brief spells of sunshine into the continual rain which lashes the city, coincided with her mother's death.
Given how much of the distinctive look of Your Name depended on the play of sunlight and of expanses of blue sky dotted with a froth of clouds, it's a bold decision to excise the sun so thoroughly from much of this picture. But Shinkai finds other light to play with. The rain soaked tarmac is a broken mirror which turns each neon sign into a shower of reflected sparks; he takes us into the heart of a firework display. He also finds beauty in decay – in a derelict building full of rust blisters and blown plaster, we catch sight of the sky through a hole in the roof which is reflected in a puddle on the floor.
The dark sensibility extends beyond the look of the picture. There's a current of violence which is always threatening to arc; a sense of squalor and exploitation under the gorgeously realised baubles of Shinjuku. When Hina says, "I'm sure we're going to be okay,'' it's hard to fully share her confidence.
Production companies: Toho Co., Ltd., STORY Inc., CoMix Wave Films
International sales: Toho Co., Ltd.
Producers: Genki Kawamura, Yoshihiro Furusawa
Screenplay: Makoto Shinkai
Production Design: Hiroshi Takiguchi, Masayoshi Tanaka
Editing: Makoto Shinkai
Cinematography: Ryosuke Tsuda
Music: Radwimps
Main voice cast: Kotaro Daigo, Nana Mori