Dir/scr: Nitzan Gilady. Israel. 2015. 82 mins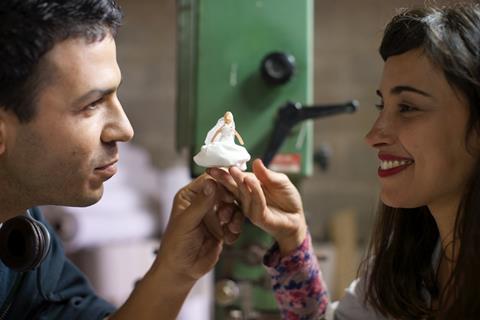 How do you solve a problem like Hagit? In Nitzan Gilady's assured Wedding Doll, Hagit is a young woman with mild learning difficulties struggling to secure a measure of independence from her loving but overprotective mother. Hagit's romantic view of the world is at odds with the cruel disappointments that await her as Giladi creates a plaintive, understated heartbreaker that is neither overly sentimental nor excessively maudlin. Wedding Doll won Best Israeli Debut Feature and Best Actress (Asi Levi) at the Jerusalem Film Festival and should continue a wide-ranging Festival circuit journey after Toronto. There is also the possibility for some, small scale theatrical play from distributors who have supported titles like Asaf Korman's Next To Her (At li layla).
Moran Rosenblatt has the look of a young Patricia Arquette and her Hagit glows with an inner radiance
Wedding Doll is set in a small town in southern Israel's Negev desert and cinematographer Roey Roth captures some striking images of the desert landscapes where the warmth and intense light seem to match the eternally sunny disposition of Hagit (Moran Rosenblatt). The beautiful 24 year-old sports a beaming smile and spends her spare time designing a perfect wedding dress and creating dolls from toilet roll paper and holders. What sounds on paper to be unbearably twee is actually rather charming. Hagit works in a small family factory that cuts and packages toilet rolls. She has mapped out a future for herself and handsome boss's son Omri (Roy Assaf).
If Hagit is an impossible dreamer, her mother Sara (Asi Levi) deals only in reality. Divorced and working as a hotel chambermaid, Sara's world revolves around caring for Hagit. When the factory closure is announced, Hagit's unrealistic expectations for the future places her at odds with her weary, worried mother.
Nitzan Gilady's screenplay manages to avoid any strenuous tugging at the heartstrings over Hagit's plight. We learn of the scars she bears from childhood bullying and witness the way she is still branded a "weirdo" but Hagit has such faith in the future that she refuses to become the victim of an uncaring world. Sly attempts to dodge a lift from her mother and make her own way to work contribute to a winning portrait of a stubborn woman determined to fend for herself. Equally, he never allows Sara to become the villain of the piece as her actions are always shaped by compassion and the desire to protect Hagit from harm.
Moran Rosenblatt has the look of a young Patricia Arquette and her Hagit glows with an inner radiance. Asi Levi balances Sara's anxiety with glimpses of her undimmed appetite for life, confirming that Hagit is very much her mother's daughter.
Wedding Doll has echoes of Romeo And Juliet in the romance between Hagit and Omri and hints of Fellini's I Vitelloni in the way Omri and his close friends yearn to escape the suffocating grip of small-town life. It is a sad little tale but one that manages to find notes of hope amongst the setbacks and rejections of everyday life.
Director/Screenplay: Nitzan Gilady
Production Company: Gilady Nitzan Films
International sales: Six Sales marina@6sales.es
Producer Nitzan Gilady
Cinematography Roey Roth
Editors Daniel Avitzur, Tali Goldring
Production design Dina Kornveits
Music Lior Rosner
Main cast Asi Levi, Moran Rosenblatt, Roy Assaf, Arie Tcherner
ends