A black and white 1970s-set road movie spanning Nova Scotia is far more effective than it might initially appear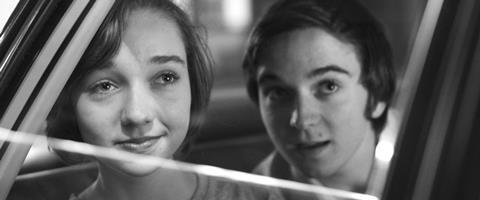 Dir. Bruce McDonald. Canada, 2016, 85 mins.
For 15 year-olds Kit (Dylan Authors) and Alice (Julia Sarah Stone), hitchhiking across Nova Scotia circa 1976 is a teenage dream: the open road awaits, as does a highway to a new life, chance encounters with colourful characters, and the newfound freedom of setting forth into the unknown. For director Bruce McDonald and writer Daniel MacIvor, reuniting after 2010's Trigger, it's a chance to craft a quirky coming-of-age tale with just the right balance of insight and nostalgia. Laced with sweetness of the melancholy kind, the film is much more effective and far less generic than might initially appear.
Molly Parker delivers the film's standout turn
Indeed, with McDonald returning to the road trip after Roadkill, Hard Core Logo and Highway 61 (his other fascination is the horror of Pontypool and Hellions), Weirdos benefits from both a lovingly familiar yet languid eye and mood — and should benefit from modest festival play as a result. This is a feature that saddles its briefcase-carrying protagonist, the not-quite-sure-about-himself Kit, with a pop artist impersonator (Rhys Bevan-John) as his 'spirit animal', after all. "Are you Andy Warhol?" he asks, only to be told "no, I'm just a guy in a wig."
Their interactions form part of the kind of character-building which comes gradually via snippets of information and conversations. When Kit reveals that he has brought a hairdryer on their two-day excursion to the slightly brighter lights of Sydney, it's a sign of bigger disclosures to come. Similarly, Alice's request for sex to rid them of their virginity — and break the tension of straddling the line between a close platonic and burgeoning romantic relationship — speaks volumes about their sincere but physically awkward bond.
Shot in black-and-white by cinematographer Becky Parsons — and often emphasising the sun-dappled glow that fond memories are made of — the central duo hops between cars and jumps around feelings. Although they've spun thin, fictitious stories to both Kit's teacher father (Allan Hawco) and Alice's parents, they're hardly in a rush. Flitting between different travelling companions and the fresh realisations each encounter brings, the brief, 85-minute film they're in is happy to indulge their unhurried pace.
Casting everything in sight with an affectionate glow, enjoying time spent on the road: the duo ventures towards Kit's ex-model mother Laura (Molly Parker, another Trigger alum). In fact, it's a pleasantly offbeat journey reminiscent of Wes Anderson meets Richard Linklater, until they reach their destination. That's where Parker gives Weirdos its strongest sense of drama, and stresses the emotional impact as secrets are revealed and confrontations sprung. Still, while Parker delivers the film's standout turn, the young leads more than hold their own in guiding this quietly affecting movie — Authors with a barely concealed expression of searching, and Stone with a relatable blend of pluck and yearning.
Production companies: Lithium Studios, Shadow Shows, Holdfast Pictures
International sales: DDI - Double Doutch Int'l, jason@doubledutchmedia.ca
Producers: Marc Almon, Mike MacMillan, Bruce McDonald
Executive Producer: Marc Savoie
Screenplay: Daniel MacIvor
Cinematography: Becky Parsons
Editor: Duff Smith
Music: Asif Illyas
Production design: Matt Likely
Cast: Dylan Authors, Julia Sarah Stone, Molly Parker, Alan Hawco