Steve Carell stars in a self-consciously offbeat biopic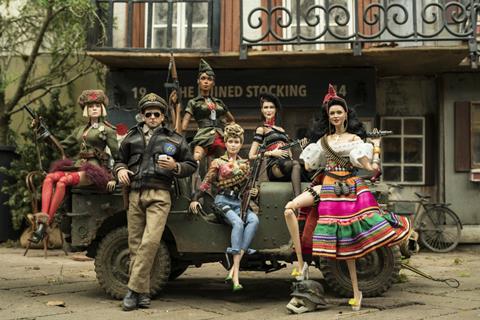 Dir: Robert Zemeckis. US. 2018. 116mins
Trying to turn outsider art into mainstream entertainment, Welcome to Marwen takes oddball 2010 documentary Village Of the Dolls, about one man's life in the aftermath of brain injury, and gives it an uplifting ending and a fistful of special effects. The result is a peculiar hybrid that feels too strange for multiplex audiences and too schmaltzy for the arthouse crowd.
The action scenes in some of those wartime daydreams have a thrilling snap and tension
Opening December 21 in the United States and Canada (before a worldwide release in January), it enters the busy holiday season without critics' awards or end-of-year buzz. Both Zemeckis and Carrell are sure to attract their respective fanbases, but the film still seems fated to slip in and out of theatres quickly.
The based-on-a-real-story feature concerns Mark Hogancamp (here played by Steve Carell), a middle-aged alcoholic savagely beaten by homophobes after drunkenly confessing he likes to wear women's shoes. In a coma for more than a week, he emerges with serious brain damage, total amnesia and a severe case of post-traumatic stress disorder. His self-prescribed treatment for this trauma is to buy dozens of Barbie dolls and G.I. Joe action figures and place them into elaborate World War II scenarios, which he then painstakingly stages and photographs.
That's the heart of Hogancamp's story, minus a complicated coda involving his eventual discovery by the art world. It's also one reason why the original documentary was barely over 80 minutes – and the chief reason why, in trying to fill two hours, this feature goes soft and saggy. Much of that padding comes from pure fantasy, as we enter Hogancamp's world of living dolls playing out their wartime melodramas. It's an unusual idea, although certainly in keeping with director Robert Zemeckis' serious one-time urge to make movies – The Polar Express, Beowulf, A Christmas Carol – without any live actors on screen at all.
But while the computer imaging is eerily convincing, the tiny tales themselves are frankly absurd, with 12-inch plastic dolls acting out trashy stories of sex, sadism and fetishised fascism. It's as if Quentin Tarantino's Inglourious Basterds ran full-tilt into Todd Haynes' Superstar, and is jarring without being transporting. And when we return to what's supposed to be real life – well, that doesn't feel real at all.
The movie also seems oddly worried that we might forget, for a moment, that Hogancamp is straight. It's careful to include a scene of him watching hetero porn. It's as oblivious to his past as he is – telling us nothing about his one, failed marriage – but reminding us, repeatedly, that he wears women's shoes only because they have a certain female "essence." Well, fine, if true. But the film's insistence on the point leaves a lingering queasiness – as if it thinks the worst part about Hogancamp being targeted by homophobic thugs was that, you know, he wasn't even gay.
As Hogancamp, Carell is tense and distracted, as if he's suddenly having second thoughts about the whole project, and sticks to one panicky note. As a chirpy neighbor with a wardrobe of spritely sundresses and sexy slingbacks, Leslie Mann appears to have wondered in from some 1960s commercial for floor wax.
There are a few bright spots in the cast, however. Even turned into a plastic doll, Janelle Monáe retains her own confident style, and Merritt Wever brings some genuine warmth to the role of a real woman who has a mostly inexplicable crush on the deeply damaged Hogancamp. The sets and settings all feel real and lived-in, too, and the action scenes in some of those wartime daydreams have a thrilling snap and tension.
But the rest of the movie feels flat and forced, from the wall-to-wall relaxed-fit Dad rock on the soundtrack (with one, on-the-nose music cue after another) to the corny jokes and clichéd plot turns. Indeed, for a movie that's supposed to be about a modern-day Geppetto bringing his dolls to life, the wooden Welcome to Marwen never makes it out of the toy box.
Production companies: DreamWorks, Image Movers, Universal Pictures
Worldwide distribution: Universal Pictures
Producers: Cherylanne Martin, Jack Rapke, Steve Starkey, Robert Zemeckis
Screenplay: Caroline Thompson, Robert Zemeckis.
Production design: Stefan Dechant
Editing: Jeremiah O'Driscoll
Cinematography: C. Kim Miles
Music: Alan Silvestri
Main cast: Steve Carell, Leslie Mann, Merritt Wever, Janelle Monáe