Dir: Akihiko Shiota. Japan, 2016, 77 mins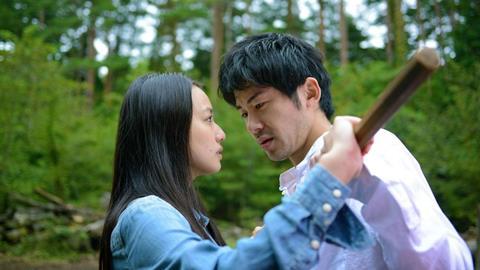 Love brings the house down – quite literally – in Wet Woman in the Wind, a Japanese softcore sex comedy that must surely be one of the jolliest and most pugnacious erotic films ever made.
This eccentric, hugely enjoyable film is often a fairly arousing one, with female pleasure and male discomfiture foremost on the menu
A surprise hit in Locarno – where it featured in the International Competition – Akihiko Shiota's film is an entry in the new Roman Porno Reboot Project launched to mark the 45th anniversary of Nikkatsu's series of softcore sex films, which originally ran from 1971 to 1988.
Director Shiota is known for psychological dramas including Harmful Insect (2001) and blockbusters such as 2007 action film Dororo, but this pared-down and somewhat conceptual project allows him to vent his whimsical side with crowd-pleasing, and sometimes authentically raunchy results. The film has already sold to South Korea and Taiwan, and Western niche distributors and festivals alike could well warm to it as a cultish pleasure with a distinctive female power angle.
The heroine is Shiori (Yuri Mamiya), a young woman of unstoppable libido and physical energy to match, who won't take no for an answer. The setting is a rural backwater, where playwright Kosuke (an engagingly befuddled Tasuku Nagaoka) is camping out in a precarious lean-to shack, intending to get away from it all. One day, he encounters Shiori as she makes an explosive entrance – riding her bike straight into the river, then emerging to strip off in no-nonsense fashion.
Shiori instantly latches on to Kosuke, and insists on getting a piggy-back from the reluctant loner: the first of many increasingly frenetic tussles they end up sharing. Henceforth, Kosuke can't expect much peace and quiet; first he comes to blows with a manic café owner who's got the hots for Shiori, and also blames Kosuke for wrecking his marriage; then he gets a visit from his ex, a theatre director who turns up accompanied by a comical quartet of earnest young men who put on an impromptu theatre show, which Shiori, naturally, contrives to turn on its head.
Kosuke's ex still has the hots for him, but the narrative turning point comes when Shiori muscles on the action, with Kosuke getting nothing but a kick for his pains. The sexual whirlwind that Shiori whips up from this point on includes a brisk routine when she gets the four actors to line up outside a camper van to pleasure her, and a frenetic sex sequence in which the shack collapses, only for unflappable Shiori to cut a slit in the canvas roof and carry on regardless.
Wet Woman comes on somewhat like a genre exercise, with Shiota – an expert on the Roman Porno cycle – eagerly taking on the formal requirements of the commission, which involve concision, a low budget, minimal shooting time (filming and writing each took a week) and a statutory amount of nudity (visibility in most scenes being above the waist).
The sheer energy of the performers, especially an exuberantly funny Mamiya, and the slapstick goofiness of the whole make this an eccentric, hugely enjoyable film - and often, partly because of its relative demureness, a fairly arousing one, with female pleasure and male discomfiture foremost on the menu. Shunsuke Kida's playfully jazzy score gives this eccentric piece additional hipster appeal.
Production companies: Nikkatsu Corporation, SKY Perfect JSAT Corporation, Django Film Production
International sales: Nikkatsu Corporation international@nikkatsu.co.jp
Producers: Naoko Komuro, Shinichiro Masuda, Masahiko Takahashi
Screenplay: Akihiko Shiota
Cinematography: Hidetoshi Shinomiya
Editor: Takashi Sato
Music: Shunsuke Kida
Main cast: Yuki Mamiya, Tasuku Nagaoka, Rushin Tei, Michiko Suzuki