Filmmaker Astra Taylor explores the notion of democracy in the modern world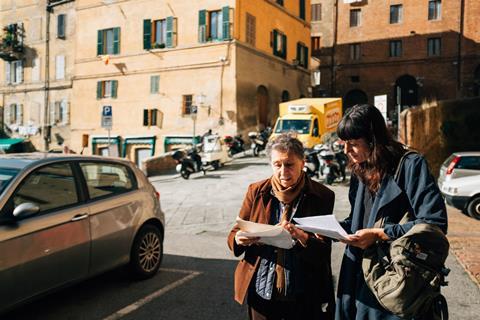 Dir Astra Taylor. Canada. 2018. 117mins
The ideals of democracy so rarely match the reality that perhaps the concept itself is flawed. Never afraid to grapple with big ideas, director Astra Taylor (Žižek!, Examined Life) contemplates the virtues and failings of the great democratic experiment in an erudite documentary essay that ranges widely from the writings of Plato to the election of Donald Trump.
Elegantly shot and fluidly edited, What Is Democracy? reveals Taylor's sure instincts
What Is Democracy? is a challenging piece; densely packed but accessible and timely enough to attract politically engaged audiences and secure extensive Festival interest following its world premiere at Sheffield Doc/Fest.
Inspired by her activism with the Occupy Movement and debt relief organisation Rolling Jubilee, and her book The People's Platform: Taking Back Power and Culture in the Digital Age, Taylor sets out to confront a concept that is universally cited as desirable but rarely analysed. Plato's The Republic remains her bedrock throughout with on-screen quotes appearing at regular intervals.
The notion of democracy as the government of the people by the people is the substance of Taylor's enquiry. Plato's work declared that democracy is inevitably diminished by inequalities in wealth and that a cohesive, harmonious society is dismembered as the rich become richer and the poor suffer increasing hardship. Much more motivated by asking questions than seeking answers, Taylor interviews activists, academics and politicians including Cornel West, former Greek Prime Minister George Papandreou and Silvia Federici. She asks for their definition of democracy and why it seems to be failing across the globe in the 21st century.
There are all kinds of interesting responses and a basic consensus that the entire notion is undermined by economic inequalities and the power of global capitalism to supersede the efforts of localised, grass roots movements. The world is ruled by self-interest and division that prevents everyone feeling connected to each other or being able to acknowledge that we are all human.
Taylor travels geographically from Greece to a Trump rally in North Carolina, and philosophically from Rousseau to Dostoevsky via a passing mention of Machiavelli. The issues considered range from justice to citizenship and the notion that what counts as a crime is always political.
There is a huge amount to absorb in a film that is at is most engaging in the testimony of individuals, from a barber who has served prison time to a Syrian refugee in Greece and Henri Michaux, the longest-serving member of the North Carolina General Assembly. This personal experience and individual reflections on the meaning and value of democracy really bring the subject to life, adding an emotional, human element to a film that risks feeling overly abstract.
Elegantly shot and fluidly edited, What Is Democracy? reveals Taylor's sure instincts as she shapes the vast sprawl of often disparate, sometimes random-feeling material into a focused, thought-provoking essay that even leaves you feeling that there was so much more to say on the subject.
Production companies: Sphinx Productions, National Film Board Of Canada
International sales: National Film Board Of Canada distribution@nfb.ca
Producer: Lea Marin
Screenplay: Astra Taylor
Production design: Andrew Berry
Editing: Robert Kennedy
Cinematography: Maya Bankovic
Music: Heather McIntosh
Cast: Silvia Federici, Angela Davis, Cornel West