This potent romance set in Istanbul's underground rap scene has a loose-limbed swagger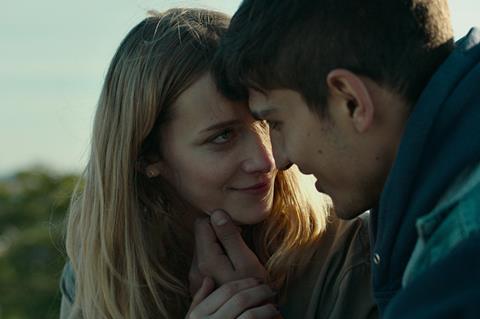 Dir-scr: Nisan Dag. Turkey/Germany/US. 2020. 97 mins
The romance between a pair of lovers from opposite sides of the tracks drives this lively Istanbul-set drama. But director Nisan Dag manages to cover considerable territory using the relationship as a jumping off point: the country's socio-economic divisions; its growing problem with the deadly synthetic drug 'bonzai'; and its burgeoning rap scene are all explored. It could all feel a bit like an issue checklist, but the picture's loose-limbed swagger and readiness to take risks keeps the energy level high. Plus the chemistry between the two charismatic central characters, 19 year-old aspiring rapper Fehmi (Oktay Cubuk) and Devin (Hayal Koseoglu), a DJ from a privileged background, is potent and persuasive.
Potent and persuasive
The second feature form Nisan Dag (her first was 2014's Across The Sea), When I'm Done Dying was initially inspired by Dag's discovery of the underground hip-hop movement in Istanbul's slums while directing an MTV documentary titled "Rebel Music – Turkey: Flowers of Gezi Park". While the narrative of a talented musician derailed by drug addiction is a familiar one, the film's fresh perspective on Turkish youth culture should be a key selling point to further festival programmers and VOD platforms with a particular interest in music and youth themes.
When we first meet Fehmi, he's a sweat-drenched mess, slinking around the flat he shares with his father and his covertly gay brother Erdem, looking for cash while everyone sleeps. He finds nothing; his brother, who keeps his wallet under his pillow, mutters "brother, don't be stupid." But Femhi connects with a partner in crime nonetheless, and knees vibrating, watches as a bonzai cigarette is rolled. Dag repeatedly switches to sinuous hand drawn animation to capture Fehmi's high, depicted in this instance as an assault of screaming birds with gaping beaks. It doesn't seem like a lot of fun. But Fehmi is wrestling with an addiction which is hard to shake.
For a while at least, it seems as though the impetus to quit will come from the immediate bond he forms with Devin, a connection which is as much musical – they start to collaborate – as it is emotional and physical. Through Devin's eyes, the audience gets to see another side of him and to appreciate his considerable appeal. And Devin too, depicted as being slightly adrift in her own life, is given a new focus and passion by their relationship, something which might help her overcome the past personal tragedy which is alluded to but not fully explained. Even so, there's an imbalance in their relationship – after their first sexual encounter, Fehmi has to ask for money for a taxi so he can trek back across town to his job in a late night cafe.
The use of music – abrasive, unpolished, angry rap; laid back looping electronica – is central to the story, with Femhi's rhymes offering a blunt appraisal of the hardscrabble life in the slum where he and his rap partner Yunus (Eren Cigdem) live and draw their inspiration. A key part of life on the streets is the drug: Femhi tries to hide his dependence from Yunus and the film's title is taken from a song they write together about the scourge of this destructive synthetic cannabinoid, which wrecks lives indiscriminately. There's a grim inevitability to Femhi's downward spiral, which accelerates just at the moment his band gets its first big break.
The strikingly photogenic Cubuk imbues his character with a weapons-grade personal charm, an asset which explains how Femhi manages to wheedle so many second chances from friends, family and loved ones, on his way to finding his rock bottom.
Production companies: Solis Film, Red Balloon Film, Asteros Film
International Sales: Magnolia Pictures International international@magpictures.com
Producers: Muge Ozen, Jessica Caldwell, Jim Wareck, Yagmur Unal, Kanat Dogramaci, Dorothe Beinemeier
Cinematographer: John Wakayama Carey
Editing: Kristen Swanbeck, Ozcan Vardar
Production design: Sila Karakaya
Music: Angus MacRae
Main cast: Oktay Cubuk, Hayal Koseoglu, Ushan Cakir, Eren Cigdem, Ayris Alptekin