A nine-year-old boy dreams of stardom in this heartfelt Afghan drama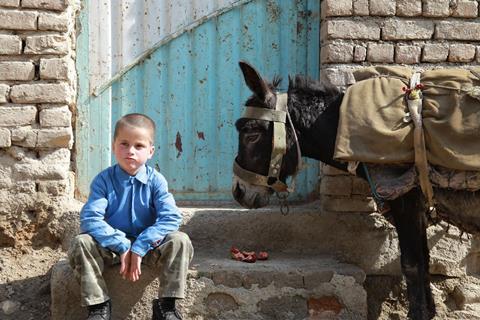 Dir/scr: Granaz Moussavi. Australia/Afghanistan. 2020. 80 mins
Nine-year-old Hewad (Arafat Faiz) is the man of the family. Since the death of his father, Hewad hauls a rickety wooden cart through the steep alleys and sidestreets of his Afghan neighbourhood, hawking pomegranates, beetroots and balloons, and working a side hustle supplying bespoke amulets from a friendly mullah. He provides for his mother, sister and grandmother, but dreams of riches and fame. Meanwhile, helicopters circle and explosions tear through the city.
Heartfelt rather than profound
Loosely inspired by true events, this Afghan-Australian co-production by Australian-Iranian director Granaz Moussavi evokes the Iranian tradition of child-focused stories which conceal a deeper social message – nodding to films by directors such as Madjid Majidi and Bahman Ghobadi. But there's a naivety throughout this picture, both in the enthusiastic but unpolished performances and the slightly scattershot storytelling: this is empathetic and well-intentioned filmmaking, but it is heartfelt rather than profound.
This is the second feature from Moussavi, who is a poet as well as a writer and director. Her first was My Tehran For Sale, which won Best Picture at the Fort Collins TriMedia Festival. When Pomegranates Howl premiered at the Adelaide Film Festival, subsequently screening in Tokyo and Sydney, and is Australia's submission for the Best International Feature Film category. Were it to make it into the final Oscars shortlist, the film might be of interest to arthouse distributors; however in the absence of awards recognition, it may be too gentle and insubstantial to insist on cinematic exposure outside co-production territory Australia.
In the central role, likeable youngster Faiz brings considerable charm to the table; his toothy smile and affable personality more than makes up for his obvious lack of acting experience. Constantly in motion, he is shadowed by a skittering, documentary-style camera as he does his daily rounds, eking out enough money to buy his mother a bag of potatoes to cook for dinner at the end of the day. For all the grinding drudgery of Hewad's existence, the film takes an upbeat stance. Most of Hewad's encounters, with customers, shopkeepers and other children, are imbued with warmth.
But Hewad has bigger dreams and will tell anyone who listens that he will soon be a movie star. The story takes root, both in the wider community of street kids and in Hewad's own mind, when, after narrowly escaping a drone strike at a wedding where he is hawking pomegranate juice, Hewad meets an Australian photojournalist (Andrew Quilty). The photographer takes an interest in the boy, loaning him a camera with which to shoot details of his home life.
It's this aspect – the child's eye view of day-to-day life in a war zone – which is the film's main selling point. There's a chaotic authenticity to the backdrop – the film was shot on location in Kabul – and a poignant realisation that, for these kids, the city streets are a playground, a workplace and the frontline of a battle which is being waged by wealthy nations, from the safety of a helicopter or a drone.
Production companies: Parvin Productions, Sterga Productions
International sales: Iranian Independents, info@iranianindependents.com
Producers: Baheer Wardak, Christine Williams, Marzieh Vafamehr
Cinematographer: Behrouz Badrouj
Editing: Shima Monfared
Music: Hossein Alizadeh
Main cast: Arafat Faiz, Elham Ahmad Ayazi, Saeeda Saadat, Andrew Quilty