Yann Demange tells the true story of Eighties drug informant Richard Wershe Jr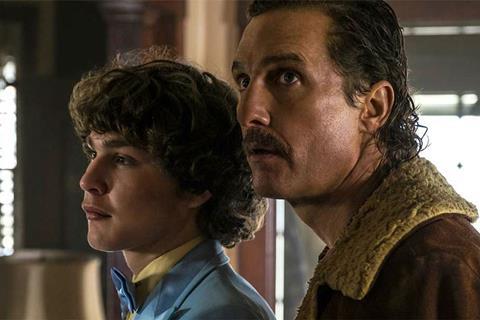 Dir: Yann Demange. US. 2018. 110mins
What at first appears to be a solid, albeit conventional, rise-then-fall story of a cocky young FBI informant soon morphs into something far more moving and thoughtful in White Boy Rick, which serves as an excellent introduction to newcomer Richie Merritt. Based on the life of Richard Wershe Jr., who as a teen reluctantly agreed to work with the US government to infiltrate the local Detroit drug scene, the new film from '71 director Yann Demange is best when it pauses to explore the father-and-son drama at the heart of this tale, as well as coldly examining America's ruinous drug policy.
The movie's calmly muted tone can't disguise the quiet anger at its core
Opening September 14 in the US and December 7 in the UK, this Sony offering benefits from the marquee value of Matthew McConaughey as Rick's father, joined by an acclaimed cast that includes Bel Powley and Jennifer Jason Leigh. The film's superficial similarities to true-life crime sagas such as Goodfellas may raise awareness. Still, this nuanced drama may have trouble breaking out of the pack, resulting in modest grosses.
Taking place over several years in the 1980s, White Boy Rick is a reference to Richard Wershe Jr. (Merritt), who earns the titular nickname from the African-American friends he hangs out with in his economically devastated section of Detroit. Rick's single father, Richard Sr. (McConaughey), is a ne'er-do-well trying to support Rick and his rebellious sister Dawn (Powley), selling guns out of the back of his car. But once Richard Sr. runs afoul of some FBI agents (Leigh and Rory Cochrane), Rick must agree to be an informant in exchange for his dad not going to jail.
White Boy Rick derives its suspense from watching Rick become enmeshed in the Curry Crew, powerful drug dealers led by the suave Johnny (Jonathan Majors). These scenes have a familiar pull, recalling other crime films in which the main character is seduced by power, beautiful women and lavish parties. But Demange eventually moves past these de rigueur sequences to give us a socioeconomic snapshot of a broken city that's tearing itself apart. In a crumbling Detroit in which there are few viable economic opportunities, drug-dealing and other illegal activities look increasingly appealing — even if they only further corrode the welfare of that community. (And, all the while, the film closely monitors how a racist judicial system behaves much differently when the arrestee is black, as opposed to when he's white.)
Merritt exudes a sexy, laidback swagger as his teen protagonist confidently goes undercover in such a dangerous world. But elsewhere, during the young actor's scenes with McConaughey, he reveals tenderness and pain, demonstrating how Rick both loves and is ashamed of his failure father.
White Boy Rick can sometimes be a little underpowered dramatically, losing momentum on subplots that diffuse the film's emotional and political urgency. But when Demange focuses on Rick's worsening situation as an informant, it becomes a sobering portrait of how American law enforcement's aggressive stance on drugs proved to do more harm than good. (Leigh nicely underplays her role as FBI agent Snyder, who has some sympathy for the kid's lot in life — but not enough that she'll allow her feelings to interfere with her using Rick for her own purposes.)
Sidestepping the gangster glorifications seen in films like Brian De Palma's Scarface, White Boy Rick mourns the lives ruined and the families destroyed by crime and the War on Drugs. The movie's calmly muted tone can't disguise the quiet anger at its core.
Production companies: Columbia Pictures, Studio 8, LBI Entertainment, Le Grisbi, Protozoa
Worldwide distribution: Sony Pictures
Producers: John Lesher, Julie Yorn, Scott Franklin, Darren Aronofsky
Screenplay: Andy Weiss, Logan Miller, Noah Miller
Production design: Stefania Cella
Editing: Chris Wyatt
Cinematography: Tat Radcliffe
Music: Max Richter
Main cast: Matthew McConaughey, Richie Merritt, Bel Powley, Jennifer Jason Leigh, Brian Tyree Henry, Rory Cochrane, RJ Cyler, Jonathan Majors, Eddie Marsan, Taylour Paige, Bruce Dern, Piper Laurie