A deep-dive inside the Alt-Right movement with director Daniel Lombroso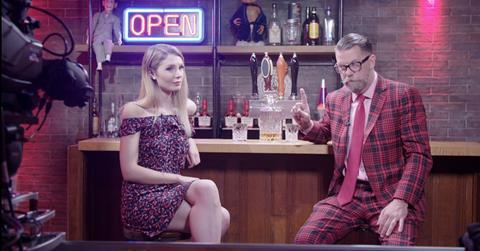 Dir. Daniel Lombroso. US. 2020. 94 mins
The rise of the Alt Right movement, and the lurch towards nationalism in various countries around the world, has already been the subject of much analysis and hand wringing. What this queasily compelling documentary achieves, and what sets it apart, is a flipped perspective: rather than being positioned on the outside looking in, director Daniel Lombroso's camera is on the inside, lurking in the belly of the beast, viewing the world around it through the eyes of three key figures of the movement: white supremacist Richard Spencer, far right youtuber Lauren Southern and male supremacist and conspiracy theorist Mike Cernovich. It's not a pleasant watch – at times it feels as though Lombroso's fly on the wall approach is gradually peeling off the bandages on a gangrenous wound. But it's important and timely. And crucially, it gives a sense of what might lie in the future, both for the Alt Right movement, and for the socio political climate which spawned it. Spoiler: it's not looking good for anyone.
Queasily compelling
The first documentary to be made by the production wing of the US publication The Atlantic, White Noise struggles to encapsulate the broader movement, being so dominated by the key personalities within it. It's an issue that it shares with The Brink, which shadowed far right agitator Steve Bannon. It is not, however, a film which resorts to hand holding, or indeed making overt judgements on its characters – these are implicit or are brought to the cinema by the audience. Viewers who need to be told what to think might struggle with the approach, but the film should prove to be a talking point fixture at further festivals and will be of interest to politically engaged audiences through a cinema release or, more likely at the moment, a streaming platform.
Lombroso started making the film in 2016, just a few days after Donald Trump won the election. There is euphoria within the Alt Right community, and, as far as it goes in a movement which is, by definition, personality-driven and individualistic, a sense of unity. Followers of Richard Spencer, emboldened by Trump's win and by Spencer's pointed use of the term 'lügenpresse', fling up their arms in Nazi salutes and shout 'Hail Trump'. A Canadian woman in her early twenties, Southern travels to Italy to film herself screaming at migrants, and is rewarded by a flurry of likes on her instagram account. And Cernovich, the architect of various conspiracies about Hilary Clinton, plans a social event in New York, to be called 'A Night For Freedom'.
The access that Lombroso is granted is unprecedented. But what becomes clear is just how motivated these characters are by attention. At times it seems that the viewpoints they espouse are as much about clicks and social media engagement as they are about deeply held beliefs.
Any sense of unity in the moment is short lived; there is no love lost, in particular, between Spencer and Cernowich. The violence which erupted at the Far Right rally in Charlottesville in 2017, which claimed the life of a counter protester, means that prominent figures in the movement are being called to account. When asked if he had blood on his hands, Spencer gaslights effortlessly. "No, absolutely not," he says, voice full of pained incredulity. A neat edit shows him a moment later, nervously wringing his hands, like Lady Macbeth in a three piece suit and a regulation fascist haircut. Meanwhile, Southern starts to realise that aligning herself with self-professed chauvinists like noxious Vice magazine founder Gavin McInnis is exhausting and depressing.
The film closes with Spencer facing a court case and living with his mum; Cernowich hawking dietary supplements rather than conspiracies and Southern cagily admitting that the father of her unborn child is not white. There's a James Baldwin quote which opens the film: "I imagine one of the reasons people cling to their hates so stubbornly is because they sense, once hate is gone, they will be forced to deal with pain." But it's not until the picture's end that its relevance becomes fully clear.
Production company: The Atlantic
International sales: Ro*co Films International info@rocofilms.com
Producer: Kasia Cieplak-Mayr von Baldegg
Cinematographer: Daniel Lombroso
Editing: Carlos Rojas
Music: Gil Talmi
Featuring: Richard Spencer, Lauren Southern, Mike Cernovich