This sensitive documentary explores what it means to be intersex in a binary world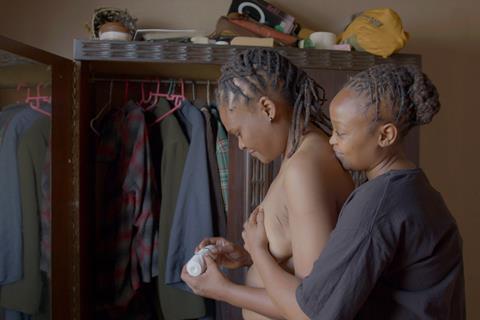 Dir: Tunde Skovran. Canada/Romania. 2023. 105mins
Near the end of Tunde Skovran's debut documentary we are told that there an estimaged 150 million people born globally with intersex traits – which, to put it in perspective, is approximately the population of Germany and France combined. It's the only statistic in a film which aims for a more experiential consideration of what it means to be intersex in a society largely run along binary lines. Skovran immerses us in the lived experience of two South Africans, beauty queen Sharon-Rose Khumalo and male-presenting intersex activist Dimakatso Sebidi, who uses the pronoun they.
A call for empathy and understanding – in the end, difference is what you make of it.
The Romanian actor-turned-director's largely fly-on-the-wall approach is enhanced by the occasional use of more experimental imagery - mostly connected with water. The combination offers an appealing immediacy that is already notching up festival dates, with SXSW, BFI Flare and CPH:Dox all on the agenda after its world premiere at Thessaloniki International Documentary Film Festival. Who I Am Not's accessible personal stories, alongside actor Patricia Arquette's name among the executive producers, should also help it catch the eye of distributors further along the line.
Earrly in the film, a group of pre-pubescent schoolchildren are asked, "What is a girl?" Obvious answers ensue, including physical indications like "breasts and long hair" along with personality traits such as "liking to put on make-up". These definitions may be simplistic but there's no doubt that they have sticking power even into adulthood. Skovran's documentary – the product of four years' collaboration with Khumalo and Sebidi – shows how these questions of definition are not just culturally driven but also come from within as both grapple with their own sense of identity and its interaction with their genetics.
Skovran doesn't waste time showing how Khumalo and Sebidi met and, while a line about that might have been helpful, it's easy for us to accept they have forged a friendship based on shared experience, even as they are treated as unique individuals by the film. While Khumalo is mostly happy with life as a woman, adhering to feminine ideas of perfection for her pageant competitions, Sebidi refuses to be forced into a gender box, even though that makes their life more tricky. "I just need to know my own truth," they say.
Through frank conversations with their father, we see how choices made for Sebidi as a baby affected them – decisions which are further complicated by a lack of medical records. This dearth of information leads Sebidi down the emotionally charged route of going to a doctor to find out what's what in terms of their organs and genetics. Additionally, we see some of the everyday discrimination Sebidi faces by simply refusing to adopt a he or she pronoun.
The focus of Khumalo's story meanwhile revolves around the fact she cannot have children and the issues that presents for her in terms of dating – something that is likely to find resonance with those who choose not to have kids, as well as those who are unable to. In one poignant segment we see her on a first date at an ice rink that is clearly going well right up until the moment she reveals this, upon which her date leaves, offering unwelcome pity.
Skovran allows the complexities of Khumalo and Sebidi's lives to emerge organically, without pushing at story arcs or trying to find direct reflections – although one or two of the pop music cues singing about "searching for love" feel very on the nose for a film that is generally notable for its subtlety. The role of religion and tradition is also presented even-handedly; although we see a fire-and-brimstone preacher at one point intercut with Khumalo quietly praying in church, there are plenty of examples of friends and family citing God as a reason to be supportive of her and Sebidi.An elder's viewpoint also proves a lot more refreshingly modern than you might expect, considering it involves the sacrifice of chickens.
Who I Am Not is a celebration of sorts, allthough Sebidi experiences emotionally fraught moments, they are also seen to be in a loving relationship with their girlfriend and close with their family despite issues stemming from childhood, while Khumalo's general air of positivity leaps from the screen. It is also a call for empathy and understanding – in the end, difference is what you make of it.
Production companies: Double 4 Studios Romania, Filmoption International
International sales: Cat and Docs, info@catndocs.com
Producers: Andrei Zinca
Screenplay: Tunde Skovran
Cinematography: Daniel Szantnder, Felix Steigler, Guillaume Beaudouin
Editing: Marianna Rudas
Music: Luc Sicard