An Irish schoolgirl is targeted for her sexuality in Graham Cantwell's coming-of-age drama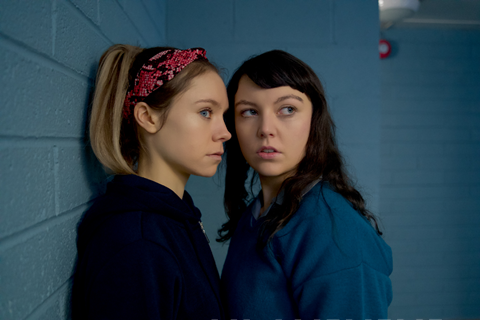 Dir. Graham Cantwell. Ireland. 2021. 94mins
Lily (Clara Harte) starts her final year at secondary school full of hope and excitement, and with the beginning of an inkling of who she might be. And after a summer filled with firsts – first crush, first kiss – she's starting to come to terms with the fact that she's gay. But for the other kids at her Dublin school, Lily's sexuality is a flashpoint, something which marks her out as the target for increasingly violent bullying. It's the unflinching scrutiny of the less upbeat elements of the gay coming of age narrative, together with sparky performances from Harte and Dean Quinn (as GBF Simon) which elevates this teen/young adult-aimed drama above some of the less gutsy examples of the genre.
Might not venture into entirely new territory, but there's plenty here to recommend it to young audiences
The fourth feature film from Dublin-born writer/director Graham Cantwell, Who We Love is based on his acclaimed short film Lily (2016), which won numerous prizes at festivals including Galway and Dublin. It follows in the footsteps of similarly queer-themed Irish productions Dating Amber and Handsome Devil, sharing a school backdrop and a rocky road to self-acceptance. But the film forges its own path. Eschewing the humour of the former and the sweetness of the latter, Who We Love is tougher and angrier in its approach to the bigotry and cruelty which remains the first thing that many young people encounter when they venture out of the closet. A talking point film, this should connect with younger audiences through streaming platforms and perhaps a theatrical release.
Lily, we learn through a combination of narration and a giddy montage of selfies and teen posturing, has just spent the summer in San Francisco. It's an experience which has broadened her horizons; she returns to school and reappraises her relationships with new eyes. One such relationship is with Violet (Venetia Bowe), the popular pretty girl at the top of the school's sliding scale of social desirability. Confusion colours Lily's cheeks as she glances at her friend in the changing rooms.
Violet's powerful persuasive powers and appetite for gossip coaxes from Lily the fact that her first kiss in San Francisco was with a girl; armed with the knowledge, Violet decides to "get her lez on" with Lily. Their kiss is abruptly curtailed, however, when other girls burst in on them and Violet violently pushes her friend away. The aggression rapidly spirals, both physically – Lily soon looks, in the pithy description from Simon, like a bruised banana – and emotionally, with anonymous online sites set up to target her.
The look of the film – pinging primary colours in Lily's world, which darken along with her mood – ticks plenty of teen movie boxes, as does the chirpy pop score. But in other ways, the film is subtly unconventional – the flipping of gender roles in Lily's parents is an interesting device for example, as is the decision to make authority figures like the school's headmistress the most vocal of allies to students marginalised by their sexuality. The importance of gay mentors and role models is also stressed, with a likably feisty Amy-Joyce Hastings in the supporting role of Oonagh, "a dyke Morpheus helping kids negotiate the gay Matrix".
Who We Love might not venture into entirely new territory, but there's plenty here to recommend it to young audiences – in particular any kid struggling to make sense of their identity.
Production company: Treehouse Media, Amberley Film Investment
International sales: Tree House Media, info@whowelovefilm.comcom
Producers: Edwina Forkin, Graham Cantwell, Alan Fitzpatrick
Screenplay: Graham Cantwell, Katie McNeice
Cinematography: Austin Ray & Westin Ray
Editor: Graham Cantwell
Production design: Michael Moynihan
Music: Joseph Conlan
Main cast: Clara Harte, Dean Quinn, Amy-Joyce Hastings, Venetia Bowe, Amy Hughes