An amusing midlife-crisis comedy about an emasculated husband who heads off to the woods to reclaim his manhood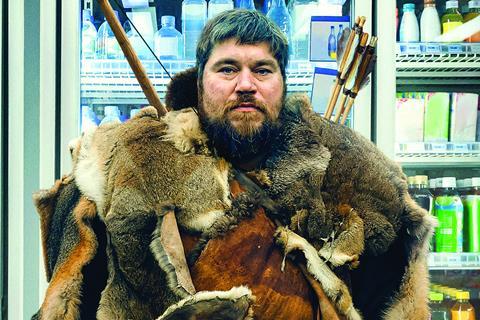 Dir: Thomas Daneskov. Denmark. 2021. 104 mins.
Martin (Rasmus Bjerg) feels emasculated by the modern world. So, like every man caught in the headlights of an approaching midlife crisis, he tries to reclaim his manhood in this very amusing and sharply observed odd-couple adventure. But rather than cramming his paunch into leathers and straddling a motorbike, Martin goes back to nature, setting up camp in a Norwegian forest and attempting to live off the land. A chance encounter with an injured drug smuggler, Musa (Zaki Youssef), sets in motion a hapless quest for a meaningful life, pursued by police, gangsters and Martin's understandably irked wife, who has driven from Denmark with two children and a rabbit in tow.
There's something relatable in his yearning for a pure and simple way of life, off grid and close to nature
The second feature from director Thomas Daneskov (his first, The Elite, won a new talent award at CPH PIX), Wild Men exhibits a gleeful relish in a man's loss of dignity while also finding an almost childlike appeal in this endearingly clueless central character. As such, it's tonally positioned somewhere in the midpoint between the stinging satire of Ruben Ostlund's work and the more sober character examination of Tim Mielants' Patrick. The eye-catching absurdity of Martin, deadly serious in his homemade Viking costume, will be a selling point to potential distributors, as will the presence of The Killing actor Sofie Grabol, who plays Martin's long-suffering spouse. Further festival berths seem likely, as does theatrical interest in Nordic territories and perhaps elsewhere.
Wild Men strikes a careful balance with the character of Martin — he's deluded but enthusiastic; a buffoon but not quite a fool. He's selfish and inconsiderate, and yet there's something relatable in his yearning for a pure and simple way of life, off grid and close to nature. Much of the careful navigation of the character is down to Bjerg's performance. Played straight, rather than mining the material for easy laughs, Martin is not an out-and-out figure of fun, but his earnest attempts at outdoorsman competence deliver some painfully funny moments.
The screenplay, by Daneskov and Morten Pape, is seeded with lovely textured details which are not limited to the main characters. There's a fretful local cop who is aggrieved that a crime spree perpetrated by a Danish man dressed as a Viking might encroach on his family time. And in one extremely funny standalone scene, there's a posturing, ponytailed alpha male, the leader of an 'authentic' Viking village which hawks leather nicknacks and moose burgers to passing tourists. Martin takes umbrage when he is asked to pay for food — he had hoped to barter with reindeer skins – and attempts to launch a raid on the larder. "The most Viking-esque thing here is me nicking these bread rolls," he argues, before stealing the fake Viking's hybrid car.
Perhaps because Martin — and his midlife crisis — is in some ways larger than life, Musa as a character is less assertive. But in his understated way, Youssef crafts a flawed man who is every bit as lost as Martin. In contrast to the two outlaws is Oyvind (veteran actor Bjorn Sundquist, excellent), an astute lawman and canny judge of character who is on his own personal journey following the death, years before, of his beloved wife.
A final act, in which the clumsily brandished guns and homemade arrows start to find their targets, ventures into more conventional crime-comedy territory. But even so, there's an likeable naivety to Martin which persists, even as the body count grows and the blood starts to flow.
Production company: Nordisk Film Spring
International sales: Charades, lucie@charades.eu
Producer: Lina Flint
Screenplay: Thomas Daneskov, Morten Pape
Cinematography: Jonatan Mose
Editing: Julius Krebs Damsbo
Production design: Rasmus Thjellesen
Music: Ola Flottum
Main cast: Rasmus Bjerg, Zaki Youssef, Sofie Grabol, Bjorn Sundquist