Dir/scr. Ann Marie Fleming. Canada. 2016. 85 mins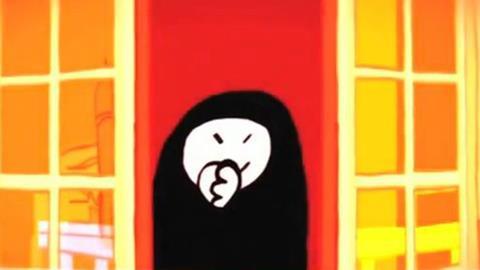 Rosie Ming is twenty years-old and has never left Canada and the overprotective embrace of her loving, smothering Chinese grandparents. She works in a fast food outlet. But Rosie is also a poet. And somehow, her covertly written first volume of verse, a self-published book titled 'My Eye-full Poems by a person who has never been to France', secures her an invitation to a poetry festival in Shiraz, Iran. This charming animated film follows half-Chinese, half-Iranian Rosie's cultural awakening as she visits the homeland of the father she long believed had abandoned her.
Rosie is little more than a blank circle for a face, with just two hasty dashes for eyes and no other features.
Asian-Canadian director Ann Marie Fleming (2003's The Magical Life of Long Tack Sam) uses an appealing blend of animation styles to explore Rosie's journey. But this is not just a visual treat, it's a rewarding and unexpectedly engrossing piece of female-led storytelling. Thematically, it poses certain marketing challenges – it is, after all, an animated picture about a literary convention, which is not the easiest sell. However audiences that make the leap of faith are likely to be vocal in support.
Window Horses is a film which is a natural fit in festivals, particularly those which aim to promote cultural diversity and/or women's voices. Theatrical prospects would depend on enthusiastic critical support and word of mouth from audiences. The film could also find an extended life on television and other distribution platforms.
Fleming casts her trademark animated character 'stick girl' in the role of Rosie (who is voiced by Sandra Oh, also the film's executive producer). While the supporting characters are granted facial expressions and distinctive outfits, Rosie is little more than a blank circle for a face, with just two hasty dashes for eyes and no other features.
She wears a pink triangle of a skirt and nothing else, until she reaches Iran where, unlike the elegantly scarved Persian poetesses she meets, Rosie opts to wear the full chador that her anxious grandmother packed for her. It's a bold decision, but thanks to an expressive performance from Oh and a well-defined character at script stage, Rosie is every bit as fleshed out as any of the more detailed drawings.
At the poetry festival, she is introduced to a surly German called Dietmar (voiced by Don McKellar), Mehrnaz (Shohreh Aghdashloo), a professor from Tehran university who takes it upon herself to educate Rosie in Persian verse and Di Di (Jun Zhu), an exiled Chinese poet. Although raised Canadian, Rosie finds links to both her Chinese and her Iranian heritage. But it's her journey to come to terms with the father she last saw when she was seven which provides the film with a through-line.
Music is key throughout – Rosie sings her poems, a decision which shocks the more conservative sections of the audience. And there's a lovely moment in which she hears the muezzin's call to prayer for the first time – she is briefly born aloft, floating on ribbons of sound. The contrasting animation styles are harmonised with an appealing colour palette which favours sandy golds, and dusky mauvea and lavenders.
Production company: Stick Girl Productions, National Film Board Of Canada (NFB)
International sales: NFB L.price@nfb.ca
Producers: Ann Marie Fleming, Shirley Vercruysse, Michael Fukushima
Animator: Kevin Langdale
Editor: Ileana Pietrobruno
Music: Taymaz Saba
Cast: Sandra Oh, Nancy Kwan, Shohreh Aghdashloo, Camyar Chaichian, Don McKellar, Ellen Page, Jun Zhu, Panta Mosleh, Navid Negahban