Kenneth Bi's upscale China/Japan co-production set in the world of high fashion struggles to convince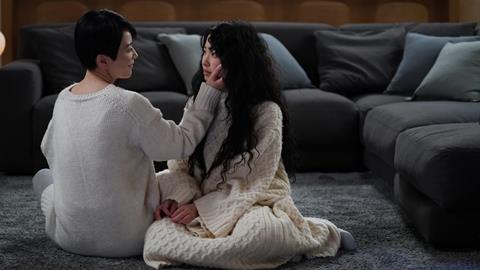 Dir: Kenneth Bi. China/Japan. 2018. 113 mins
Kenneth Bi's drama Wish You Were Here is the rather maudlin tale of a middle-aged Chinese fashion designer reconciling difficult choices made during her fraught youth. It's a film of copious contrasts, notably tradition/modernity, past/present, urban China/rural Japan. In this respect, it appears to be a return to the examination of customs seen in Bi's earlier features Rice Rhapsody (2004) and The Drummer (2007) following an unabashedly commercial outing with the supercharged Daniel Wu thriller Control (2013). However, the director's renewed effort to traverse cultural dichotomies is waylaid by narrative contrivances and ultimately drowns in overbearing sentiment.
Flashbacks verge on the melodramatic
As the first China-Japan venture after the signing of the China-Japan film co-production treaty in 2018, Wish You Were Here is not an overly auspicious start for such high profile cooperation. It's tastefully packaged with dialogue that moves naturally between Chinese and Japanese, but it doesn't seem sufficiently compelling to attract mature audiences in either territory. International prospects may be limited to festival exposure at Asian-themed events and modest ancillary revenues.
Leading fashion designer Yuan Yuan (Faye Yu) is preparing to launch her latest collection with a much-anticipated runway show in Beijing. Amid all the fine-tuning, she's distracted by the arrival of Keiko (Ayane Kinoshita), a disarmingly inquisitive Japanese design student who idolises Yuan Yuan and is eager to conduct an interview. As Keiko's questions veer from the professional to the personal, extended flashbacks reveal that Yuan Yuan's lifestyle wasn't always quite so cosmopolitan.
While studying in Japan, Yuan Yuan (played at a younger age by Lu Yangyang) fell in love with and married Tomiya (Goki Maeda). But when he threw himself into running the family's Hokkaido sake brewery, she became trapped in stifling domesticity. After giving birth to a baby girl, she left the infant in the arms of her disapproving mother-in-law (Yuriko Hoshi) and fled back to China to forge a career. By this point, it's patently clear who Keiko is. Seeking to make amends, Yuan Yuan returns to Hokkaido to see her ex-husband (played in the present by Takao Osawa).
Wish You Were Here plays best in the Beijing section with Bi credibly sketching the life of a successful yet emotionally unfulfilled entrepreneur by shooting in the city's more austere locations and venues. It also helps that Yuan Yuan's sharply functional clothing line might actually sell in real life, which is unusual for big screen takes on the fashion world. The poised Yu, whose international credits include Wayne Wang's The Joy Luck Club (1993) and A Thousand Years of Good Prayers (2007), is a suitable fit for the role. Strikingly styled in black throughout, she projects a necessarily reserved image while suggesting a growing yearning for opportunities to express greater warmth. Silver Cheung's refined production design, which includes a cozy jazz club and a carefully arranged home, completes the upscale portrait.
Bi is on less surefooted ground in the Hokkaido passages. A claustrophobic depiction of cross-cultural marriage and overwrought displays of self recrimination are at odds with the postcard-friendly, snow-swept aesthetic conjured up by Roman Jakobi's expansive cinematography, not to mention the reverie reserved for the sake-making process. The flashbacks verge on the melodramatic, especially the terse relationship between Yuan Yuan and her mother-in-law. Present day scenes that reunite Yuan Yuan and Tomiya strive to get to the heart of the matter with the rumpled Osawa putting in a nuanced performance that encapsulates another contrast (anger/forgiveness) only for a risible late twist (foreshadowed by the ethereal elements of Andre Matthias' omnipresent score) to sorely fumble the catharsis.
Production companies: Galaxy Worksop LTD, HCH Media, King David Media, QITAI Culture & Media, United Smiles
International sales: Bravos Pictures Limited, cy.leung@bravospictures.com, ida.to@bravospictures.com
Producer: Laura Fu
Screenplay: Kenneth Bi, Wei Jiajia, Lily Zhang
Production design: Silver Cheung
Editing: Kenneth Bi, Nelson Quan
Cinematography: Roman Jakobi
Music: Andre Matthias
Main cast: Faye Yu, Ayane Kinoshita, Lu Yangyang, Takao Osawa, Yuriko Hoshi