A sturdy, well-crafted film about the final days of the Wild West starring Jessica Chastain and Michael Greyeyes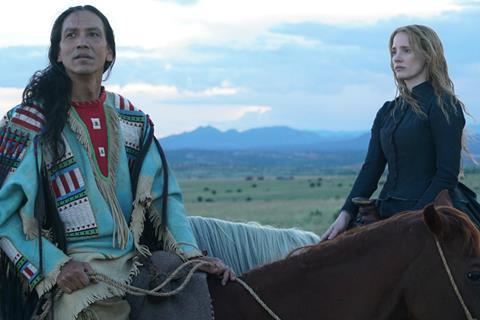 Dir: Susanna White, US, 2017. 101mins
The title of Woman Walks Ahead seems to deliberately evoke Dances With Wolves and, like that Kevin Costner landmark, it is also a tale of one human bridge built between representatives of two different cultures. In this case the individuals are real and the film represents both a fresh perspective on the final days of the wild west and the chance to rescue one of those figures from the footnotes of the past.
This is a film that grows more serious as it unfolds
There is just enough grit in this wholesome history lesson to counteract a certain blandness in storytelling that seems intent on simpliying the complexity of these real life events. The end result is a sturdy, handsomely crafted and less familiar reflection on the impossible plight of the Native American tribes at the hands of a rapacious white nation.
Inspired by George Gatlin's paintings, intrepid widow Catherine Weldon (Jessica Chastain) decides to head West in 1890 with the intention of painting a portrait of Sitting Bull (Michael Greyeyes). Steven Knight's screenplay milks a good deal of affectionate humour from her naivety whilst making it plain just how much of a statement she is making by travelling alone into territory considered hostile. She is advised and then ordered to return home by an Army veteran (Sam Rockwell) distressed by her lack of knowledge about the violent acts of Native Americans tribes or the bitter hatred that exists towards them.
Woman Walks Ahead is a story of defying expectations, finding common ground and gaining knowledge. When Catherine first meets Sitting Bull she tries to impress him by recounting her arduous journey across vast territory. "You mean, you took the train from New York?," he nonchalantly replies. "Did you have a pullman?" This is not the noble savage she had imagined but a much more approachable, pragmatic man all too aware of his position as a proud warrior turned potato farmer on a white man's reservation. The payment of $1,000 secures her the right to paint his portrait.
The growing respect and budding friendship between Catherine and Sitting Bull lies at the heart of the film and is nicely pitched with Chastain's pluckily defiant Catherine revealing her true grit and Michael Greyeyes' broodingly charismatic Sitting Bull finding his pride and fighting spirit nurtured by her presence. It is a film that grows more serious as it unfolds, especially when Catherine begins to pay a price for her support of the Native Americans in their attempts to defy the introduction of yet another treaty that will claim even more of their land.
Expertly photographed by Mike Eley, Woman Walks Ahead finds beauty is the clear blue skies of the American heartland and stresses the vastness of a land that seems large enough to provide space for native and incomer alike. "Is there always snow on the mountains," asks the eternally curious Catherine. She is informed that the white she sees from afar is actually the bleached bones of buffalo hunted to extinction by white pioneers, making a point that furthers her education and sows the seeds of her lifelong commitment to Native American rights.
Production companies: Black Bicycle Entertainment, The Bedford Falls Company, Potboiler Productions, Lip-sync Productions
International sales: IM Global info@imglobalfilm.com
Producers: Edward Zwick, Marshall Herskovitz, Erika Olde, Richard Solomon, Andrea Calderwood
Executive producers: Tanja Tawadjoh, Susan Kirr, Norman Merry
Screenplay: Steven Knight
Cinematography: Mike Eley
Editors: Lucia Zucchetti, Steven Rosenblum
Production designer: Geoffrey Kirkland
Music: George Fenton (?)
Main cast: Jessica Chastain, Michael Greyeyes, Ciarin Hinds, Sam Rockwell