Room's Jacob Tremblay is a young boy with facial differences in this adaptation of R.H. Palacio's 2012 bestseller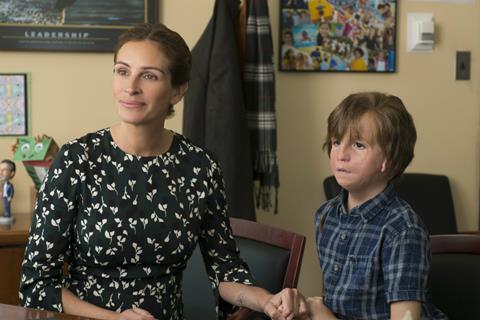 Dir: Stephen Chbosky. US. 2017. 113mins
Sentimentality overwhelms story in Wonder, an emotional, sometimes sharply observant tearjerker that advocates for kindness in a world that's often cruel. But although thoughtfully rendered, this unashamedly sappy drama about a 10-year-old boy with facial differences eventually succumbs to its worst touchy-feely tendencies. One walks away from the experience admiring the characters more than the convoluted circumstances in which they've been placed.
Julia Roberts hits all the right notes as a patient mother who put aside her professional aspirations for her child
Opening November 17 in the US and December 1 in the UK, Lionsgate's feel-good offering will benefit from the star power of Julia Roberts and Owen Wilson as the boy's parents. (Room's Jacob Tremblay plays the young man.) Those familiar with R.J. Palacio's 2012 bestselling novel will likely be on board, but Wonder will need bountiful word of mouth to overcome tepid critical response.
Tremblay plays Auggie who, since he was born, has undergone dozens of surgeries to combat facial differences due to a genetic mutation. His mother Isabel (Roberts) believes strongly that, rather than continuing to be home-schooled, Auggie needs to enrol in his local fifth grade so that he can be exposed to the wider world. Auggie is an intelligent, sweet kid, but he's fearful that his classmates will ridicule him because of his noticeable scars.
Hollywood has rarely dramatized the challenges confronting young people with facial differences, the most obvious exception being 1985's Mask. And from its opening reels, Wonder makes no secret of its affectionate, supportive tone, giving Auggie's story a hint of whimsy as he narrates his harrowing adventures in middle school, where he'll encounter bullies and be treated as a freakish curiosity. (As a means of escape, the lonely Auggie, a huge Star Wars fan, will imagine that Chewbacca is hanging out with him.)
But director and co-writer Stephen Chbosky (who wrote and directed the big-screen version of his novel The Perks Of Being A Wallflower) isn't interested in turning Auggie into a cheap disease-of-the-week gimmick, instead utilizing him as just one character in his film's treatise on the private pain that many people carry around with them. Wonder's grand irony is that, although Auggie's insecurities are more apparent because of his appearance, he's far from alone in feeling inadequate; the movie splits off into chapters so that we can learn more about the people around him, each character narrating his or her personal perspective.
Particularly moving is the story of his older sister Via (Izabela Vidovic), who has trained herself to be self-sufficient because she recognizes that her parents need to devote most of their time to Auggie. As a result, however, Via feels invisible and unloved in her own family, never wanting to complain because she knows her brother has a more difficult life than she does.
Wearing makeup that intentionally limits his range of facial expressions, Tremblay occasionally oversells Auggie's adorable, resilient personality, but Roberts hits all the right notes as a patient mother who put aside her professional aspirations for her child. At the same time, Isabel is no saint, and the Oscar-winning actress brings nuance to the role, revealing how the character's wonderful rapport with Auggie has caused her to take Via for granted, creating resentment in her daughter. Wilson is more of a peripheral figure as Auggie's father Nate, but Vidovic perfectly captures the anxieties and sensitivities of a bright teenager trying to navigate friendships and first loves.
Wonder wrings tears at times — Sonia Braga is heartbreaking in a cameo as Via's grandmother, the only person who really understands her — but the film gets progressively manipulative. The subject matter is inherently emotional, and the film eventually starts piling up increasingly mawkish sequences that feel contrived to elicit precise audience responses. Because of the quality of the performances and the sincerity of the execution, Wonder doesn't need to artificially stir our emotions, so it's a shame that Chbosky lets the tone get away from him, badgering viewers with his points rather than simply letting the material speak for itself.
Production companies: Lionsgate, Participant Media, Walden Media, Mandeville Films, TIK Films
US/UK distribution: Lionsgate, www.lionsgate.com
Producers: Todd Lieberman, David Hoberman
Executive producers: Jeff Skoll, Robert Kessel, Michael Beugg, R.J. Palacio, Alexander Young
Screenplay: Stephen Chbosky, Steven Conrad and Jack Thorne, based on the novel by R.J. Palacio
Cinematography: Don Burgess
Production Design: Kalina Ivanov
Editor: Mark Livolsi
Music: Marcelo Zarvos
Website: www.wonder.movie
Main Cast: Julia Roberts, Owen Wilson, Jacob Tremblay, Izabela Vidovic, Mandy Patinkin, Daveed Diggs, Sonia Braga