Todd Haynes' follow-up to Carol is an 'idiosyncratic charmer'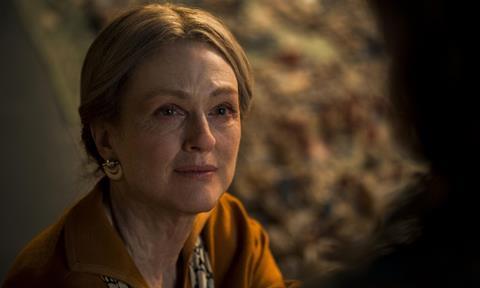 Dir. Todd Haynes. US. 2017. 117 mins.
Todd Haynes' peerless world-building skills are exploited to their full extent with this beguiling semi-silent film adaptation the young adult novel by Brian Selznick (The Invention of Hugo Cabret). Haynes might initially seem an ungainly fit for a pair of parallel stories about deaf children, potentially aimed at a family audience. But as an innovative filmmaker who naturally chimes with the perspective of the outsider looking in, Haynes takes a semi-graphic novel which comes with a strong visual identity, and makes it very much his own. While some might question the key role that serendipity plays in this story, more will respond to the immaculate period work, the engaged approach to disability and the gradual swell of emotion which builds to a belter of a tear jerking climax.
Audiences hoping for a Todd Haynes movie will not be disappointed
Although Selznick's book features child protagonists, and was initially aimed at a younger audience, it connected with readers of all ages. You sense that Haynes is aiming to pull off the same trick here. He has not moderated his approach, nor does he talk down to the younger members of his potential audience. The emotional intelligence at play here is every bit as sophisticated as that in any of his other films. Whether this will help the film's prospects or hinder them with the book's YA fanbase remains to be seen.
One thing is for certain: audiences hoping for a Todd Haynes movie will not be disappointed. First rate work from cinematographer Edward Lachman, costume designer (and executive producer) Sandy Powell, production designer Mark Friedberg and – particularly – composer Carter Burwell should ensure that the film is a significant awards season contender.
Selznick's story, which he adapted himself, traces mirror image journeys of two children, fifty years apart. Rose (impressive hearing-impaired newcomer Millicent Simmonds), deaf from birth, sets out from the stifling constraints of the home she shares with her father in 1927 Hoboken. In 1977, Ben (Oakes Fegley, excellent) skips out from the hospital in Gunflint, Minnesota where he is recovering from the freak accident which cost him his hearing. The destination of both children is New York.
While in the book, Rose's storyline is told entirely with pictures, the film uses the language of silent cinema. Rose's adventure unfolds in crisp black and white, with scrawled messages on note pads standing in for intertitles. It's here that Burwell's score really sings – sound design is threaded through the music, emphasising the baffling assault of stimuli for a deaf child discovering the adult world. In a nod to silent movie practice, Haynes cast several deaf actors in key roles, although Simmonds is the only one playing a deaf character.
New York in 1927 is all brisk, bustling optimism. At night, the city takes on a graphic, almost abstract quality – like an Art Deco illustration of itself. In contrast, the New York that Ben discovers is a garbage-strewn wasteland; the city and its inhabitants seem exhausted by its inexorable decline. If Saul Leiter provided a visual key for Carol, the 1977 segments of this film are closer to the colour-saturated, slightly hyper-real quality of photographs by Joel Meyerowitz or Philip De Lorca. The palette veers towards sun-baked yellows and oranges; the costumes are an eye-popping assault of cheap synthetics and bared skin.
There's an elegant symmetry to the two stories. Both children seek an absent parent. Rose wants to reconnect with the mother (Julianne Moore, in one half of a dual role) who has relinquished her maternal responsibilities to focus on her acting career. Ben, whose mother (Michelle Williams) recently died, is following a tenuous paper trail which he hopes will introduce him to the father he never knew. Both children end up at the American Museum of Natural History; both find a protector there. For Rose, it's her brother Walter (Cory Michael Smith); for Ben it's Jamie (Jaden Michael), a Hispanic boy whose father works in the museum and who has grown up to treat the building like his own personal cabinet of wonders.
The presence of an artificially aged Moore in a second role, as the older Rose, is slightly jarring. Her prosthetic makeup competes with her performance rather than harmonises with it. But a semi-animated sequence which fills in the links between the two stories is an achingly potent climax to this idiosyncratic charmer of a film.
Production company: Cinetic Media; Killer Content
International sales: Filmnation Entertainment nyoffice@filmnation.com
Producers: Christine Vachon, John Sloss, Pamela Koffler
Screenplay: Brian Selznick
Cinematography: Edward Lachman
Editor: Affonso Gonçalves
Music: Carter Burwell
Production Design: Mark Friedberg
Costume design: Sandy Powell
Main cast: Oakes Fegley; Julianne Moore; Michelle Williams; Millicent Simmonds; Jaden Michael; Tom Noonan