Ti West's long-awaited return to horror is a bloody and brainy 1970s-style slasher with bite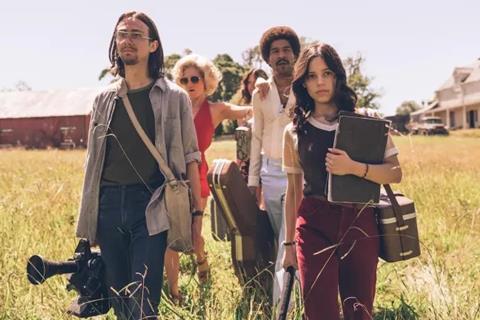 Dir/scr: Ti West. US. 2022. 105 mins.
It has been six years since Ti West's last film, the western In A Valley Of Violence, and even longer since his last full-on horror, 2013's The Sacrament. So it is a thrill to discover that the intervening years have not seen him lose any of his bite; indeed, his period slasher X, about a bunch of bright and beautiful young things making an adult movie in rural Texas when they're caught by their reclusive hosts, is a full-tilt genre experience that is as surprising as it is savage.
The power of female sexuality is the central idea of the film
X, a co-production between A24 and Bron Studios, was filmed in secret in New Zealand during the pandemic and, while in mandatory quarantine before shooting began, West decided to write its forthcoming prequel, Pearl, also for A24, in collaboration with star Mia Goth over FaceTime. The 1979-set X will be a no-brainer for fans of West, whose previous films also include The Innkeepers and fellow '70s chiller The House Of The Devil, when it opens in the US, UK and multiple territories on March 18, following its premiere in SXSW Midnight. Word of mouth could see it break through to a wider late night crowd, but it will likely find its largest audience on a streaming platform.
Maxine (Mia Goth) an aspiring movie star, is starring in older boyfriend Wayne's (Martin Henderson) home-made porn flick. The couple pile into Wayne's van with bombshell Bobby-Lynne (a sassy Brittany Snow), smooth-talking ex-military man Jackson (Scott Mescudi, aka Kid Cudi), cameraman RJ (Owen Campbell) and RJ's strait-laced girlfriend and assistant Lorraine (Jenna Ortega). Together, they head out to the isolated Texas home of the very elderly Howard (Stephen Ure, under heavy make-up) and his equally-as-ancient wife Pearl (also played by Goth, donning extreme prosthetics, in a dual role that goes beyond gimmick to strike at the heart of the film's themes). It is Wayne's plan that they film their adult movie, titled 'Farmer's Daughter', in the guesthouse and barn where they are staying, in secret, so as not to incur the wrath of their conservative, gun-toting hosts.
Echoes of The Texas Chainsaw Massacre are present — deliberately and beautifully rendered — from the opening sequence. The scratchy VHS quality of the image, the secluded rural homestead, the buckets of blood that signal an unspeakable atrocity which has left the local police chief scratching his head and retching into a handkerchief. From here, West flashes back 24 hours, to the seedy 'Bayou Burlesque' strip club, adrift in an industrial Houston wasteland, where Maxine is getting ready to go on stage. "You're a fucking sex symbol," she tells herself in the mirror.
Despite the fact that Maxine buoys herself with lines of coke, this is not the delusional mantra of a desperate woman, but defiant self-belief that will fuel her through the nightmare to come. It is one of the film's fresh twists on well-worn horror tropes that Maxine is entirely the master of her own fate; even as she stars in Wayne's porno there is no hint that she is doing anything she does not want to do. She is certainly no victim.
Throughout, West nails the seventies aesthetic; not just in obvious ways of clothes, tunes ('In The Summertime', 'Don't Fear The Reaper') and Maxine's glittering swipe of disco-blue eyeshadow, but also in the grainy texture of his image, the unhurried pace. As the film progresses, this gives way to some intense camera work, deft edits and slick physical effects, but the real fear comes from the slow-burn tension created by this unconventional set-up.
Yet for a while, all goes well. Despite RJ's eye-rolling ambitions of making an "art-house cineaste" film, what unfolds is a by-the-book, rough-and-ready porno of early VHS standards. As befits the rampant sexualisation of the genre, we are privy to these sequences in all their full-frontal glory. Here, the women are not simply being used for the service of men — and it is notable that West never depicts Maxine or Bobby-Lynne performing at the burlesque club — but are revelling in their sexuality, clearly having a good time.
In fact, the power of female sexuality is the central idea of the film. The catalyst for the hell that breaks loose is Pearl's frustration that her advanced years mean that the world not only fails to see or accept her physicality, her desire, but is disgusted by it. Like so many porn (and, indeed, horror) viewers, she becomes transfixed by, obsessed with, the nubile flesh on display. Her need to sate her decades-long thirst is understandable; the extreme measures she takes to do so utterly appalling.
This visceral exploration of the vibrant, fetishised ripeness of youth versus the lonely anonymity of old age is underscored by frequent visual parallels between Maxine and Pearl — their mannerisms, the way they move. Elsewhere, West repeatedly upends tradition by having the men picked off first, letting the coke-snorting, sex-loving porn star be his triumphant final girl. That's not to say X doesn't indulge in the crowd-pleasing facets of the genre; there are some tremendous misdirects, effective jump scares, and literal piles of gore. There just happens to be plenty of brains to go with all that blood.
Production companies: A24, Bron Studios, Mad Solar
Contact: A24 info@a24films.com
Producers: Jacob Jaffke, Kevin Turen, Harrison Kriess, Ti West
Editing: David Kashevaroff, Ti West
Cinematography: Eliot Rockett
Production Design: Tom Hammock
Music: Tyler Bates, Chelsea Wolfe
Main cast: Mia Goth, Jenna Ortega, Martin Henderson, Brittany Snow, Kid Cudi, Owen Campbell, Stephen Ure