An Egyptian leper and an orphan boy embark on a journey of discovery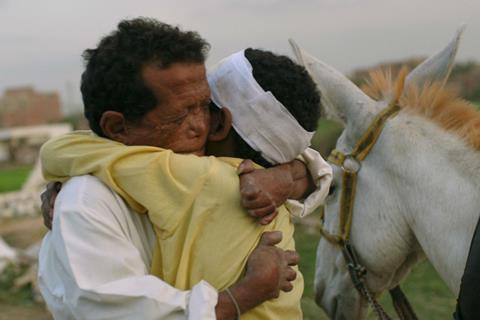 Dir/scr: A.B. Shawky. Egypt. 2018. 97mins
A simple story told with abundant gentleness, Yomeddine looks at a group of outcasts with such compassion and generosity that it has the good manners not to artificially inflate their tale with phony uplift. The feature debut of writer-director A.B. Shawky stars non-actor Rady Gamal as an Egyptian leper on a possibly fruitless journey to reunite with his family. This muted, emotionally precise road movie follows him every step of the way, making up in grace what it lacks in urgency.
Shawky not only brings authenticity but also an unguarded honesty to his script
Competing in Competition in Cannes, the film should be a solid festival traveller, benefiting from warm word-of-mouth. Plus, the rarity of a movie about leprosy starring a performer with the condition may further boost Yomeddine's visibility.
Gamal plays Beshay, an illiterate, uneducated man who has spent most of his approximately 40 years of life in an impoverished leper colony. No longer contagious and grieving the recent passing of his beloved wife, he decides to return to his hometown of Qena by donkey, in the hopes of finding the parents who abandoned him as a boy. Tagging along is a 10-year-old Nubian orphan named Obama (Ahmed Abdelhafiz), who's become like a son to Beshay.
As the characters make their way across the countryside, Shawky and cinematographer Federico Cesca give the Egyptian desert a rich starkness. Judiciously incorporating flashbacks to sketch out Beshay's backstory, Yomeddine matter-of-factly presents the character's affliction, focusing on how leprosy both physically impairs him — his hands and fingers are badly affected — and has left him with noticeable facial scars that cause outsiders to recoil. "He looks like a hammered nail," a bystander says of Beshay with palpable revulsion.
The danger with such material is that Shawky might trip over into condescending sentimentality, reducing his character to a cutesy caricature. Thankfully, Yomeddine avoids that pitfall, helped enormously by Gamal's funny, vulnerable performance. By casting someone with leprosy — Gamal has never acted before — Shawky not only brings authenticity but also an unguarded honesty to his script, which unromantically examines poverty and religion from the protagonist's outsider perspective.
Gamal has a natural sweetness, but he illustrates how Beshay must constantly navigate a world that instinctively fears him. Along the way, Beshay and Obama will meet others shunned by society — including a man with no legs — but Gamal's beautifully unaffected performance lends the film an intimacy, so that it never becomes anything more grandiose than a story about a man on a quest for closure.
Also in his first acting role, Abdelhafiz largely sidesteps the potential clichés of playing the adorable, scrappy orphan boy. Obama is the assertive yin to Beshay's hesitant yang, and the two actors have an appealing, lighthearted rapport.
Yomeddine's stakes are decidedly low — the film drifts from one episode to the next, even though the characters do face thieves and bigots — so the audience's interest level is largely tied to the pleasure we get from spending time with these unlikely traveling companions. There's sorrow and hopefulness on this journey, but Shawky keeps his tale lovingly restrained, confident that Beshay's emotional odyssey is potent enough on its own.
Production companies: Desert Highway Pictures, Film Clinic, Wild Bunch
International sales: Wild Bunch, ediederix@wildbunch.eu
Producer: Dina Emam
Production design: Laura Moss
Editing: Erin Greenwell
Cinematography: Federico Cesca
Music: Omar Fadel
Main cast: Rady Gamal, Ahmed Abdelhafiz