The former 'Scream' star tries to make a comeback - in the professional wrestling ring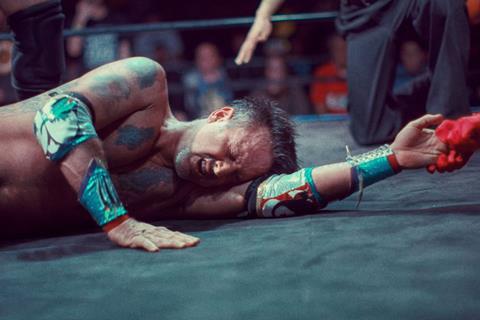 Dirs: David Darg, Price James. US. 2020. 91mins
Hollywood loves a good comeback story, but few have been as bizarre as that of David Arquette. In the uneven but frequently compelling documentary You Cannot Kill David Arquette, directors David Darg and Price James chronicle the Scream star's attempt to remake himself as a professional wrestler. Like the highly theatrical sport Arquette has adored since boyhood, the film mixes absurdity with sincerity, but always at the story's centre is the ageing actor and his fragile psyche. Occasionally, it's hard to watch You Cannot Kill simply because it's unclear how much of this is a desperate rebranding strategy on Arquette's part — but what also makes it difficult is that, because of his physical and mental issues, his next journey into the ring could be his last.
As his psychiatrist puts it, "his brain isn't connected in a typical way."
Screening at the Fantasia Film Festival, the documentary will go straight onto streaming platforms. Arquette's star has been on the wane for quite some time, but his quirky odyssey may attract viewers, especially wrestling fans.
A decade ago, while promoting his comedy Ready To Rumble, Arquette took part in a promotional stunt in which he competed in the WCW World Heavyweight Championship, with the event being scripted so that he would win the championship belt. A lifelong fan, Arquette was stung by vitriolic backlash in the wrestling community, who accused the comedic actor of not showing the sport the proper respect.
Now, years later, Arquette wants to make amends by training to become a proper wrestler. (And since his film career has collapsed since his time in the Scream franchise, he figures there's nothing stopping him.) However, You Cannot Kill quickly illustrates the considerable obstacles. Not only isn't he in shape, he recently survived a heart attack, is a recovering alcoholic, and suffers from severe anxiety. (As his psychiatrist puts it, "his brain isn't connected in a typical way.") Undeterred, Arquette slowly tries to make his name in the wrestling world, determined to be taken seriously in the sport and in Hollywood.
You Cannot Kill can be crushingly intimate as we see Arquette floundering while trying to master his redemption narrative. His wife Christina talks openly about how painful it has been for him to be labeled a has-been, and Arquette's man-child goofiness can't fully hide deep fears that he has squandered his potential. (In addition, his family, including Oscar-winning sister Patricia, talk about their unconventional upbringing, which featured some years living in a commune.) He's risking both his physical and mental health by engaging in this seemingly foolhardy project, but the vulnerability in his eyes suggests that he desperately needs to feel valuable again.
Darg and James explore the colourful world of regional wrestling, where Arquette mixes it up with younger combatants in order to gain experience. Unfortunately, this ecosystem isn't quite as fascinating as the filmmakers believe it to be — those who have seen The Wrestler will recognise the unglamorous terrain — and the constant humiliation to which Arquette is subjected can become cringeworthy. (He goes to celebrity signings, but no one wants his autograph. At low-rent, backyard wrestling meets, the other participants just mock him.) You Cannot Kill possesses some reality-show tawdriness, testing our patience for just how much time we want to spend with Arquette as he leaves his wife and kids at home while pursuing this strange desire.
But with that said, You Cannot Kill has an undeniable train-wreck fascination as the filmmakers observe Arquette's tolerance for emotional and physical punishment. Even if his ambition is partly self-promotional, he leaves no doubt that he genuinely believes that by becoming a competent wrestler, he can wipe away his personal and professional failures. The very absurdity of his goal ends up being You Cannot Kill's most poignant attribute: this may be a silly dream, but it's all he has left.
Considering that Arquette's wife served as producer, it's no surprise that You Cannot Kill ultimately has a feel-good message which advocates that his is an inspirational underdog tale. Viewers may wish for a more ambivalent take — one that investigates the demons and shortcomings of a faded star who has often been his own worst enemy. Nonetheless, this portrait immerses us in David Arquette's surreal worldview so completely that the ringside seat proves sufficiently entertaining — even if we sometimes worry that we may be abetting his delusion.
Production company: One Last Run
International sales: Cinetic Media, sales@cineticmedia.com
Producers: Christina McLarty Arquette, Bryn Mooser, David Darg, Ross Levine, Stacey Souther
Editing: Paul Rogers
Cinematography: David Darg, Price James
Music: Matt Glass