Nicole Holofcener's good-natured comedy starts Julia Louis-Dreyfus and Tobias Menzies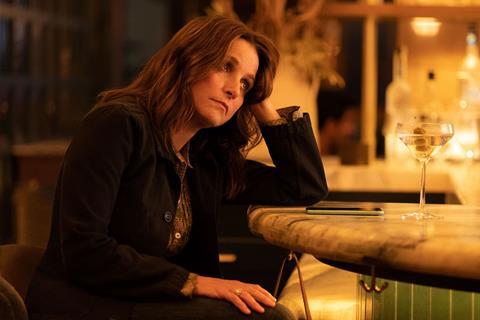 Dir: Nicole Holofcener. US. 2023. 93 mins.
Words like "adorable", "nice" and "cute" come up repeatedly in the latest comedy drama from Nicole Holofcener and they're also a perfect fit for this feel-good film that keeps its stakes low and its sweetness high. Holofcener (Friends With Money, Enough Said) may not be aiming for profound revelations about the nature of relationships, but she's a keen observer of them and artfully shows the ways that families can be as quick with a pick-me-up as a put down. The fourth of Holofcener's features to premiere at Sundance, her film will be distributed by A24 in the US and its gentle humour and hopeful view of relationships in an ensemble cast led by Julia Louis-Dreyfus and Tobias Menzies should see it win fans elsewhere too.
An constant supply of quotable zingers lend energy to almost every scene
Louis-Dreyfus plays Beth, a writer who teaches other aspiring authors in between working on her tricky second book and who is happily married to therapist Don (Tobias Menzies), with whom she has a 23-year-old son Eliot (Owen Teague). She's also close to her interior designer sister Sarah (Michaela Watkins) and Sarah's actor husband Mark (Arian Moayed). Everyone in the family is incredibly supportive of each other and this is what Holofcener weaponises, showing what happens when Beth accidentally learns that Don was lying to her when he said he loved her book.
Despite their general air of amiability, every character is facing the potential for some low-level failure – Don keeps muddling his clients' backstories and even overhears himself being branded useless, while Beth's agent doesn't like her switch from memoir to fiction and Eliot is worried about his girlfriend and the play he's trying to write. Sarah's also facing woes over finding the perfect light fitting, while work trouble beckons for Mark.
Don's act of support - claiming he loved Beth's book when the truth lies elsewhere - is seen by her as an act of betrayal, even though her own blind positivity about Eliot's unwritten play falls into much the same category. The truth may have the potential to hurt but Holofcener suggests it's much more painful to find out you've been lied to like this after the fact. The potential fallout gives her drama some thrust, although there's never a sense that anyone's relationship is seriously under strain. Louis-Dreyfus strikes the right balance in these scenes, suggesting the genuine hurt her character is feeling while also acknowledging that she knows she's overreacting on some level.
The generally good natured and low key nature of the bickering is, in fact, one of the pleasures of You Hurt My Feelings, which derives much of its comedy from situational humour. The New York City backdrop is also captured sunny-side up by cinematographer Jeffrey Waldren, while occasional piano-led scoring by Michael Andrews blows by like a breeze adding to the general upbeat mood. Humour high-water marks include Beth and Sarah eating a lunch with their mother (Jeannie Berlin) in which the trio gently spar over whether a "nice" shirt should be gifted to the homeless, as well as Don's therapy sessions, particularly his observations of sparring matches between argumentative couple Carolyn (Amber Tamblyn) and Jonathan (David Cross), which see Carolyn gloriously instruct her husband to, "shut up and keep talking".
You Hurt My Feelings has an almost constant supply of quotable zingers like this, which lend energy to every scene. While Holofcener doesn't ultimately dispute that it's nice to be nice, she does suggest that it's worth remembering constant positivity has its own negatives.
Production company: Likely Story
International sales: FilmNation Entertainment, ssaldana@filmnation.com

Producers: Stefanie Azpiazu, Anthony Bergman
Screenplay: Nicole Holofcener
Cinematography: Jeffrey Waldren
Production design: Sally Levi
Editing: Alisa Lepselter
Music: Michael Andrews
Main cast: Julia Louis-Dreyfus, Tobias Menzies, Michaela Watkins, Owen Teague, Arian Moayed, Jeannie Berlin