Snyder's original, moody vision of the 2017 film clocks in at four hours for Warners streaming services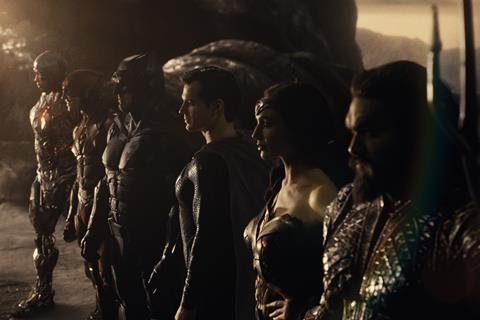 Dir: Zack Snyder. US. 2021. 242mins
Sometimes, a director's name in the title is merely an act of ego, but in the case of Zack Snyder's Justice League, it's entirely apt for a film that could not be the work of anyone other than the auteur behind 300. A blundered blockbuster now being re-released in a new cut overseen by the original filmmaker years after walking away from the project, this expanded take on the 2017 superhero extravaganza is both bolstered and hampered by Snyder's finely-calibrated penchant for mythic pop grandeur. Running for four hours, the picture offers a sweeping scope as Batman and his cohorts fight to save Earth. Yet while the battle to offer a more satisfying, definitive take on Justice League, Snyder's version can certainly be stunning, it's ultimately undone by his excesses and the underlying flaws of an overstuffed story.
The film luxuriates in its operatic ambition
Zack Snyder's Justice League hits HBO Max and international affiliates on March 18, thanks to a fan-orchestrated campaign requesting Snyder be allowed to complete his original vision after Avengers filmmaker Joss Whedon replaced him during production. Aside from Wonder Woman 1984, superhero cinema has been in short supply during the pandemic, so expect considerable interest — not to mention morbid curiosity regarding this second shot at a critical and commercial failure.
Still reeling from the death of Superman (Henry Cavill), Batman (Ben Affleck) gathers a team of superheroes — Wonder Woman (Gal Gadot), Aquaman (Jason Momoa), Cyborg (Ray Fisher) and the Flash (Ezra Miller) — to confront an interstellar foe, Steppenwolf (voiced by Ciaran Hinds), who has come to collect the Mother Boxes, mystical devices that, when joined together, will destroy the planet. But without the Man of Steel, our heroes may not be powerful enough to stop him.
Much has been made of the fact that Snyder exited the 2017 film (in part because of his daughter Autumn's suicide) and was replaced by Whedon, who rewrote and reshot much of the picture. With an estimated $70m budget, Zack Snyder's Justice League features none of Whedon's footage, restores Snyder's material and includes newly-filmed scenes. (This new version is presented in a 4:3 format, rather than traditional widescreen, in case the film ever plays in IMAX.)
Unlike Whedon's jokier, hectic two-hour version, Zack Snyder's Justice League takes its time establishing each of its characters — including Steppenwolf (whose CG is vastly improved) — and laying out the stakes for the predictably life-or-death battle between good and evil. In an age when audiences are more comfortable binging on streaming series, Zack Snyder's Justice League's four-hour runtime may not prove so daunting, and the filmmaker does a fine job keeping the proceedings moving at a steady, confident pace.
Across his career, Snyder has consistently crafted supersized spectacles with a dark tone and a stylised visual flair that borrows from graphic novels and video games, and indeed the film luxuriates in its operatic ambition. Cinematographer Fabian Wagner's mournful colour palette and Tom Holkenborg's brooding score lend gravity to the story, which treats these DC heroes — as opposed to their sunnier Marvel counterparts — as tortured individuals burdened by the responsibility of serving as Earth's last stand against the seemingly invincible Steppenwolf. Despite The Flash's wisecracking comic relief, Snyder's vision feels genuinely sombre and epic — not just because of Superman's passing but also because this ageing Batman fears he's not worthy of leading his fellow crimefighters.
The longer narrative helps with some of the performances — particularly Fisher as a young man wrestling with his new reality as a cybernetic being. But Affleck remains a touch too morose, and Gadot doesn't have the same spark as in her own Wonder Woman films — an indication that, even at four hours, these characters are being shoehorned into a sprawling narrative that doesn't always allow each of them to shine.
As stirring as Snyder's showy theatrics can be, the film eventually sags under the weight of its own self-importance. (While Zack Snyder's Justice League is superior to the original theatrical version, one appreciates why Whedon tried to insert levity.) And in comparison to the Avengers pictures' far more deft juggling of characters and incidents, Chris Terrio's screenplay gets bogged down in searches for Mother Boxes as well as addressing myriad supporting characters, including Amy Adams' drab Lois Lane.
Most fatally, though, after the final showdown with Steppenwolf, Snyder tacks on a protracted epilogue that introduces even more characters, contributing to a sense that, although his obsessiveness fuelled this mammoth undertaking, it also makes him susceptible to overkill. This often absorbing opus can be as mighty as Superman himself, but a lack of restraint proves to be its Kryptonite.
Production companies: Atlas Entertainment, Stone Quarry
Worldwide distribution: Warner Bros.
Producers: Charles Roven, Deborah Snyder
Screenplay: Chris Terrio, story by Chris Terrio & Zack Snyder and Will Beall
Production design: Patrick Tatopoulos
Editing: David Brenner
Cinematography: Fabian Wagner
Music: Tom Holkenborg
Main cast: Ben Affleck, Henry Cavill, Amy Adams, Gal Gadot, Ray Fisher, Jason Momoa, Ezra Miller, Willem Dafoe, Jesse Eisenberg, Jeremy Irons, Diane Lane, Connie Nielsen, J.K. Simmons