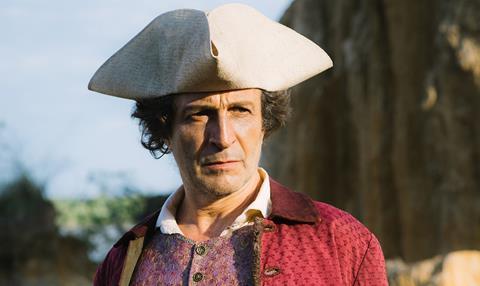 Dir/scr. Lucrecia Martel. Argentina/Brazil, 2017. 115 mins.
Argentina's Lucrecia Martel heads south to a place of madness in Zama, a long-delayed epic of Amazonian insanity which is defiant in its inscrutability. Trapped in a colonial outpost in what is now Paraguay, the locally-born magistrate Diego de Zama (Daniel Giménez Cacho) is embedded in a sticky hell, waiting endlessly for a transfer which will take him out of his tropical malady.
Martel casually depicts the slavery and brutal mistreatment of the era in ways that resound
After a nine-year absence, Martel returns to the screen with an uncompromising feature, which, even as it snakes and twists under the skin, demands more to be admired than enjoyed. The Argentinian director has adapted Antonio Di Benedetto's 1956 novel with the help of 16 co-production companies including El Deseo and Canana, and it has been a tortured progression to the screen which is often mimicked in the film's tone.
While her narratives – especially her last, The Headless Woman – have always been elusive, Zama is defiant in the way it sets out its stall. As nearly two hours pass and the dogged Diego de Zama realises his goal may never come to pass, Martel's visual thread also frays. Often the audience can't see the person who is speaking; frequently the dialogue isn't translated; some footage is speeded-up, other interludes pass slowly. Characters change without explanation. Ambient sound shrieks. It's confusing and heavy and bears down hard until a third-act swerve throws in colours and movement and spins the viewer out of the theatre in wonder. It won't be forgotten.
Zama flirts as closely with museum work as Apichatpong Weerasethakul, and, in a similar manner, it's hard to envisage it in a commercial setting outside the most devoted art circuits. Playing out of Competition at Venice, where it cannot be boosted by a prize, it is bound to be heralded by the director's many fans, although most will have to admit that it is, at times, a bewildering watch.
From the moment he appears, gazing into the distance from a sandy shore, Zama is a man who longs to be elsewhere. Clad in a tricorn hat, a dilapidated brocade waistcoat and stained linen shirts, he's the Crown's magistrate in this godforsaken outpost of the Spanish colonial empire, and he'll do anything to be transferred to Lerma. There's mention of a wife and children, but Zama is attracted to many women through the course of the film, from natives in their mudbaths, to the feisty, boozy Luciana (Lola Duenas), with her ratty wig and noble ways. He stays in a guest house where three daughters flit around in their nightclothes. He makes bad decisions.
Martel casually depicts the slavery and brutal mistreatment of the era in ways that resound: from slaves who cannot walk for flayed feet, to torturing, to children who fan Luciana and adults carry the malaria-plagued trader known as The Oriental and his son on their backs through the dunes. Sharply droning music underscores some interludes, later to be replaced by more jaunty, anachronistic melodies. Time passes as the capricious governors and their deputies change and torpor sets in. This Kafkaesque roiling only comes to an end when Zama decides to grasp his own fate and move towards a local criminal called Vicuna Porto, who may be real, or could be just a manifestation of the fevered symbolism of the piece.
Zama differs radically from Martel's previous work, which has always been set in the here-and-now, by taking on a more overtly mythic feel. Concluding sequences are almost unreal, but visually transfixing. Like her films, this director continues to be an elusive talent to pin down. It seems impossible to guess what, or even when, she will turn to next: judging from Zama, it's not at all certain it will be cinema that we recognise.
Production companies: Rai Films, Bananeira Films
International sales: The Match Factory, sales@matchfactory.de
Producers: Benjamin Domenech, Santiago Gallelli, Matías Roveda, Vania Cata
Executive producers: Pablo Cruz, Gael García Bernal, Diego Luna, Angelisa Stein
Cinematography: Rui Poças
Editors: M. Schverdfinger, K. Harley
Art director: Renata Pinheiro
Main cast: Daniel Gimenez Cacho, Lola Duenas, Matheus Nachtergaele, Juan Minujin, Rafael Spregelburd, Mariana Nunes