Ticks all of James Franco's boxes, but none for the audience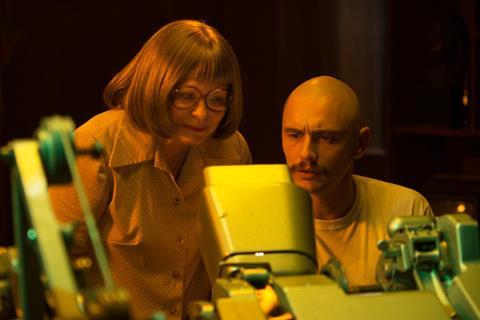 Dir: James Franco. US. 2019. 96 mins.
If only Zeroville were as bad as The Room, the 'Citizen Kane of bad movies' that inspired James Franco's engaging, Oscar-nominated 2017 comedy The Disaster Artist. Then it would at least be fun to watch. This adaptation of Steve Erickson's rambling novel that celebrated the hold of classic movies on our collective psyche is simply a shapeless mess that tires its audience well before the end and is salvaged from oblivion by a few funny, tender or kooky scenes, most lifted straight from the book.
Zeroville will not quite disappear from view after its short theatrical run, but is likely to go to ground
Shot in 2014, then held back from distribution by the bankruptcy of distributor Alchemy, Zeroville finally emerged in North American theatres on September 20 courtesy of new digital distribution platform myCinema, two days before its official international premiere at San Sebastian (where it was shunted into an 'out of competition' slot at the last minute due to a Russian release that violated the festival's competition regulations).
A Sharon Tate reference near the beginning inevitably draws comparison with Once Upon a Time… in Hollywood, but its unlucky release soon after that vivid slice of alternative history is not kind to Zeroville, which has none of the fire, originality or nerdy passion for detail of Tarantino's film. With Megan Fox, Seth Rogen and Will Ferrell in the cast, Zeroville will not quite disappear from view after its short theatrical run, but is likely to go to ground before emerging on smaller screens somewhere, somehow.
As a director, Franco is famous for a few things by now. One is his prolific shoot rate of more than a film a year since The Ape, his 2005 directorial debut. Another is his penchant for adaptations of supposedly unfilmable books (like his two Faulkner forays, As I Lay Dying and The Sound And The Fury). A third is the regular stablemate of acting buddies like Seth Rogen or Danny McBride who end up playing, at the very least, cameo roles in most James Franco films. Add a fascination with metacinematic stories (Interior. Leather Bar and The Disaster Artist) and you have, in Zeroville, a film that ticks all the Franco boxes.
Erickson describes his protagonist, Vikar, who sports a tattoo of Liz Taylor and Montgomery Clift from A Place In The Sun on his shaven head, as "cineautistic". As Franco plays him, he's more the catatonic type, a confused and taciturn trainee architect and former seminarian newly arrived in 1969 Los Angeles from Pennsylvania with a model of a church under his arm and a passion for film that turns out to be recent and seemingly based on little more than – well, A Place In The Sun. When he sees a film he likes, or is told he should like, he marks his approval with the catchphrase "I believe it's a very good movie". As he digests more masterpieces – like Sunset Boulevard, consumed on TV in the company of a burglar played by Craig Robinson who turns out to be an articulate lover of classic movies – Vikar, who is by now working as a set builder on the Paramount lot, is inexplicably adopted by a couple of movie world characters.
One is Jacki Weaver's twinkly, veteran fim editor Dotty – a riff on Jaws editor Verna Fields – who adopts the gormless newbie and teaches him the art of cutting (he's a natural, of course). The other is Seth Rogen's 'Viking Man', based on Apocalypse Now scriptwriter John Milius. He's a cigar-smoking lot-lounger who dresses in army fatigues and ends up summoning Vikar to help edit the rushes of Coppola's Vietnam opera in the Philippines (a location represented, as in the best Shakespearian tradition, by a grove of trees) – where Vikar happens to arrive just as Brando is about to deliver Colonel Kurtz's rambling final speech. Along the way, at a party where a geekish young Martin Scorsese and George Lucas pitch each other the projects that would make them famous, Vikar falls for Megan Fox's mysterious Soledad, a sex-bomb actress with a dark past who is rumoured to be the illegitimate daughter of Bunuel.
We're only around half an hour in to the film by this point, and struggling with its time structure – Vikar seems hardly to have arrived in LA when he's suddenly on the Apocalypse Now shoot seven years later. But at least there's a verve and energy to Zeroville thus far, one that is entirely lost when the film takes a mystic turn and becomes little more than one long montage. From a mist through which Franco and Fox wander like underwritten zombies and an uncredited Will Ferrell hams it up as Mitch Rondell, a crass movie mogul, a few bright spots emerge – among them the return of Robinson's petty criminal in a short alleyway mugging scene that supplies one of Zeroville's few genuinely funny moments.
The final element of the film's poster logline "Love, Cinema and Punk Rock" is perhaps the most random of all in a movie that fully embraces the random. When Vikar watches a band pretending to be Iggy Pop and the Stooges at CBGBs, or when Soledad's daughter, played gamely by Joey King, becomes a punkette, it seems little more than a time marker that places us somewhere in the late 1970s. But at least the theme generates one of Zeroville's best technical credits, Johnny Jewel's jangly analogue soundtrack,
One of the real issues with a work which, to give Franco credit, seems genuinely inspired by a love of classic cinema, is that cineastes are as likely to be insulted as engaged by the didactic, film-school-for-dummies way in which clips from films that range from John Ford's My Darling Clementine to Alejandro Jodorowsky's The Holy Mountain are introduced, alongside cameo appearances by (among others), Wim Wenders, Gus Van Sant and Venice festival chief Alberto Barbera. In Erickson's novel, not being able to see the films Vikar eventually assembles into a mystic, universal conspiracy theory was a saving grace; here, when a writhing Megan Fox takes the place of Renée Jeanne Falconetti on the stake in Dreyer's The Passion of Joan of Arc, we recoil in horror.
Production companies: Patriot Pictures, Rabbit Bandini Production
International sales: Moonstone Entertainment, etchie@moonstonefilms.com
Producers: Michael Mendelsohn, Vince Jolivette, Caroline Aragon
Screenplay: Ian Olds, Paul Felten, based on the novel of the same name by Steve Erickson
Production design: Kristen Adams
Editing: Matt Diezel, Joe Murphy
Cinematography: Bruce Thierry Chung
Music: Johnny Jewel
Main cast: James Franco, Megan Fox, Seth Rogen, Joey King, Danny McBride, Craig Robinson, Jacki Weaver, Will Ferrell