Dir:Sam Mendes. US. 2008. 119 mins.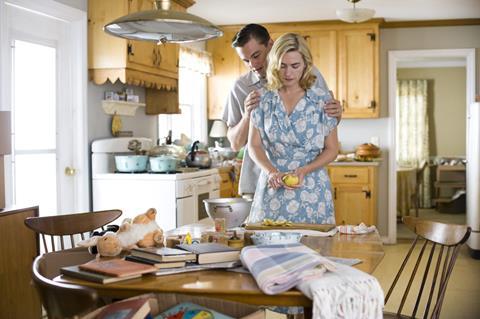 Subtly affecting, director Sam Mendes' Revolutionary Road plays like a more mature and considered version of American Beauty, his Oscar-winning tale about the nagging disillusionment eating away at the heart of suburbia. Based on Richard Yates' acclaimed 1961 novel about an unhappy East Coast marriage, the film inevitably suffers from some similarity to other recent domestic melodramas, notably star Kate Winslet's Little Children. Nevertheless, a strong cast, led by the much-touted reunion of Titanic stars Winslet and Leonardo DiCaprio, guides a nuanced story with much to say about married life's emotional blind alleys.
Opening in select cities in the US at the end of the year before expanding worldwide in January, Revolutionary Road boasts DiCaprio and Winslet's considerable marquee value, but while DreamWorks and Paramount Vantage are hoping to gain some capital from their stars' connection to the Titanic juggernaut of 11 years ago, this challenging drama evidently won't come close to matching the performance of that box-office record-breaker. Strong reviews and possible Oscar buzz should attract adult audiences, though the film's superficial resemblance to other suburban-angst films might convince some that they've seen this movie already.
Young disillusioned married couple Frank (DiCaprio) and April (Winslet) live in a tranquil Connecticut suburb with their two children in 1955. Frank's dreary salesman job and April's boredom with their surroundings inspire the couple to pull up stakes and move to Paris. But unexpected developments soon threaten that plan, revealing the cracks in their troubled relationship.
Director Sam Mendes, working from screenwriter Justin Haythe's adaptation of Richard Yates' novel, would seem to be revisiting the subject matter of American Beauty, his black-humoured 1999 drama which won five Oscars. But where American Beauty suffered from a noticeably smug attitude toward its suburban characters, Revolutionary Road feels even-handed and empathetic, taking Frank and April's relationship struggles seriously while at the same time slowly exposing the couple's significant flaws. Yates devised his novel as an attack on 1950s' conformity, but Mendes recognizes that this satirical territory has already been covered in films like Far From Heaven, and instead focuses on a relationship drama whose underlying concerns remain relevant today.
Ultimately, Revolutionary Road can't fully escape the gravitational pull of its genre's melodramatic storytelling conventions, including scenes of dead-end infidelities, angry recriminations, and flashbacks to happier early days. But as opposed to Mendes' previous films, which have been so meticulously designed as to be cold to the touch, Frank and April's up-and-down love story forces the director to adopt a warmer, more instinctive tone which keeps pace with the Wheelers' unpredictable journey of furious resentments and spasms of lingering adoration.
The film's tragedy lies in the knowledge that while external social factors impact the couple's bond, their individual failings have contributed much more to their misery. DiCaprio and Winslet are compelling as young people who simply don't have the emotional maturity to juggle their conflicting desires for material success, personal fulfilment and the rewards of raising a family.
At first, DiCaprio's boyish features seem ill-suited to play this beaten-down working stiff, but as the movie progresses they work to his advantage, demonstrating Frank's fundamentally childish disposition. For Winslet, the greatest challenge is constructing a portrait of discontented motherhood that's different than her comparable role in Little Children. But while some similarity haunts the performance, there is enough delineation in the two characters to keep April from feeling like a carbon copy.
The supporting cast does solid work. Kathy Bates, Dylan Baker and Jay O. Sanders largely play variations of their character types, but two lesser-known actors distinguish themselves. David Harbour is poignantly understated as a melancholy neighbour, while Michael Shannon is exceptional as the mentally disturbed son of the Wheelers' friends.
Production companies
Evamere Entertainment
BBC Films
Neal Street
International distribution
Paramount Pictures International/DreamWorks Pictures
Producers
John N. Hart
Scott Rudin
Sam Mendes
Bobby Cohen
Screenplay
Justin Haythe, b ased on the novel by Richard Yates
Cinematographer
Roger Deakins
Production designer
Kristi Zea
Editor
Tariq Anwar
Music
Thomas Newman
Main cast:
Leonardo DiCaprio
Kate Winslet
Kathy Bates
Michael Shannon
Kathryn Hahn
David Harbour
Zoe Kazan
Dylan Baker
Jay O. Sanders
Richard Easton
Max Baker