Dir: Jon Stewart. US. 2014. 103mins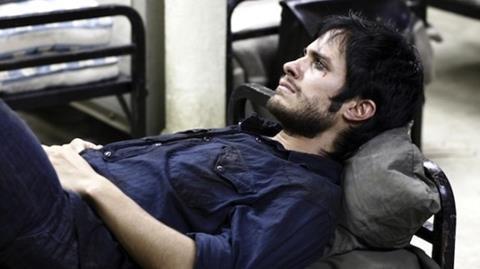 For a film about a journalist being unfairly held in solitary confinement by one of the globe's most politically divisive governments, Rosewater is notable for its modesty and emotional restraint, for its principled refusal to sensationalise its potentially inflammatory subject matter. The directorial debut of veteran Daily Show television satirist Jon Stewart, this sensitive, stripped-down drama documents the four-month ordeal of Iranian-Canadian Newsweek reporter Maziar Bahari, who in 2009 was arrested in Tehran while covering the country's presidential election. A certain narrative conventionality is perhaps inevitable with this type of material, but Rosewater is helped immensely by Gael García Bernal's assured, lived-in lead performance.
Because Rosewater is so reserved, reluctant to lapse into broad sermonising, it's disappointing when Stewart occasionally makes room for sweeping flourishes about the Iranian people's thirst for freedom or the power of social media to bring about political change.
Screening at the Toronto Film Festival (and, presumably, Telluride), Rosewater will open in the US in November during the thick of awards season. Ironically, the film's admirably small-scale approach may hurt its chances at statuettes. (The movie largely avoids the sort of crowd-pleasing, socially-conscious sentiment that can be catnip to progressive voters.) Nonetheless, liberal fans of The Daily Show With Jon Stewart will certainly be intrigued, and good reviews should be an asset as well. With that said, though, a lack of major star power will probably keep Rosewater from breaking out of the art-house realm.
Based on Bahari's memoir Then They Came For Me, Rosewater stars García Bernal as Bahari, who in the summer of 2009 left his pregnant wife Paola (Claire Foy) in London so that he could report in Iran during its presidential election. But soon after incumbent Mahmoud Ahmadinejad was declared the winner by a landslide, widespread protests broke out, accusing the government of fixing the results. Amidst this turmoil, which Bahari covers, he's arrested by Iranian officials who charge him with being an American spy after appearing on the satirical US news program The Daily Show. Unable to convince his captors that the show is a comedy, the journalist is held in solitary confinement for 118 days, where he's tortured psychologically more than physically by an unnamed man (Kim Bodnia) Bahari dubs Rosewater because of his scent.
Considering Stewart's background, there might be an expectation that Rosewater would be a dark comedy, a sardonic look at the Iranian government's paranoia and thuggish behaviour. Quite the contrary, the film quietly focuses on Bahari's inner journey, only rarely indulging in a caustic observation on the character's ludicrous incarceration. (As an example of Stewart's tastefulness, the filmmaker doesn't belabour the obvious irony that it was his television program that got Bahari in such trouble.)
Thankfully, Stewart's transition to drama — to say nothing of his move behind the camera after being in front of it for so long — mostly avoids the self-conscious seriousness that can suggest a first-time filmmaker trying to fake his level of confidence. Rosewater has a few awkward tonal shifts and forced emotional beats, but on the whole Stewart trusts his spare script (which he adapted from the book) without overselling the story's inherent outrage and absurdity.
As for García Bernal, Rosewater represents an unlikely companion piece to his starring role in the 2012 Chilean political satire No. Although the two films couldn't be more different in terms of style or temperament — or in the characters García Bernal play — they both show the actor conveying an effortlessly weary humanity. Bahari is portrayed not as a noble champion of the people but, rather, a smart reporter whose political convictions have never been severely tested. (We learn through voiceover that his father and older sister were both jailed by the Iranian government, ordeals Bahari isn't sure he could withstand.) Where other prison films of this kind would turn their subjects into courageous martyrs, Rosewater examines how the tedium and uncertainty of solitary confinement can wear down an individual, making him willing to compromise his values in order to be free.
It's the character's vulnerability that García Bernal most brings to the surface, and Stewart honours the performance by showing little interest in fetishizing Bahari's predicament. Rosewater isn't a film of nonstop beatings and torture — it's a drama about monotony interspersed with laughably irritating head games as Rosewater tries to make Bahari admit he's a spy or that his fondness for The Sopranos is proof that he supports pornography. With the help of editor Jay Rabinowitz, Stewart keeps the film well-paced so that Bahari's seemingly endless incarceration doesn't feel interminable.
As Bahari's principal interrogator, Bodnia is superb portraying a form of doltish tyranny that, one suspects, is more accurate than the slick, sophisticated evil we usually see at the movies. Rosewater isn't a diabolical mastermind — he's a dull instrument who's been trained in how to wring confessions out of his prisoners. What Rosewater subtly argues is that regimes like Iran's survive almost in spite of themselves: They're so backward-looking and bullying that their barbaric behaviour would be comic if it wasn't for the real damage they do.
Still, Stewart has to contend with the almost insurmountable challenge of making a film in which the main character is often locked in a room alone. To get around this, Rosewater features imaginary conversations between Bahari and his dead father Baba Akbar (Haluk Bilginer), the son constantly chastised for not being as mentally tough as the father. Done poorly, this technique could reek of gimmick, but Bilginer's performance is so streamlined that it's sufficiently affecting. Additionally, there's a strong sense that the conversations are actually Bahari's self-critical impression of what his father would think of him, adding more weight to the film's interest in how captivity can warp a person's reason.
Because Rosewater is so reserved, reluctant to lapse into broad sermonising, it's disappointing when Stewart occasionally makes room for sweeping flourishes about the Iranian people's thirst for freedom or the power of social media to bring about political change. Anyone who watches The Daily Show on a regular basis knows that corruption and hypocrisy are issues close to Stewart's heart, but on his programme those topics are punctured with sarcastic humour. Unadorned in Rosewater, such political commentary (though well-intentioned) can sometimes feel treacly.
Production company: OddLot Entertainment
International sales: Sierra/Affinity, www.sierra-affinity.com
Producers: Scott Rudin, Jon Stewart, Gigi Pritzker
Executive producers: Lila Yacoub, Eli Bush, Chris McShane
Screenplay: Jon Stewart, based on the book Then They Came for Me by Maziar Bahari
Cinematography: Bobby Bukowski
Editor: Jay Rabinowitz
Production designer: Gerald Sullivan
Music: Howard Shore
Main cast: Gael García Bernal, Kim Bodnia, Haluk Bilginer, Shohreh Aghdashloo, Golshifteh Farahani, Dimitri Leonidas, Claire Foy, Nasser Faris, Miles Jupp