This is the fifth year that IFFR has included an Art: Film platform within the CineMart as part of an ongoing attempt to bring art world professionals closer together with their colleagues from cinema.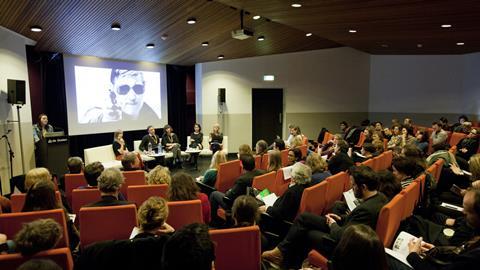 The initiative has proved very successful, supporting the development of films by Fiona Tan (Tiger contender History's Future), Phil Collins, Michelangelo Frammartino and others. Nonetheless, the same question is often asked by potential funders - what is it all about?
The artists want to attract "normal" film funding. To do so, they are sometimes asked to pitch or present their projects in a way they find simplistic and reductive. The funders, for their part, can sometimes seem baffled by the esoteric nature of the artists' projects. Art: Film was designed to help break down the suspicions and misunderstandings between the two worlds.
This year, on Monday (Feb 1), two new projects are being showcased: The Notebooks by Joana Hadjithomas and Khalil Joreige (Lebanon/France) and What If Women Ruled The World? by Yael Bartana (UK).
There will also be two extended case study presentations and discussions.
As it turns out, many funders are looking to broaden their selection criteria. They don't want just projects that tick boxes but are keen to back films from maverick new voices who express themselves in unusual ways.
"We were actually invited last year by Roberto Olla at Eurimages to have a discussion with him and the board about opening a new scheme for projects that don't really fit into the normal scheme," said Jacobine van der Vloed, who organises Art: Film alongside Tobias Pausinger.
At Art: Film, Natasha Dack will talk about her experience producing Omer Fast's Remainder, an adaptation of the novel by Tom McCarthy. She will discuss the challenge of presenting the projects to critics, distributors and audiences.
Her fellow producer Floor Onrush of Family Affair Films will talk about her experiences working on History's Future.
Pausinger made it clear that the films selected for Art: Film are CineMart projects. "They have to fit in…they have to be interesting for the normal CineMart crowd."