EXCLUSIVE: IFFR reveals lineup and jury for programme focused on emerging filmmakers.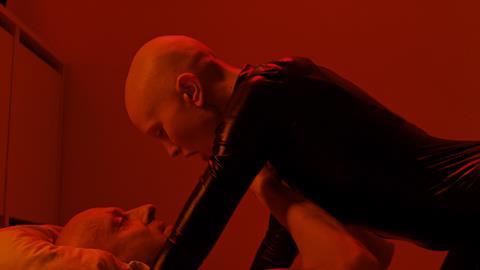 International Film Festival Rotterdam (IFFR) (25 Jan – 5 Feb) has announced the full line-up of its Bright Future programme, including the titles that will compete for the Bright Future Award.
Scroll down for the full lineup
The competition for the Bright Future Award 2017 consists of sixteen debut films, including Chinese documentary Children Are Not Afraid of Death, Children Are Afraid of Ghosts by Rong Guang Rong and Caroline Leone's melancholy Brazilian road movie Pela Janela. Also competing are Belgian title Inside the Distance and German feature Self-Criticism Of A Bourgeois Dog.
The jury for the award will be made up of Italian film producer Marta Donzelli (Le Quattro Volte); Marleen Slot, Netherlands producer for Viking Film (Neon Bull) and chair of Film Producers Netherlands (FPN); and Jean-Pierre Rehm, director of the French film festival FID Marseille.
Outside of this competition, Bright Future also presents the premières of a number of second feature films by promising filmmakers.
Korean director Jung Yoonsuk, whose Non-fiction Diary garnered praise in 2012, will be attending Rotterdam with his punk activist documentary Bamseom Pirates Seoul Inferno; Mariano Luque, whose debut Salsipuedes screened in Cannes, presents Otra Madre; Polish director Lukasz Ronduda (The Performer) will be showing Heart of Love, a fictionalised artists' portrait.
Impact Cinema Bright Future Award competition:
António Um Dois Três / António One Two Three, Leonardo Mouramateus, Portugal / Brazil, world premiere
Three dimensions of the same story in romantic Lisbon.
Cactus Flower, Hala Elkoussy, Qatar / Egypt / United Arab Emirates / Norway, world premiere
Struggling actress and bourgeois lady suddenly find themselves on the streets of hyper-tense Cairo.
Children Are Not Afraid of Death, Children Are Afraid of Ghosts, Rong Guang Rong, China, world premiere
After the suicide of four brothers and sisters, the filmmaker attempts to sneak into the mountain village where this tragedy took place.
Corpo elétrico / Body Electric, Marcelo Caetano, Brazil, world premiere
Fiction feature dealing with racial and sexual diversity, the desire for freedom among LGBT youth and the possibility of encounters between socially distant people.
Drifting Towards the Crescent, Laura Stewart, USA, world premiere
Captures Hannibal, Missouri, the birthplace of Mark Twain on the Mississippi River, where the North begins to drift into the American South.
Haruneko, Hokimoto Sora, Japan, international premiere
Those who want to die seek refuge in a mysterious café in this feverishly strange Japanese debut.
I Am Truly a Drop of Sun on Earth, Elene Naveriani, Switzerland, international premiere
A prostitute in a run-down night club in ghostly Tbilisi meets a Nigerian migrant who came to Georgia by pure mistake.
Inside the Distance, Elias Grootaers, Belgium, world premiere
Poetic documentary portraying Giorgi Shakhsuvarian, an Armenian boxing coach from Tbilisi. Living and working in Belgium, he prepares a young boxer to become a European champion.
Mes nuits feront écho / Still Night, Still Light, Sophie Goyette, Canada, international premiere
Across the Americas and Asia, three characters from different cultures and generations are at a turning point in their lives.
Pela janela / A Window to Rosália, Caroline Leone, Brazil / Argentina, world premiere
Rosália is a woman from São Paulo who has spent decades of her life working in a factory. One day, she is fired.
The Pot and the Oak, Kiarash Anvari, Iran / Canada, world premiere
After learning that he has no sperm and can't impregnate his wife, an Iranian man suffers an existential crisis.
Selbstkritik eines bürgerlichen Hundes / Self-criticism of a Bourgeois Dog, Julian Radlmaier, Germany, world premiere
Young filmmaker Julian, ironically played by Radlmaier himself, falls for a young expat and offers her the leading part in his wannabe Communist fairy tale film.
Super Dark Times, Kevin Phillips, USA, world premiere
A horrible accident causes a tectonic shift between high school best friends, spinning them away in different directions.
Los Territorios / The Territories, Iván Granovsky, Argentina / Brazil / Palestine, world premiere
After the attack on Charlie Hebdo's office in Paris, Ivan, the frivolous son of a prominent Argentine journalist, embarks on a journey pursuing different geopolitical events around the world.
Ugly, Juri Rechinsky, Ukraine / Austria, world premiere
Reanimation. Pain attack. Sex scene. Suicide. Family dinner. Morgue. Fire. Dementia. Birth. About love.
Willliam, el nuevo maestro del judo / William, the New Judo Master, Ricardo Silva, Omar Guzmán, Mexico, international premiere
A chronicle about the search for love and the fight against oblivion.
———————————————————————————————————————————-
Premieres in Bright Future (out of competition)
Als Paul über das Meer kam / When Paul Came over the Sea, Jakob Preuss, Germany, international premiere
Jakob, the filmmaker, follows Paul from Cameroon on his risky trip to and across Europe; a journey that dramatically affects both of them.
Bamseom Pirates Seoul Inferno, Jung Yoonsuk, South Korea, world premiere
Grindcore punks Bamseom Pirates make music suitable for a sick society.
Filthy, Tereza Nvotova, Slovakia / Czech Republic, world premiere
Coming-of-age story about sensitive seventeen-year-old Lena whose enchanted teenage world is shattered by a horrific event.
A Heart of Love, Lukasz Ronduda, Poland, world premiere
A fictionalised portrait of Polish artists Wojciech Bąkowski and Zuzanna Bartoszek.
Live from Dhaka, Abdullah Mohammad Saad, Bangladesh, European premiere
In a series of vignettes, a partially handicapped man lives his days in anguish as he tries to find a way to leave Dhaka.
Manifesto, Julian Rosefeldt, Germany, European premiere
Can history's art manifestos apply to contemporary society? A series of re-enactments – all performed by Cate Blanchett – explores the performative components and political significance of these declarations.
Otra madre / Another Mother, Mariano Luque, Argentina, world premiere
A film about moments of affection and maternal protection, blurred family ties and labour injustices.
Suffering of Ninko, Niwatsukino Norihiro, Japan, European premiere
A cult classic in the making, the debut feature by this Japanese newcomer mixes exquisite animation and ghostly folklore in atmospheric, surreal comedy.
Wailings in the Forest, Bagane Fiola, Philippines, international premiere
Shot in the forest of the southern Philippines, fiction film follows an indigenous Matigsalog family whose lifestyle is threatened by a lack of food and the encroaching lifestyle of a neighbouring tribe.
Previously announced
A Brief Excursion, Igor Bezinović, Croatia, world premiere
In the heat of the Croatian summer, a brief excursion to a monastery turns into an allegorical journey into the unknown.
Burning Birds, Sanjeewa Pushpakumara, Sri Lanka / France, European premiere
A small village in Eastern Sri Lanka, 1989. After her husband is murdered by a paramilitary group, Kusum has a struggle on her hands to look after her mother-in-law and eight children.
Elon Doesn't Believe in Death, Ricardo Alves Jr., Brazil, European premiere
After the mysterious disappearance of his wife, Elon engages on a sleepless journey through the darkest places in the city, trying to figure out what may have happened to her.
Extraño pero verdadero / Strange but True, Michel Lipkes, Mexico, world premiere
Jonathan and Yesi are in love. They work for 'Maestro Limpio' in a trash truck. One day they find a dead man with a wad of cash. Their boss has a plan.
La guerra dei cafoni / The War of Bumpkins, Davide Barletti / Lorenzo Conte, Italy, world premiere
Global politics in a fairytale nutshell: the eternal struggle between the ruling elite and the underclass, condemned to ignorance.
——————————————————————————————————————-
Non-premieres, also presented in the Bright Future section
Katie Says Goodbye, Wayne Roberts, USA
Kfc, Lê Bình Giang, Vietnam
Out There, Ito Takehiro, Japan / Taiwan
Park, Sofia Exarchou, Greece
Pays, Chloé Robichaud, Canada
Rat Film, Theo Anthony, USA
All the Cities of the North, Dane Komljen, Serbia / Bosnia and Herzegovina / Montenegro
Antes que cante el gallo / Before the Rooster Crows, Arí Maniel Cruz, Puerto Rico
By the Time It Gets Dark, Anocha Suwichakornpong, Thailand / Netherlands / France / Qatar
Los decentes , Lukas Valenta Rinner, Argentina / South Korea / Austria
Die Einsiedler , Ronny Trocker, Germany
El futuro perfecto, Nele Wohlatz, Argentina
Kékszakállú, Gastón Solnicki, Argentina
The Last Family, Jan P. Matuszyński, Poland
The Last of Us, Ala Eddine Slim, Tunisia
The Levelling, Hope Dickson Leach, United Kingdom
Mimosas, Oliver Laxe, Morocco / Spain / France / Qatar
Solo, Solitude, Yosep Anggi Noen, Indonesia
The Summer Is Gone, Zhang Dalei, China
I tempi felici veranno presto, Alessandro Comodin, Italy
Where Is Rocky II?, Pierre Bismuth, USA / France
Wùlu, Daouda Coulibaly, France / Senegal
X500, Juan Andrés Arango, Canada / Colombia / Mexico