The 46th International Film Festival Rotterdam got underway last night with stars and political messages aplenty.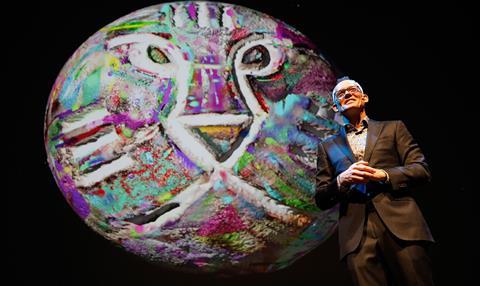 With the Nertherlands' King Willem-Alexander due to attend tomorrow night's world premiere of Ernest Dickerson's Double Play and multi-Oscar nominee Barry Jenkins already in town, International Film Festival Rotterdam, which launched its 46th edition last night, has a more starry feel than usual.
The festival prides itself on being a melting pot of cultural and political views, something expressed by festival director Bero Beyer who in his second edition at the helm gave a wide-ranging speech in which he explained the concept behind this year's 'Planet IFFR' concept.
"We can be entertained and enchanted, confused, scared, soothed and seduced in many different ways by the stories that are told and by the way they come to us. This state-of-mind where we can experience other views, where we can experience time itself through the art of cinema: that is Planet IFFR," Beyer stated.
He promised a festival that would be "colourful, diverse, slightly chaotic, buzzing with energy, vibrant, alive."
In a time of polarisation, political turbulence and deep "fault lines", Beyer called on festivalgoers to step out of their own self-enclosed worlds and to embrace difference.
"For us as a festival, and for all of us here tonight: funders, politicians, sponsors, press, filmmakers, some might even say the cultural elite, it is important to realise we too are part of something bigger. And more often than we would like to admit, we kind of live in our own bubble, too, don't we? We plant our feet and our beliefs firmly on one side of the very fault-lines we proclaim we want to bridge. Enchanted by the sound of our own echo."
"Perhaps a little modesty and self-reflection are in order," Beyer said. "How about we burst that bubble! Let's open up much more than we've done so far. Let's show and not tell. Let's have the free spirit and the open state of mind that respects the many different views that exist in the arts and of the human condition…Opposing views and different identities don't automatically turn us into adversaries…and why not start with the beauty of the many, many visions in cinema."
Andrea Arnold, Olivier Assayas among guests
The festival opened with the international premiere of Janicza Bravo's US indie comedy-drama Lemon (fresh from its Sundance world premiere), in the city's Doelen concert hall.
Several filmmakers were in attendance, among them Jenkins, Dickerson, iconic Hungarian auteur Bela Tarr (who is to give a masterclass today) and Charles Burnett, whose 1978 classic Killer Of Sheep screens in the Festival's Black Rebels sidebar.
The film was preceded by a preview of a new short, Greetings From Aleppo, by Floor van der Meulen, Thomas Vroege and Issa Touma. The trio are the team behind 9 Days – From My Windows in Aleppo, the recent winner of a European film award.
Other prominent guests due in town over the next week include Andrea Arnold, whose American Honey screens in the Voices strand, and French director Olivier Assayas. Both filmmakers are due to give masterclasses.
This weekend, it is expected that the directors behind Rotterdam, I Love You, the latest film in the Cities Of Love series, will be announced.
The festival's main industry component, coproduction market The Cinemart, runs from 29 January to 1st February.
The festival's main retrospect this year is of Czech New Wave director Jan Nemec.