Pieter-Jan De Pue, whose debut feature The Land Of The Enlightened screens in Rottedam's Tiger competition, first visited Afghanistan after leaving film school.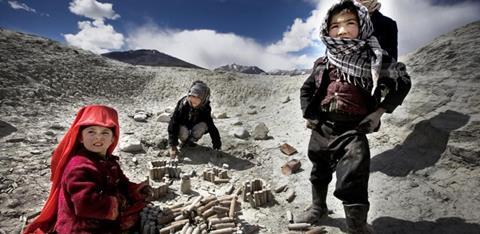 He had long been fascinated by the country and had read widely about the Soviet invasion of the 1980s and the arrival of the Americans two decades later.
"I knew this was a difficult country to travel in and that it was not a tourist destination at all," the director recalls. "I talked to many international organisations, humanitarian aid organisations. I said I am just a guy who came out of film school but maybe I can make photo stories for you."
At first, when he arrived in Afghanistan in 2007, De Pue travelled with the aid organisations. Eventually, though, he struck out on his own with an Afghan friend who had been living in Iran for company. They crossed the country by horseback and on foot. It was then that he first encountered children smuggling weapons and gem stones - the same kids whose stories he tells in Land Of The Enlightened. "I was really touched by this," the director recalls.
The Afghan government suspected he and his friend were spies for Al Qaeda or working for the Taliban. "This travel was very heavy. We ended many times in prison," De Pue recalls. On one occasion, they strayed across the border and were arrested by Chinese border forces who imprisoned them for a month. After they were released and sent back to Afghanistan, they were robbed by bandits who took all their equipment and their passport. "It was really a disaster!"
The filmmaker acknowledges his naivety but also points out that his experiences helped inspire The Land Of The Enlightened. It was after his return that he wrote the first draft of the screenplay and received early development support. He also came together with producer Bart Van Langendonck at Savage Films. Later, in 2009/10, De Pue returned to Afghanistan to film the first rushes. He was embedded with the US army and shot a lot of material that would eventually end up in the final edit of his movie.
The Land Of The Enlightened straddles the line between documentary and fiction. "It's a hybrid film," the director declares. Certain parts are straight documentary but De Pue did long interviews with the Afghan kids who told him about their dreams and plans. "A lot of it was about their imagination and their fantasies. It became quite obvious that if I wanted to show this in the film that I should create a fiction structure inside this documentary." The film contrasts the harsh reality of war torn Afghanistan with a "softer" look at the yearnings and fantasies of the young smugglers.
There were practical reasons for turning to fiction too. The director wanted to film the kids picking in the mine fields but that wasn't something he could shoot for real. Everything that was fictional or reconstructed though, was intimately connected to real life.
Afghanistan, De Pue enthuses, is a "dramatic and amazingly beautiful country."
The Land Of The Enlightened screens at IFFR fresh from its screenings in Sundance. International sales are handled by Films Boutique.