In South Korea where concerns over the spread of Middle East respiratory syndrome (Mers) have been heightening, distributor Next Entertainment World (NEW) has postponed the release of Northern Limit Line (aka Battle of Yeonpyeong).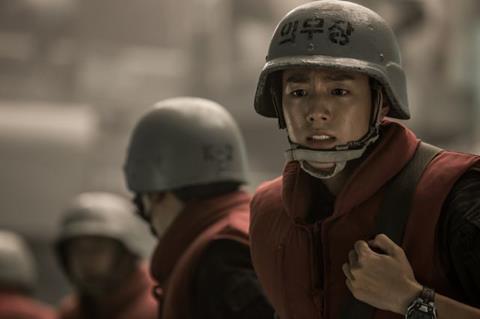 The big-budget naval action film's June 10 release has been pushed back two weeks to June 24.
"We ask for your understanding that considering the recent public situation and national sentiment, we are obliged to change release dates. Everyone connected to Northern Limit Line hopes there will be no more harm from Mers, and earnestly hopes for stabilization soon," said the company in a statement sent out earlier today (June 5).
To date, four people have died and 41 have been infected by Mers in South Korea. Yonhap news agency reports 1,820 people are under quarantine as of today - 153 more than yesterday. A total of 221 people have had their quarantine lifted to date.
Although there is no vaccine, the World Health Organization (WHO) says the virus is contagious "apparently only to a limited extent" and seems to require "close contact" to be passed from person to person "such as occurs when providing unprotected care to a patient." WHO does not recommend travel restrictions or entry screening related to the disease and has cautioned against unnecessary panic.
Seoul mayor Park Won-soon called an emergency press conference late last night to let people know that a doctor who was diagnosed with the virus on June 1 had been in contact with more than 1,000 people at a May 30 event. The mayor has criticized the national government's handling of the matter and declared a 'war on Mers'.
NEW is not alone in its decision to change plans because of Mers concerns. Schools have cancelled classes, organizers have postponed performances and broadcaster KBS has cancelled the taping of certain shows. Busan Film Commission has also indefinitely postponed the Asian Film Policy Forum that was scheduled to be held in their city June 19-21.
Based on a true story, Northern Limit Line is about a conflict between the North and South Korean navies that took place during the summer of the 2002 World Cup in South Korea. Directed by Kim Hak-soon, the film stars Kim Mu-yeol (Eungyo), Jin Goo (The Target) and Lee Hyun-woo (Secretly Greatly).