Dir: Bertrand Bonello. France. 2014. 150mins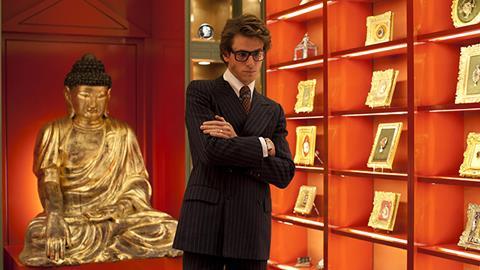 A lush, stylish and evocative journey through the life of enigmatic French fashion designer Yves Saint Laurent, Bertrand Bonello's magnificently mounted biopic succeeds as a warts and all (booze, drugs, sex etc) story of a legendary fashion designer, but as with Jalil Lespert's more soap opera orientated film Yves Saint Laurent, released earlier this years, it offers little insight into this complex character. It is a film that hangs well and looks the part but is ultimately less that satisfying.
A film mainly made up of interiors and often rather claustrophobic, it is intriguing rather than insightful and elegant rather than emotional.
While focussing mainly on the period 1967 to 1976 as Laurent (played with elegant ease by Gaspard Ulliel) goes through a series of personal and professional crises – reflecting the transition of the era in society – the story is bookended by brief moments that deal with his early years as well as scenes of Laurent just before his death (played as an older man by Helmut Berger), though the core of the film dwells not so much on fashion as on Laurent's increasing reliance on drugs and drink, especially as he starts an obsessive affair with Jacques de Basher (Louis Garrel).
The running time – two and a half hours – may well be epic, but while there are some beautifully composed sequences it is often repetitive and still offers no real insight into what demons really drove Laurent. A fear of snakes – cue dream scenes of serpents slithering over him – may look great, but it feels more like a film device rather than real depth.
Gapsard Ulliel is suitably lanky and lean to play the ever-elegantly attired Yves Saint Laurent, and while the film opens in his studio where the haute coutre dresses are assembled with military precision and where Laurent creates his latest designs, the film soon switches to the nightclubs and dwells on the moment when he spots tall Chanel model Betty Catroux (Aymeline Valade) who was to become his muse. She is joined by the free-spirited Loulou de la Falaise (Lea Seydoux), with the pair helping inspire him.
There are brief moments that dwell on the sexual and business relationship between Laurent and Pierre Berge (Jeremie Renier) – who in real-life authorised Lespert's version – but at the centre of the film is Laurent's obsession with Jacques de Bascher, with the pair engaging on a drug and booze fuelled affair that only comes to an end when Berge visits de Bascher.
While a rather emotionless film – though the Cannes audience did murmer with concern when Laurent's much loved dog Moujik dies after helping himself to a batch of spilled drugs – it comes to life towards to the end when after much procrastinating and worry Laurent unveils his 1974 collection, a vibrant and colourful series of clothes based on Moroccan themes, with Bonello making great use of split-screen style (echoing the look of Mondrian and Laurent's famous Mondrian dress) and relishing the beautiful fashion show backdrop.
A film mainly made up of interiors and often rather claustrophobic, it is intriguing rather than insightful and elegant rather than emotional. Somehow fashion films never have the same passion as music based biopics and with so many frock-docs out there maybe it is time to draw a line under fashion films.
Production companies: Mandarin Cinema, EuropaCorp
International sales: Europacorp, www.europacorp.com
Producers: Eric Altmayer, Nicolas Altmayer
Screenplay: Bertrand Bonello, Thomas Bidegain
Cinematography: Josee Deshaies
Editor: Fabrice Rouaud
Production designer: Katia Wyszkop
Music: Bertrand Bonello
Main cast: Gaspard Ulliel, Jeremie Renier, Lea Seydoux, Louis Garrel, Amira Casar, Aymeline Valade, Helmut Berger, Micha Lescot