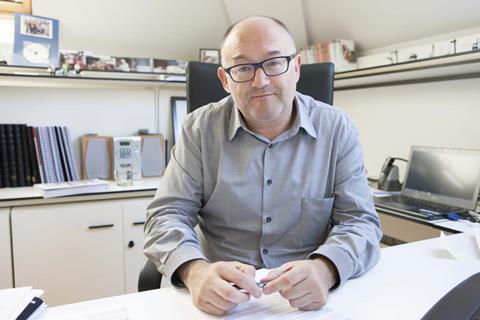 The 2020 edition of the San Sebastián film festival is set to run as a mostly physical event from September 18 to 26 in Spain. What we know so far is that it will open with Woody Allen's Rifkin's Festival, which is a love story set against the backdrop of the festival itself, and Viggo Mortensen will receive an honorary Donostia Award. Some Cannes 2020 label titles are also expected to feature in the international competition.
San Sebastián's director José Luis Rebordinos talks to Screen about how he and his team are working to put together this year's festival in the middle of a global pandemic.
How are you dealing with all the uncertainty surrounding this year's film festival?
Uncertainty certainly makes things more complicated. We are working on the programme like we do every year and by now we have confirmed up to 70 or 80 per cent of the titles and confirming the list of guests, a lot of well-known names. But you can be confirming dates, even a plane ticket London-San Sebastián without knowing if that is going to be possible in September. Still, we are optimistic from what we hear from the Basque government concerning September.
What specific measures are you contemplating?
We are working with a company specialised in safety measures concerning Covid-19 in a plan that we will present to the Basque authorities. It will contain detailed procedures of all the facilities used by the festival and how people will be going in and exiting, queuing, how the flow of people will be managed to ensure social distancing and so on. Hygiene measures too, of course.
What are you expecting when it comes to the percentage of occupancy of the screenings?
If the festival was running now it would be 60% but I don't lose hope that we'll be able to reach 75% [by September].
What about the number of screenings?
It all depends on the report and advice we get on how to plan the start and finish of each screening and the cleaning of the theatres afterwards. Once we know that we'll be able to specify how many screenings and how many titles we can accommodate in our program. We'll know for sure in about a month, when we know how things have evolved in August and we have had time to agree on the best safety measures. But I guess we will have about 30% fewer titles and screenings than last year.
Will the cut affect some sections more than others?
So far, we have postponed the Restored Classics section and the retrospective on 1950s Korean cinema for the 2021 edition. Other sections, like the official competition, the New Directors section and the others will be trimmed a bit, with this 30 per cent in mind.
How has the partnership with Cannes worked?
I have always had an excellent relationship with Cannes, and I have been in regular contact with Thierry Frémaux. We'll probably celebrate this collaboration when we open San Sebastian, aiming to honour the film festivals that have cancelled their 2020 editions because of the pandemic and to honour the film industry too.
As titles go, from the six titles already announced for our official competition section, five come from Cannes: In The Dusk by Sharunas Bartras, True Mothers by Naomi Kawase, Beginning by Dea Kulumbegashvili, Summer of 85 by François Ozon and Another Round by Thomas Vinterberg. And we will announce the sixth soon.
Will there be restrictions in numbers for the press covering the festival?
Not in numbers. Depending on the percentage of occupancy of the screenings, access will depend on the priority that every given media has and there might be some cases where people are left out, but that is not out of the ordinary at film festivals.
What about the guests and the red carpet? How are people in the industry responding? Are you mainly focusing on European guests?
Sadly, we'll have very few people coming from Latin America, but so far, Asian directors are confirming, and the same goes for the ones from the US. In fact, it's a very good year for well-known faces looking to attend the festival.
Woody Allen, who is opening the festival with Rifkin's Festival [a film that the director shot in San Sebastián last summer] wants to come too. But, again, it all depends on how things go come September. Photographers and reporters will be able to cover the red carpet and we'll see if there's a chance for the people in San Sebastian to attend. And how to do it safely.
Understandably, the Basque government is telling us we have to wait until the beginning of September to take decisions on matters like this, when we know the state of affairs a bit better.
What is your Plan B?
Our plan B, in case we don't have the option of screenings, is to cancel the festival. We won't have an online edition, that is crystal clear. The only exception would be the industry side of the festival that is already been designed to be held online.