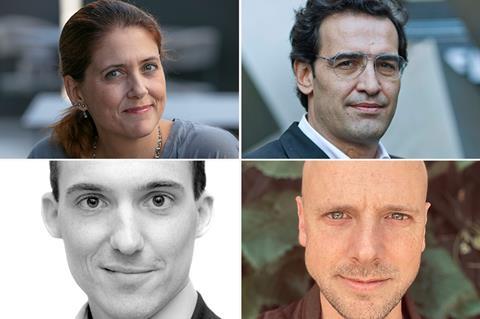 The latest in our ScreenDaily Talks webinar series is taking place on Thursday July 23 at 15.00 BST and will focus on the opportunities for and the challenges facing Europe's independent distributors as cinemas slowly reopen around the world.
Distributors from four of Europe's biggest markets will come together to compare notes and share best practice on what they are learning from the reopening phase in their territories.
They will discuss topics including how they are working with exhibitors to rebuild consumer confidence in cinema-going; the pros and cons of European screens being relatively free of the big US tentpoles; the fast-changing strategizing over what to release now and what to save for a later date and the lessons learned from the rise of digital distribution during the national lockdowns.
Panellists
Hamish Moseley is the managing director of Altitude Media Group for the UK and Ireland. Altitude is a producer and international sales agent and as a distributor releases its own and third-party titles. The company recently took the bold step to release one of the few new titles onto UK cinema screens in Australian genre title Black Water Abyss and is releasing both Jacki Weaver's Stage Mother this Friday, July 24, and psychological thriller Unhinged, starring Russell Crowe into cinemas on July 31. Altitude is also due to announce the release details of Ladj Ly's Academy-Award nominated Les Misérables and Sarah Gavron's UK title Rocks for later this summer.
Margherita Chiti is partner and general manager at leading Italian arthouse distributor Teodora Film Distribuzione. The last film the company released into Italian cinemas was Olivier Masset-Depasse's French-Belgian title Mother's Instinct in late February, shortly before they were forced to close. Next up from Teodora will be Sicilian director Emma Dante's Palermo-set feature The Macaluso Sisters, about a group of tightly-knit sisters whose lives are marked forever by the death of one of them in a tragic beach accident.
Enrique Gonzalez Kuhn launched Caramel Films in Spain in 2013 after 15 years as the head of acquisitions at Alta Films. At last month's virtual Cannes market the company acquired a slew of titles including Viggo Mortensen's directorial debut Falling (with YouPlanet Pictures) and Emmanuel Courcol's French comedy The Big Hit which was selected for the Cannes 2020 label.
Alexis Mas is the CEO of Paris-based distributor Condor. The company runs two distinct slates: one focused on arthouse titles for theatrical release, the other on a mixture of family entertainment and genre fare for digital release. Condor was on the verge of theatrically releasing Agnieszka Holland's Mr. Jones when French cinemas were ordered to shut down on March 14. It has since launched the film on June 22.
The 30-minute discussion will be followed by a live Q&A in which the audience will be able to ask questions to the panellists; we can also take advance questions at orlando.parfitt@screendaily.com.
The webinar will be available to watch on Screendaily.com after it has taken place.