In a busy fall festival season, San Sebastian manages to shine with a strong balance between mainstream and auteur cinema and its role as a key port for Latin American cinema.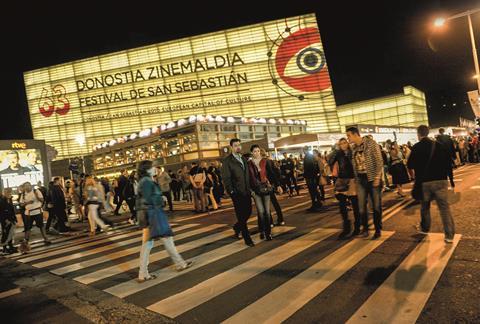 San Sebastian has a long history as a film festival. This year marks its 64th edition (September 16-24), and over the years luminaries such as Bette Davis, Robert Mitchum and Alfred Hitchcock have paid a visit. But in a busy festival season, it takes more than history to stand out, and the town's beautiful coastal setting and glorious food consolidate it as a key rendezvous for the industry.
"Each edition of a festival is like trying to put together a jigsaw — all the pieces have to fit, and by that I mean good cinema, glamour and industry," says festival director Jose Luis Rebordinos. "We always try to find a balance between established film-makers and new talents. This year I'm happy how we've achieved that."
As examples, Rebordinos cites Oliver Stone's Snowden, which screens out of competition, and Ewan McGregor's directorial debut American Pastoral, which he calls "an ambitious project with great results". San Sebastian is also a key showcase for Spanish cinema, with this year's selection including Alberto Rodriguez's Smoke And Mirrors.
Following Venice and overlapping with Toronto, Rebordinos is aware of the competition for premieres, but points out "festivals have to help films find their audience. More and more the focus is not so much on who gets the world premiere. Films that go to Toronto can come to San Sebastian for their European premiere the same way some films from Sundance then go to the Berlinale."
San Sebastian opens this year with 150 Milligrams, directed by Emmanuelle Bercot, and closes with another French production, the world premiere of The Odyssey, writer-director Jérome Salle's biopic of oceanographer Jacques Cousteau starring Lambert Wilson.
The Latin American Connection
As ever, the festival's affinity with Latin American cinema runs strong. This year, titles in competition will include Argentinian director Emiliano Torres's feature debut The Winter and Jesus, by Chilean film-maker Fernando Guzzoni, back at the festival after winning the New Directors Prize in 2012 for Dog Flesh.
The festival has strengthened the Latin American bond on other fronts over the years. One of these is its Films in Progress section, an initiative in collaboration with Cinelatino, Rencontres de Toulouse that aids postproduction for a selection of Latin American titles and also links the film-makers with other industry professionals. Ciro Guerra (Embrace Of The Serpent) is one film-maker to have participated in previous editions. This year's selection includes six features: Silence Of The Wind by Alvaro Aponte Centeno, Rey's Education by Santiago Esteves, The Family by Gustavo Rondon Cordova, The Waves by Adrian Biniez, Medea by Alexandra Latishev Salazar and A Great Dragon by Jaime Osorio Marquez.
Last year's Films in Progress winner — Eliane Caffé's The Cambridge Squatter — will premiere at this year's festival in the Horizontes Latinos strand, along with 13 other films produced or co-produced in Latin America that are yet to be released in Spain. Featuring a top prize of $39,000 (€35,000), this year's selection includes Christopher Murray's The Blind Christ and Amat Escalante's The Untamed, both in Competition in Venice.
Looking to the future, the V Europe-Latin American Co-Production Forum has selected 17 projects in development, most making their first bow at an international co-production forum. For Rebordinos, it is another step in the close relationship San Sebastian maintains with Latin American cinema: "The aim is that somebody who comes to San Sebastian will be sure to see the best Latin American cinema."
Hot Picks
San Sebastian's 64th edition has a strong competitive section with titles such as Baltasar Kormakur's The Oath, Bertrand Bonello's Nocturama, Arnaud des Pallieres' Orphan, Hong Sang-soo's Yourself And Yours and William Oldroyd's debut Lady Macbeth. Out of competition is JA Bayona's A Monster Calls, with one of its stars, Sigourney Weaver, receiving the Donostia award for career achievement. Expectations are high for two Spanish titles in competition: Alberto Rodriguez returns with Marshland follow-up Smoke And Mirrors, a true-life corruption thriller, while Rodrigo Sorogoyen (Stockholm) will premiere May God Save Us, about two detectives hunting a serial killer in Madrid as the city prepares for the arrival of the Pope. San Sebastian also offers a selection of the best of the international festival circuit with sections such as the competitive Zabaltegi-Tabakalera, which offers a $22,500 (€20,000) prize. Among the 24 films in the section are Terence Davies' A Quiet Passion, Jeff Nichols' Midnight Special and Todd Solondz's Wiener Dog.
Don't miss
Gael Garcia Bernal, who stars in Pablo Larrain's Neruda as the touchingly inefficient police inspector chasing Chilean Nobel Prize-winning poet Pablo Neruda, will receive the first Jaeger-LeCoultre Latin Cinema Award. Mirroring the tradition of San Sebastian's Donostia Award, it will honour the career of a Latin American film professional every year. The gala will take place September 17 at San Sebastian's Victoria Eugenia Theatre; it will be Bernal's third visit to the festival since Amores Perros was shown in the Zabaltegi section 16 years ago.
Where to network
The Industry Club offers a meeting place during the day. Located at the Kursaal Auditorium, where official selection screenings are held, it is walking distance from the Maria Cristina Hotel, where film-makers and stars tend to stay during the festival. The bar and terrace offer an excellent chance to meet industry. San Sebastian is renowned for its restaurants so good food is part of doing business, be it at Michelin-starred restaurants such as Arzak or bars in the Old Town serving mouth-watering tapas. These include Okendo (opposite the Maria Cristina Hotel), Aldanondo, Ganbara, Gandarias and La Cuchara de San Telmo. Bataplan Disco often plays host to festival parties while, on a quieter note, Dickens Bar is a hangout of choice for industry professionals.