Canadian film-maker received the honour before a screening of Exotica as part of the Tribute To… programme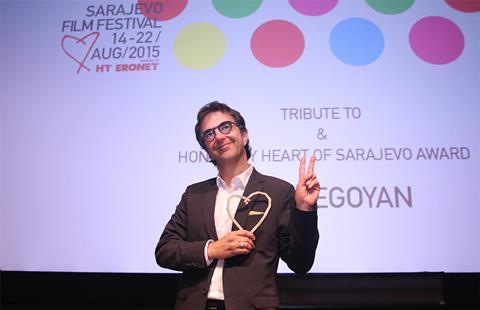 At the Sarajevo Film Festival on Wednesday [Aug 19], Canadian director Atom Egoyan received the Honorary Heart of Sarajevo for his contribution to the art of film at a ceremony in the festival's Meeting Point cinema.
"By awarding Atom Egoyan with the Heart of Sarajevo, we would like to honour one of the most noted contemporary film-makers, who is not only a theatre and opera director as well, but also a visual artist, writer and professor of film," said SFF festival director Mirsad Purivatra.
"They call him the master of visual and verbal storytelling, and we completely agree."
Egoyan then took to the stage and delivered a touching speech: "I've been to many festivals, I've received honours, but this one is so special because of the spirit and the history of this festival.
"This is a festival that comes out of the spirit of resistance, it is a festival that comes out of passion for culture against unspeakable tragedy, unspeakable opression, unspeakable acts of violence against culture, acts of violence against the human spirit.
"When I heard the story about the birth of this festival, about Miro running across these streets to present a film, and people coming into the basements of houses to witness cinema in the midst of the nightmare that was Sarajevo.
"And from that beginning, 21 years later we are in this cinema and we're having these incredible discussions, that to me is the most moving expression of what human spirit can bring, but also of what a gift cinema is.
"Yes, I have received other honours, but I consider this to be the most powerful honour that I can imagine receiving, especially as an Armenian, especially on the 100th anniversary of the genocide of my people. To be able to be here and to know the stories of resistance that even I heard a few minutes ago, that this festival has done, I just feel overwhelmed. So thank you so much."
Egoyan is also the subject of a Tribute programme that will screen three of his films of his own choice: The Sweet Hereafter, winner of the Cannes Grand Prize of the Jury and FIPRESCI Prize in 1997; Armenian genocide-themed Ararat (2002); and the film that screened after the presentation of the award, Exotica, which also brought him the Cannes FIPRESCI Prize in 1994.
Attending the ceremony along with Egoyan was his wife, actress Arsinée Khanjian, who has starred in almost all of his films.