Golden Bear winner talks his latest project, which premieres at Sarajevo this week.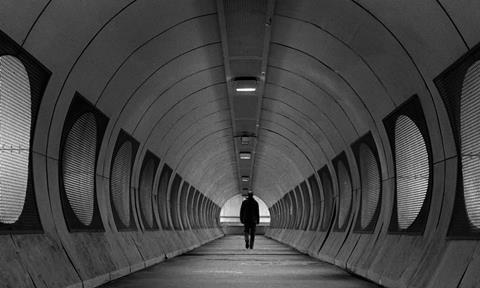 Turkish filmmaker Semih Kaplanoglu returns with his first feature as a director since winning the Berlinale Golden Bear in 2010 with Honey.
Grain, inspired by a chapter of the Qur'an, is a post-apocalyptic story set in a world split between cities and agricultural zones ruled by corporations and populated by elites, and areas called Dead Lands, where genetically incompatible immigrants suffer from drought and epidemics.
Professor Erol Erin (Jean-Marc Barr), a seed genetics specialist, investigates a massive crop failure related to GMO seeds, which leads him to encounter fellow scientist (Bosnian actor Ermin Bravo).
Shot on 35mm and in black-and-white, the film has its world premiere at Sarajevo Film Festival today (August 12), and plays again on Wednesday (August 16). The Match Factory is handling sales.
Screen: It has been seven years since your last film, Honey; in Grain you stay true to similar poetics and themes. What inspired this project?
After finishing filming Honey I set off on a journey that took me to many disparate places across the face of the globe. During my travels, I witnessed the rapid harm being caused to the natural environment.
In fact, everyone alive today finds himself living during rapid depletion of our resources, countless wars, damage being wrought to the environment, fleeing refugees, hunger and even drought.
And that is only what is happening outside of ourselves. What about our inner worlds? The truth of the matter is that whatever kinds of turmoil we experience internally we also end up experiencing externally. The damage we cause to our souls with our spite, our anger, our overbearing ambition, and our pride we also end up causing to our nature, our planet.
We forget that man and nature are locked in an inseparable union. When we truly begin to understand this kind of unity we will realise that everything in the universe is created from the same elements.
However, we cannot merely sit back and wait for this kind of realisation to come to us. To find ourselves we must first set off on a journey to our inner selves. One of the most poignant of these kinds of journeys has been related in the Al-Kahf (The Cave) surah of the Qur'an as it relates the parable of the ordeal-laden quest of the Prophet Moses as he set off to find absolute truth. It was this story that served as the basis for Grain.
Grain is your most complex and ambitious production so far; what were the biggest challenges?
The production was spread out over a five-year timeframe. It began with scouting appropriate locations while I continued to write the screenplay. These steps took two years to accomplish. The settings I finally chose were located on very different continents and in regions of very different geographical make-up. In order to create the city that would best reflect my vision, I ended up combining various locations in Detroit, Cologne, Wuppertal, Bonn, Dusseldorf, Essen and Dortmund. I also added to this mix some ultra-modern buildings found in the Anatolian city of Konya.
The setting for the scenes that took place in the Dead Lands was created by integrating very different geographical natural areas in central Anatolia. During this process, and while still writing the story, I began to realise that many of the elements on which I was basing it were also beginning to happen in reality: fleeing refugees, national borders being closed off by walls, sinking life boats, bodies being washed up on shores, the identification of the health risks inherent in GMO foods, deforestation and resulting growth of desert areas, and changes to the environment. These kinds of development were so similar to our storyboard that they did not even cause a need for radical script changes.
A major problem we had to deal with during the production, however, was the logistics of transporting the costumes and other objects created by our production designer Naz Erayda to the various filming locations. We almost never spent even two nights in one place. We used scores of wooden crates to transport these items time and time again from Detroit to Anatolia, and from there to Germany. Another problem was accessing our filming sites in the steppes of Anatolia, areas devoid of easily traversable roads.
This is your first English-language film with an international cast. How did you pick the actors and work with them, especially Jean-Marc Barr and Ermin Bravo?
It was not my intent to produce an international film, but the script and story called for characters of varying ethnic groups. The world we were creating also had to have a core language, and it was for that necessity that we filmed in English. From the beginning, I had considered Jean-Marc Barr because I knew his work as very disciplined, sensitive and courageous. It is no easy task to find actors like that today.
I found Ermin after a long and arduous search. Also, Cannes Best Actress winner Cristina Flutur [Beyond The Hills] and Berlin Best Actor Silver Bear winner Grigoriy Dobrygin [How I Ended This Summer] were kind enough not to reject my offer and both agreed to join the project. I am very grateful to the entire crew for working with me under these conditions.
Why did you choose to make the film black-and-white, and to shoot on 35mm?
It occurred to me that shooting in black-and-white would serve to integrate these very different geographical and climate locations and would best mirror the world of the story. I wasn't satisfied with the tests we carried out with digital black-and-white, so despite all of the logistic problems involved I decided to film in 35mm and am glad I did - we are all pleased by the end results.
What's your view of the production landscape in Europe, and especially the situation in Turkey, in comparison with when you made your previous film seven years ago?
One significant problem is distribution. We want to ensure that Grain finds its full potential audience, including across Europe. How could we make sure that this film, which interprets the significant pain and problems that man is facing today, be available to the widest possible public?
Making sure that we do so is, after all, a responsibility we carry for all those who have participated in the making of this film. I knew that I had to do something to make sure it distributed widely. Today our sector is being divided among very diverse professional specialisations - despite this, problems in meeting audiences continue unabated. Can these distribution problems be solved by the use of new technological digital distribution networking? And just who will benefit from these kinds of endeavour? The answer to that is yet to be seen.